Welcome to--
Big As TEXAS:
An Elite Cast of Characters!

The 2008 Big As TEXAS: An Elite Cast of Characters, officially began with a Texas buffet dinner at 7:00 P.M. on Friday, March 7th. Each table had a table host or hostess whose job it was to make sure newcomers, as well as old timers, were introduced. Table themes ran from "Mystery" to "Springtime" to "Wild Animals" to "The Bayou." Each table host was very creative in setting a theme for his or her table.

After dinner, attendees were treated to the first act of a two act play "Murder of a Talk Show Host." The cast of characters included such famous TV talk show hosts as Larry Queen, Dr. Phil McCrackpot, Ellen DeGeneration, Sally Jessy Ralphiepoo, and Jerry Winter. Clues appeared throughout the first part of the weekend, giving everyone a chance to guess whodunit.

Opening Fridy night.


There was a late night swim on Friday, though most preferred the hot tub. On this particular day it had snowed about five inches in the Dallas area, so it was a mite nippy. You can never really be sure what the March weather will be in Texas!

On Saturday morning, we started the day off right with our annual Movement Activity. This year, we had some stretching and yoga! As a group fitness instructor, Melissa is certified by the American Council on Exercise. She teaches a Women of Size Class at the Women's Hospital Fitness Center in her hometown of Baton Rouge, Louisiana. This was Melissa's eleventh Big As TEXAS Assembly.



Melissa, leader of Movement Activity: Yoga.
Following Yoga we had our Activism Workshop, entitled "Could the Mississippi Bill raise its ugly head in your state?" The bill that hit Mississippi recently (HB 282) rocked many of us. Some were angry, some thought it a joke, and some recognized it was doomed to fail as written. But all of us worried that it might find its way to other states – to our states.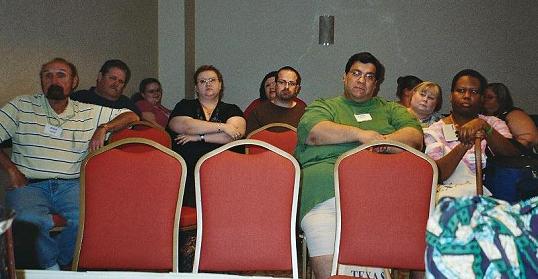 Many attended the Activism Workshop.


This workshop was facilitated by Terry, with help from many others who reported on state bills in various parts of the country. Currently, there are 25 states looking at a total of 144 bills that may lead to discrimination toward fat folk. On the national level, there are a few dozen such bills.



Some of the attendees at the Activism Workshop.
This year's Creative Workshop was Jewelry Making. We joined workshop facilitator Elizabeth and the other rowdy Louisianans in a fun hour of bracelet making. Even the men joined in, making bracelets for wives, girlfriends, and mothers. Elizabeth hails from Baton Rouge. This was her eleventh Big As TEXAS Assembly.



Elizabeth, coordinator of the Creative Workshop: Jewelry Making.
Following lunch, we were presented with our Educational Workshop, "Taking Care of your Financial Future: Investing." While workshop facilitator Jay is not an expert, he is an avid investor with a conservative method of decision making. This is his twelfth Big As TEXAS Assembly. He resides in Sour Lake, Texas.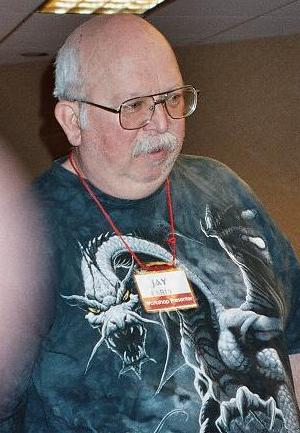 Jay, coordinator of the Educational Workshop: Taking Care of Your Financial Future.
Our final session of the day was our Health Workshop, "Wheels: What You Need to Know." Our leader for this session was Andra, who gave an informed discussion of scooters and wheelchairs. Andra has been on wheels for several years, and she knows what she's talking about. Another Texan, she lives in Kennedale. This is her eighth Big As TEXAS Assembly.



Andra, leader of the Health Workshop: Wheels--What You Need to Know.
On Saturday evening we sat down to a dinner that included salad, roast strip sirloin, veggies, and Carmel Apple Granny for dessert. Following dinner, we had our Keynote Address by our speaker Denise Ingberg-Lavigne.
Following Denise's talk, we danced the night away. This year, we had All Star Productions to DJ our dance.
On Sunday morning we began with our traditional breakfast buffet.
We followed breakfast Act II of Murder of a Talk Show Host. Attendees had turned their whodunit guesses in at Saturday's dinner, and four people had correctly identified Dr. Phil McCrackpot's killer. They received murder mysteries written by Texas authors and set in Texas locales. The novels, which were purchased at "Murder By the Book" in Houston, were autographed by the authors.
During the weekend, raffle tickets had been sold for the Big As TEXAS Size Acceptance Quilt that had been started back in 2006 at Big As TEXAS. The raffle was this year's service project. $516.00 was collected to purchase books for elementary schools in the area that teach size tolerance. The winner of the magnificent Big As TEXAS quilt was Andra. Second, third, and fourth prizes were also drawn. Two lucky people won $50.00 Marriott gift certificates, and one person won a beautifully crafted Big As TEXAS-themed photo album.
Big As TEXAS concluded at noon, but nothing ever really ends at Big As TEXAS! Almost everyone joined together at 6:00 P.M. on Sunday evening for a final dinner out to a local restaurant. This has become a tradition in the last seven or eight years.
Next year, we will return to the Dallas/Fort Worth Airport Marriott hotel for Big As TEXAS: Second Childhood, from March 20 - 22, 2009.
And be on the lookout for news of our 2010 plans, when it will be Big As TEXAS: Sailing, Sailing, Over the Ocean Blue. That's right, we will be doing a Big As TEXAS cruise!

---
Return to the Big As TEXAS homepage.

5/08