Welcome to--
Big As TEXAS:
A Patchwork of Lives!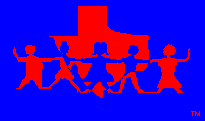 The March 2007 Big As TEXAS Assembly "A Patchwork of Lives" began at 7:00 p.m. on Friday the 16th with a buffet dinner featuring Texas favorites, including barbecued brisket, grilled chicken, a salmon casserole, homemade mac and cheese, veggies, and other favorites. Each table had a table hostess who set a mood at her table.

Friday night dinner. The St. Patrick's Day themed table.


Sharon H's table was a Saint Paddy's day theme, Elizabeth's table had a Louisiana theme, and Sharon K's table was a festive Mardi Gras party atmosphere.

The Mardi Gras themed table.


After dinner, Terry gave the welcome and door prizes were drawn, some Texas trivia was discussed in a friendly competition between tables, and the evening concluded with a late night swim. Some, preferring not to swim, gathered in the hospitality suite for puzzles and conversation.



On Saturday the 17th of March, we began as usual with our Movement Activity at 9:00 a.m. This year, rather than the usual aerobics or water aerobics, we were treated to a yoga session, presented by Melissa.
Melissa is a group fitness instructor, certified by the American Council on Exercise. She teaches a Women of Size Class at the Women's Hospital Fitness Center in her hometown of Baton Rouge, Louisiana. This was Melissa's tenth Big As TEXAS Assembly.




Yoga put all of us in a relaxed mood to tackle this year's Activism Workshop, which addressed discrimination on college campuses.
At the end of February, those in the size acceptance arena and young women on college campuses across the country were equally shocked at the actions of the national office of Delta Zeta Sorority. They demanded that the Delta Zeta branch on DePauw University campus in Indiana remove 23 women from membership because they didn't "maintain the right image." These women included one African-American, two Asians, and everyone was considered "overweight." Their expulsion came a week before exams, leaving those 23, plus the six others who quit in protest, scrambling to find housing. The staff of DePauw came together to assist these young women, and took sanctions against Delta Zeta. At this workshop, we discussed this event, and then took pens in hand to write letters either in protest to Delta Zeta National or in support of DePauw University.
After a ninety minute break for lunch and relaxation, we regrouped for our Educational Workshop. This year we discussed weight-related trends in American society in a round table forum.
Our Educational Workshop was followed by our Health Workshop, "Proactive Health Management and You."
This was a forum discussion regarding the problems that people of size encounter when trying to get medical care, and the possible solutions to solving those problems. The workshop material was prepared by Darlene, attending her sixth Big As TEXAS, and it was presented by Elizabeth, attending her tenth.
This year's Creative Workshop, "Living Large Scrapbook and Journaling," was presented by Sharon. In this workshop attendees were encouraged to express their life's journey as people of size and substance. Folks either brought their own photographs, or pictures from past assemblies were provided, and each person created one or more pages for the scrapbook. The pages will be compiled by Sharon, for everyone's pleasure at future assemblies. Sharon was attending her tenth Big As TEXAS Assembly.
At 7:00 p.m., we were served a plated dinner that included salad, roast strip loin, veggies, breads, and New York style cheesecake with strawberry coulis. There was also a cash bar available from the dinner hour through the dance.
Following dinner, we heard from our keynote speaker, Melissa, on "Improving Fitness at Any Size." Aside from Melissa's certification as a fitness professional, she holds a Master's degree in business administration. Melissa lives in Baton Rouge, Louisiana.
Our dance began at 9:00 p.m., following dinner and our keynote speaker. We were so pleased to have our returning DJ, Craig. We always have the hospitality suite open during the dance for those seeking a quiet conversation, but it was evident that no one wanted to leave the dance floor!
On Sunday morning, following our brunch, we concluded with the program A Patchwork of Lives: Stories of Self Acceptance. Several long-time members of Big As TEXAS shared how they came to accept themselves as people of size.
After door prizes and closing announcements, this year's Assembly was dismissed.

Taken about an hour after Big As TEXAS concluded. People just didn't want to leave!


Next year, we hope you will join us for Big As TEXAS: An Elite Cast of Characters!

---
More photos of the event.
Return to the Big As TEXAS homepage.

8/07