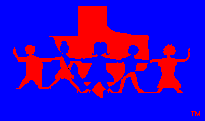 2001 Spring Event
"Taking Care of Ourselves"
The 2001 Big As TEXAS assembly opened in Houston Texas on March 16. This year's theme was "Taking Care of Ourselves."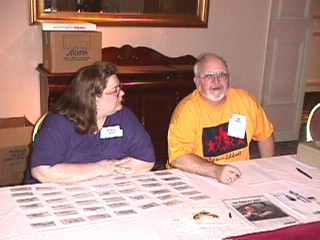 As an "ice breaker" activity this year, we had a human scavenger hunt. Dinner tables acted as teams to ferret out the people described in each of twelve questions. For example, "Who went to Brazil as a missionary?" Another question was "Who was misidentified in a tabloid as Carnie Wilson?" The winning tables shared an Easter basket full of goodies.
Left: Sharon and Jay at the registration table, waiting to pass out name tags and greet attendees. Photo by Ray Hackney.

Following dinner, we had the Fashion Show. C. J. Schoenrock, of Lubbock, Texas, was the MC. There were seven participating vendors and approximately 65 outfits were shown.

Saturday morning began with a 9:00 A.M. movement activity: Aerobics for Larger Bodies. Fitness instructor Melissa Taylor led this session. Melissa is certified by the American Council on Exercise, and teaches a Women of Size Class at Women's Hospital Fitness Center in her home town of Baton Rouge, Louisiana. She was joined by Elizabeth and Hope (also of Louisiana), who demonstrated stretching and light aerobic exercises, and then the entire class joined in. A wonderful time was had by all the participants!
Right: Melissa Taylor, teacher of the "aeorbics for large bodies" workshop, atop an exercise ball, called a "Fit Ball." Photo courtesy of Women of Size Fitness Class, Baton Rouge, LA.

At 10:00 A.M., Terry Lawler Early, of Sour Lake, Texas, moderated a panel on the topic of Living with Diabetes. She was joined by Susie Gillis, from Washington State, and Jay Early, from Sour Lake, Texas. They each discussed how they controlled their blood sugar, including (perhaps most importantly) what to do when blood sugar appeared uncontrollable. ADA handouts were available to attendees.


At 11:00 A.M., C. J. Schoenrock of Lubbock, Texas, moderated a panel on Patient Advocacy. C. J. was joined by Lisa and Paul Delacroix, also from Texas. C. J. recently went through several surgeries and researched the needs of fat patients in preparation. Paul is a former EMT and Lisa is an ER nurse. The workshop covered issues related to advocating for ourselves and others to ensure that we receive the best medical treatment. Topics included how to find a fat-friendly doctor, concerns about emergency medical services, speaking up for yourself and others, and common health concerns of large patients during surgery.
Left: C. J. Schoenrock, facilitator of the Patient Advocacy workshop. Photo by Melody Davis.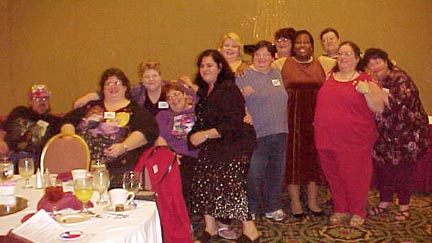 A group of computer pals meet up at Big As TEXAS. Photo by Anne Kaplan.


From 12:30 to 2:00 P.M. attendees were given the opportunity to see the Osbourn Fat-a-bilia Collection. B. Neil Osbourn, of Avon, Connecticut, has been collecting fat-a-bilia of all kinds for 30 years. He brought a portion of his collection that included figurines, pictures, magazine ads, greeting cards, and books. This was a wonderful treat for attendees!


At 2:00 P.M. Jay Early facilitated a workshop on Sleep Apnea. Jay was diagnosed with sleep apnea over 15 years ago, before the advent of C-Pap machines. He underwent several invasive surgeries trying to correct the problem, and eventually became a Guinea pig in the early testing of breathing machines. Undiagnosed sleep apnea is now thought to be the cause of several major problems, including heart problems and sudden infant death. Attendees had a chance to ask questions and share experiences.
Left: Jay Early, facilitator of the Sleep Apnea workshop. Shown here "no doubt looking for trouble," according to Terry. Photo by Melody Davis.

At 3:00 P.M. Marleen Bergeron and Nora Mills facilitated the Retaining Mobility workshop. Marleen is a staff nurse in Pediatric Intensive Care in Chalmette, Louisiana. Nora is a writer/educator from Avon, Connecticut. This session aimed at teaching attendees how to retain mobility by increasing activity level on a daily basis, how to ensure stronger bones, and how to achieve a better target heart range. It also touched on the importance of annual exams.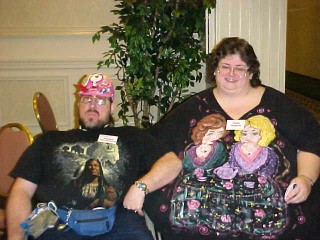 Living with Limitations was the last workshop of the day, led by Diane Roscoe and Roland Van Denderen, both of Houston, Texas. Roland has been disabled since birth, while Diane was disabled in 1994. They shared on their adjustments to living life in a wheel chair, and the accommodations they needed to make to live a life together.
Right: Roland Van Denderen and Diane Roscoe, facilitators of the Living with Limitations workshop. Photo by Anne Kaplan.

Saturday evening, attendees were treated to a sirloin strip dinner (12 ounces!). Following dinner we had our keynote address.

We were so blessed to have Bill Fabrey as our sixth Big As TEXAS keynote speaker. The title of his talk was "Thirty-three Years of Size Acceptance in Perspective - How Has it Affected the Lives of Real People?"


Mr. Fabrey founded the first size acceptance organization, the National Association to Advance Fat Acceptance (formerly called the National Association to Aid Fat Americans) in 1968. He was a founder and is a current board member of the Council on Size and Weight Discrimination, a regular columnist for Radiance Magazine, and the co-owner of AmpleStuff, a mail order company that specializes in serving the needs of larger persons.
Following Mr. Fabrey's talk, we danced the night away.
Left: Terry Early with keynote speaker William J. Fabrey. Photo by Melody Davis.


The Big As TEXAS assembly concluded Sunday morning with brunch and a less formal talk by our keynote speaker. Mr. Fabrey talked about personal activism, including what individuals might do to celebrate International No Diet Day, which will be nine years old on May 6, 2001.
Right: Bill Fabrey addressing the audience in an informal talk on Sunday morning. Photo by Ray Hackney.


Next year the assembly will take place in Dallas.


Sharon and Terry, both exhausted, after the event had ended on Sunday. Photo by Anne Kaplan.
---
See more photos of the event.
See more photos of the Sunday morning brunch.
Return to Big As TEXAS homepage.

4/01