Enjoy your earth walk my friends.



The Last Painting

The wind howls through the pine trees as my mind
travels to memories of another time, another place.
The moon shines full as I watch the outline of the
man on the distant hill, I wait for his return.
We walked the path to the sacred place today.
With flint in hand and colors bled from berries
Another year was recorded on the rock of time
It is a legacy to be read by the children
We painted buffalo killed by white man and crops lost
We painted a beautiful sunrise and a full moon
The contrast of pain and beauty speaks of this year
Of struggle and survival, of hope and acceptance.
Yet these years were beautiful in spirit
It was understood as we walked down the path
Turning to gaze at the drawings of many years
We leave the legacy of hope on the rock of time
We walk in silence toward the camp
The man looks at me with trust and sadness
The flute song plays in the distant night
Wood smoke fills our senses as we walk
The wind blows softly through my hair
And wolf, who walks beside us whines
He knows this is the last year we will paint
He feels the coming of the end of this time
Voices rise from the camp, celebrating harvest
In need of so much, grateful to spirit for so little
The children are playing, the drums are beating
We walk in silent understanding of the last painting.
Dedicated to Wolfmedicine
by:
*wolfmoonrising* March-2000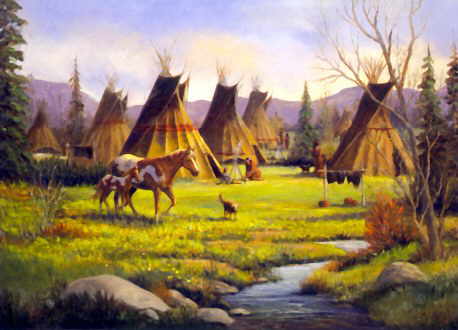 Time-warp Mountain Man
by: Nunya Ageya
He wears
a Puma tee-shirt
but if I close my eyes
and hug him
I smell smoke in weathered buckskin.
He drives
a truck for money
but when he nears the woods
and enters
he walks ancient virgin forests.
He buys
meat at the market
but when the white tails rut
and fatten
he packs gun and worships hunting.
He lives
in modern ages
but only bodily
for his soul
comes from other,
older eras.
I would like to share a poem with you that touches my soul.
I hope you enjoy it, and it warms your heart.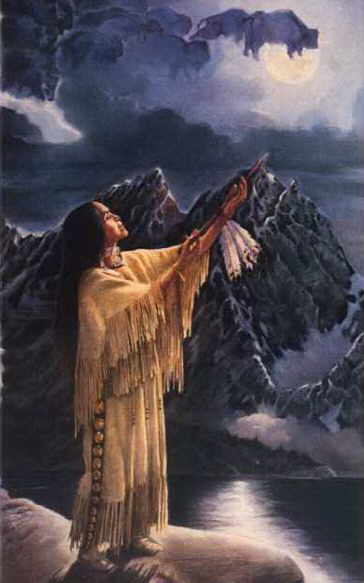 THE INVITATION
"It doesn't interest me what you do for a living.
I want to know what you ache for
and if you dare to dream of meeting your heart's
longing.
It doesn't interest me how old you are. I want to
know if you will risk looking like a fool for
love, for your dream, for the adventure of being
alive.
It doesn't interest me what planets are squaring
your moon. I want to know if you have touched the
center of your own sorrow, if you have been opened
by life's betrayals or have shriveled and closed
from fear of further pain.
I want to know if you can sit with pain, mine or
your own, without moving to hide it or fade it or
fix it.
I want to know if you can be with your joy, mine
or your own - if you can dance with wildness and
let ecstasy fill you to the tips of your fingers
and toes without cautioning us
to be careful, be realistic or remember the
limitations of being human.
It doesn't interest me if the story you are
telling me is true. I want to know if you can
disappoint another to be true to yourself - if you
can bear the accusation of betrayal and not betray
your own soul.
I want to know if you can be faithful and
therefore be trustworthy. I want to know if you
can see beauty every day even when it is not
pretty and if you can source your life on the edge
of the lake and shout to the silver of the full
moon, "YES".
It doesn't interest me to know where you live or
how much money you have. I want to know if you can
get up after a night of grief and despair, wary
and bruised to the bone, and do what needs to be
done.
It doesn't interest me to know who you know or how
you came to be here. I want to know if you will
stand in the center of the fire with me and not
shrink back.
It doesn't interest me where or what or with whom
you have studied. I want to know
what sustains you from the inside when all else
falls away.
I want to know if you can be alone with yourself
and if you truly like the company you keep in the
empty moments
" Orion Mountain Dreamer"
The day when Buffalo walked this land in numbers. Not forgotten by all of us my friends.
Please go back to the top and select another section to continue the walk through this site dear ones.