The Big Day in Croker
It is amazing to think that a county with a population of 25,000 people could capture the imagination of the whole country. Well thats what happened after our famous victory in Hyde park. I found this out for myself when I made a visit to St. Patricks purgatory on Loch Derg. I had a Leitrim top with me and I have to say that I was wearing it proudly. During the few days that I spent on Loch Derg I met several people from the length and breadth of Ireland who were all captured by the heart and passion of the Leitrim team, and who were all hoping that this "fairy tale" would continue.They all agreed that come August 21 they would all be cheering the team in green and gold.
---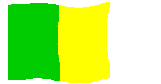 Dublin beat Meath in the Leinster final and in doing so set up an historic pairing for the All Ireland Semi-Final. The county with the smallest population against the county with the largest. We weren't without support however, I remember one Dubliner saying to me that "Ye have 31 and a 1/2 counties supporting ye today", I had to agree with him after witnessing all the flags out for our support on route from Leitrim to Dublin. The exodus had begun on the Friday and continued over the weekend, it seemed as if every Leitrim person who could get their hands on a ticket was heading for the big city. We were looking forward to a major party, and why not as it was to be our first senior chamionship match at Croke Park (Our only other All Ireland Semi-Final appearance in 1927 was played at Tuam) and we don't get there often.
See the Teams here.
There was well over 30,000 Leitrim fans at Croker that day. It seems that many Leitrim people from abroad had returned for the game. There was plenty of green and gold within the stadium to match the blue of Dublin.
Unfortunately, we were no match for Dublin and they ran out convincing winners at the end. Here is the family and myself in the 'Brian Boru' after the match having a few beers.
[Connacht Glory] [All Ireland Semi-final]
[All Ireland Semi-Final Teams]