Gallery
Come enjoy our quilts. Kids and Pets are just random accessories!
A big part of each meeting is for our members to share what they have done. Each member gets recognition and praise for a job well done no matter how small or large the project. We are here to encourage our members from the beginning quilter who has just completed her first wallhanging to the advanced quilters who inspire us all.
These quilts have been displayed on this page with the permission of the maker. Please enjoy looking at them as much as we did!
This quilt was made for my brother Randy Mathes who has served in the Army since the mid-80's. The Wonky Star pattern was learned at one of our guilds workshops. Made by Chris Oertel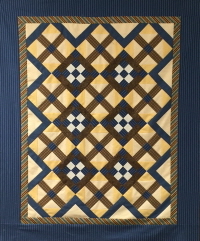 This quilt was made for my first grandbaby. By Chris Oertel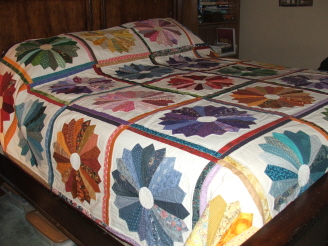 This quilt was made for my King Size bed. It's so heavy you can barely move under it. By Chris Oertel
This is a Little Twister quilt. By Kathi Downey