"Rookie Of The Year 2000"
"8th Place In Points"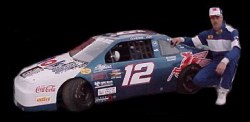 My first full season with the
VMCRA
was to be a battled with ten other drivers for "Rookie Of The Year". We were to run approx. 22 races that season and I knew it was not going to be easy by no means. Throughout the year I had my UP's and down's with the car doing some repair damage to the body as I ran into a few cars along the way leading me to be an "Expert" at body work. However; over all through out the season I had some good finishes and some not so good finishes, but I was able to stay in the top two for the rookie points lead all year long until the final 5 races were left. I got into a streak that shot me into the rookie points lead that took me to the rookie points championship, I also took 8th in points for that year. Talk about excited it is the biggest accomplishment I had ever achieved.
"Season of 2001"
In the off season before 2001 it looked to be like it was going to be a bad season from the start as the team I was associated with decided not to race and take the year off leaving me alone to form my own "Team and Crew". At the beginning of the season a friend of mine (Jack) approached me after driving my car twice the season before about getting his own car. I was more than thrilled at the idea of him racing along side of me and I was able to teach to him what I had learned the year before.
"In Search of Another Race Car"
After a few phone calls and two days we found a car.
A chassis and some parts a car was built and was
ready to hit the track.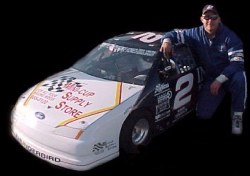 We then formed our own team and crew known as
Passin-Time Race Team.
Passin-Time Race Team and Crew Members:
Courtney Ellis #12 Driver
Scheryl Smith
Gregory Boitnotte
Brandon Smith
Jack Bellamy #2 Driver
Becky Bellamy
Brittnee Bellamy
Heather Elliott
Jonathan Elliott
Crew Chief
Dean Johnson
Jack and I started out pretty strong in the year of 2001
Jack was up for "Rookie of the Year" and I was trying to hold on
to my over all standings of the year before taking 8th in points.
About 1/4 of the way through the season Jack rolled his car 6 times
one night at South Hampton Speedway (and he walked away).
We brought the car home and replaced the chassis and in two weeks Jack was back out on the track. As for me I held onto my 8th place in points for the second year in a row.
What the Virginia Mini Cup Racing Association had to say about
the #12 car (Courtney Ellis) and his performance throughout the 2001 race season.
"April 21, 2001 Franklin County Speedway"
"Courtney Ellis is this weeks winner of the Amsol Slick Move Race Award. Courtney started 10th and would move forwards and backwards all night. He passed me at least four times I know. I also watched him wreck twice without ever hitting a thing. How he got the car back under him I'll never know but, then he would come back through the pack and pass us all again! If he could only have kept it straight for all 25 laps, he would have been the one to catch!"
"June 2nd, 2001 Franklin County Speedway"
"Courtney Ellis made several big moves Saturday night and takes home this weeks Amsol Slick Move Race Award. Courtney started 13th and cleanly moved all the way to 7th. Safe and smart driving not only moved him up for the night but in overall points as well. Courtney jumps 4 spots from 15th to just outside the top 10 at 11th overall."
"August 17th, 2001 Ace Speedway"
"Courtney Ellis finished 6th and was more excited than Jamie. He started 12th and seemed to be in good close racing all night, he also managed to gain the support of the crowd, Heck he even had my radio spotter cheering him on (of course my spotter is Dean Johnson who is a big part of the "Goochland Gang"). Any ways Courtney did a great job and ended up with his best finish of the season."
"September 1st, 2001 Franklin County Speedway"
"Courtney Ellis is this week's Amsol Slick Move Race Award Winner.
Courtney started 9th and was involved in a "caution-less" crash in the opening laps I'm not a 100% sure what happened on the front stretch but, I do know that Courtney did a complete 360, hitting nothing, kept going and finished 6th at his favorite track! WOW. Great driving Courtney. His efforts move him solidly into the top 10 to 9th overall."
"Ace Speedway"

Another Great Year Has Come To An End!
Hope To See YOU At The
Track !!!
"The September 11th Tragedy"
Towards the end of the year September 11th's tragedy touched us all
and for the last two races we all summoned the courage to race
however not once did we let this tragedy slip our minds.
Our final two races was dedicated to those who lost
their lives and to all the family members of the
September 11th's tragedy. The VMCRA,Inc.
and all the drivers and crew teams
donated their final earnings to the
victims of the September 11th.
God Bless America!
The Passin-Time Race Team is associated with the VMCRA,Inc.
may not be reproduced or altered in any way
copyright© 2001, Passin-Time Race Team