QUICKER WICKER BASKET KITS
I wove the originals for each of these baskets, then made rubber molds, and cast them in resin. They are extremely realistic and easy to assemble. After they have been cleaned, they can be painted, stained, and/or decorated in a variety of ways. You are only limited by your imagination. See the bottom of this page for some ideas. Any of these baskets would be great gifts for your friends, miniature club members, or to exchange at a Houseparty or miniature show. Be sure to keep one for yourself!
Click on a thumbnail for a larger picture and use your browser's back button to return to this page.
1" Scale Quicker Wicker Basket Kits
$5.00 each
(Decals not included in kit)
1" Oval Basket Kit 7/8"W X 1-1/4"L X 1/2"

Item #OB-1

1" Flared Basket Kit 1" Dia. X 1/2"H

Item #OB-2

1" Round Basket Kit 1" Dia. X 3/4"H

Item #OB-3

1" Basket w/ Lid Kit 1"Dia. X 1"H

Item #OB-4

1" Fireside Basket Kit 1"W X 1-1/4" L

Item #OB-5

1" Laundry Basket Kit 1-1/2"W X 2-1/4"L X 1"

Item #OB-6
1/2" Scale Quicker Wicker Basket Kits
$5.00 each
(Decals not included in kit)
1/2" Oval Basket Kit 1/2"W X 1"L X 3/8"H

Item #HB-1

1/2" Flared Basket Kit 5/8" Dia. X 1/4"H

Item #HB-2

1/2" Round Basket Kit 1/2" Dia. X 1/4"H

Item #HB-3

1/2" Small Basket with Lid Kit

1/2" Dia. X 3/8"H

Item #HB-4

1/2" Large Basket with Lid Kit

3/4" Dia. X 5/8"H

Item #HB-5

1/2" Fireside Basket Kit

1/2"W X 3/4"L

Item #HB-6
DECORATING IDEAS FOR QUICKER WICKER BASKET KITS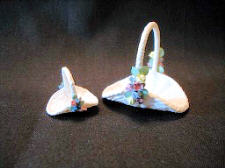 Two 1" and one 1/2" basket decorated with ribbons and decals.

Decals purchased from:

1" and 1/2" baskets decorated with dried flowers and sealed with water based varnish.

Two 1" fireside baskets filled with vegetables and roses.

Handcrafted vegetables & roses purchased from: