Overall Ratings

For those who really just want to know
where each of the campgrounds rate overall at a glance,
I have listed them numerically here for you.

Additionally, in the campground review pages, each of the
Missouri state parks is rated within the campground review.

1-Johnson's Shut-ins State Park**
2-Lake Of The Ozarks State Park, Kaiser, Missouri
3-PJ Hoffmaster State Park, Muskegon, Michigan
4-Montauk State Park, Salem, Missouri
5-Roaring River State Park, Cassville, Missouri
6-Bennett Spring State Park, Lebanon, Missouri
7-Porcupine Mountains Wilderness State Park,
Silver City, Michigan
8-Crazy Horse Campground, Cosby, Tennessee
9-Tahquamenon Falls Lower Falls Campground,
Paradise, Michigan
10-Sleeping Bear Dunes National Park Platte River Campground,
Honor, Michigan
11-Sherwood Forest, Wisconsin Dells
12-The Wilderness at Silver Dollar City, Branson, Missouri
13-Fort Wilkins Historic State Park, Copper Harbor, Michigan
14-Yogi Bear's Camp Resort, Eureka, Missouri
15-Indiana Dunes State Park, Chesterton, Indiana
16-WaKeeney KOA, WaKeeney, Kansas
17-Hidden Valley RV Resort & Campground, Milton, Wisconsin
18-Acorn Acres, Branson, Missouri
19-Ray Behrens, Perry, Missouri
20-Indian Creek, Mark Twain Lake, Missouri
21-Elk Meadow RV Park, Estes Park, Colorado
22-Countryside Resort Campground, Lebanon, Tennessee
23-Sam A. Baker State Park, Patterson, Missouri
24-Damsite, Hermitage, Missouri
25-Hawn State Park, St Genevieve, Missouri
26-Table Rock State Park, Branson, Missouri
27-Casey KOA, Casey, Illinois
28-Mark Twain State Park, Florida, Missouri
29-Meramec State Park, Sullivan, Missouri
30-Berry Bend, Warsaw, Missouri
31-Redman Creek, Lake Wappapello, Missouri
32-Lake Rudolph Camp Resort, Santa Claus,Indiana

**NOTE: Johnson's Shut-Ins was heavily damaged by the breech
of the dam on Proffit Mountain in December 2005
and the campground is closed until further notice.
Log on to the website at the campground review page
for updates on restoration.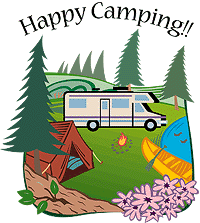 Back to Adventures In Camping