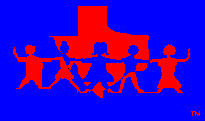 "Texas ain't big enough to hold all of us!"
More photos


Lynne, Terry, and Judy work on a jigsaw puzzle in the Hospitality Suite. This and all photos, unless otherwise noted, by Jay Early.

Two attendees at the hotel gym on the stationary bicycles.


The Louisiana "Triplets"--Frances, Elizabeth, and Melissa.

Close-up of second year attendee Melody.
Saturday workshops: Some of the eager beavers gathering for the aerobic workout: Fran, Elizabeth, and Nora.
Saturday workshops: An attentive audience!


Saturday workshops: Conversation between workshops.

---

Return to the "Texas ain't big enough to hold all of us!" report and photos.
Return to the Big As TEXAS homepage.

4/02