If you have any pictures that you would like included in this collection or you would like to add your own report, then please contact the webmaster. It doesn't matter if you were in the movie or were just watching. We would like to hear from you.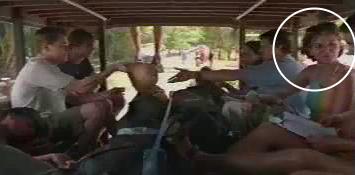 We took the photograph to the left at Surin Beach on Phuket. It shows some of the backpackers employed in the movie as extras. The still on the right is from the movie and shows this actual scene. Do you know the person who is circled or anyone else in the picture?
Calling all backpackers! Were you an extra in the movie The Beach? If so, you may recognize yourself in one of our many photos taken on the set. Please e-mail us!
Copyright notice: All publicity stills are copyright 20th Century Fox and are used here with their kind permission. The copyright of other photographs belong to individual owners which is noted on each page.
If you are interested in the movie The Beach, then please visit these web sites:
Footsteps on the Beach - the most comprehensive Beach site with 100's of pictures

Leonardo on the Beach - information and pictures about Leonardo's experiences in Thailand.

The Beach Clips - video clips

Beach Watch - message board for latest information

The Beach Mailing List - keep up-to-date
Make sure you bookmark this page for a return visit. There is a lot more to come!