Creative ORGANIZING



The ONLY Way
To Get Things DONE...
RIGHT!
________________
You FORGOT?
You Could Use A Little HELP?
You LOST IT? There's Just ...
NEVER Enough Time?
Don't Even Tell Me About It.... I KNOW!!!
This Creative Practice Lab
is For All Of US!
____________
You're just as talented as they come, sharp as a tack, clever, witty, charming, dedicated, visionary, and willing to stay up all night to get it done if you have to... But around 4:00 AM you begin to wonder if maybe you're just plain crazy to be digging around for files that just AREN'T where you're SURE you put them, and you're wishing the Shoemaker's Elves Union had an Office Assistant Division that would just come and get things all ORGANIZED for you, while catch just a few much-needed winks...
Well, I checked it out, and they DON'T!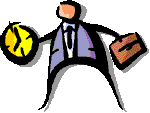 That's why I've included this Practice Lab, here, for all Visitors and Community Members to take full advantage of. The Creative ORGANIZING links you'll find listed behind the click-through below are plentiful and cover a broad range of products, services and hands-on, customizable tools to help you Get It Together, and Keep It Together -- and maybe even have time left over for other things!
A LOT of them are FREE, and ALL of them are well-worth at least taking a look at, if staying organized and using your time more efficiently are among you personal business goals. So don't waste another second reading here, just get to the Practice lab, and HELP YOURSELF OUT, with absolutely oodles of nifty ideas that can truly make a difference in your productivity.
I'll talk to the Elves
about getting a contact address for the Head Elf Scheduler...
But in the meantime, if YOU have suggestions that you think would be helpful to others who are struggling to keep their head above water, don't hesitate to tell them to me--I'm just an E-Mail away, and I love hearing from you, and learning more about how I can serve you BEST!
___________________________
Now, Go To...
_____________________
Visit My Sponsor:
THANKS, 5Cent Long Distance!
You WEREN'T Kidding About
5Cents
EVERYWHERE, ALL THE TIME...
I REALLY mean.... THANKS!
PEOPLE, You've GOT to give THIS one a look-see!
_______________________
Or
RETURN TO THE
MAIN MENU
RIGHT NOW!!
_________________________