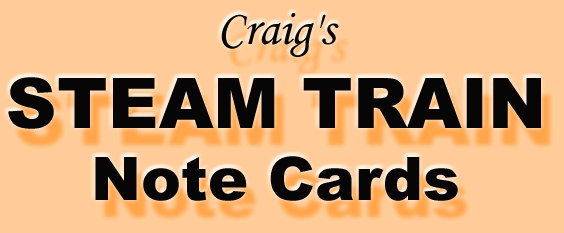 BARNS
-
OLD BUILDINGS
-
TRAINS
-
PUPPIES & KITTENS 1
-
PUPPIES & KITTEN 2
-
OLD STEELE CITY
TRACTORS
-
LIGHTHOUSES
-
COWBOYS
-
WILDLIFE
-
VANISHING WEST 1
-
BIRDS OF PREY
VANISHING WEST 2
-
LITTLE KIDS
-
MOTORCYCLES
-
WATERWHEELS
-
OLD BUILDINGS 2
-
PATRIOTIC
JESUS
-
RURAL MEMORIES
-
CHRISTMAS
-
SNOWMEN
Each package contains 10 of Craig's Steam Train
note cards/envelopes....5 different Steam Trains...2 of each .
Each of Craig's note cards measure 4 1/2" x 6 1/4"
They are printed on white heavy card stock

Each package of Craig's STEAM TRAIN note cards sell for $7.00. For shipping cost, please refer to the home page.

To view a larger image of each card click on the thumbnails below.

Thank You for visiting this page. To return to the home page click below.