The Children of Edmond Burke
5/25/1819 - 12/25/1889
and
Rose Ann Forquer Burke
12/19/49 - 1/28/1901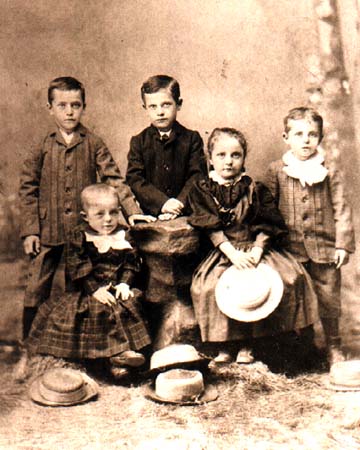 John Joseph ("Joe") 1882 - 1965
Edmund Charles (Ed") 1883 - 1956
William James ("Bill") 1885 - 1971
Rose Ann "Aunt Rosie" 1887 - 1961
Philip Francis ("Phil") 1890 - 1971
Edmond Burke married Rose Ann Forquer ( the daughter of Philip A. Forquer and Charity Eleanor Clark of Ohio) in 1879. She was 29, and he was 60 years old. They had six children, but little Mary Ann, their first child, died after twenty-five days of life. Edmond died on Christmas Day in 1889, leaving Rose Ann with four children and pregnant with Phil, who was born in February. The oldest of the children was Joe Burke, aged 7; he is the father of Bill Burke in Texas. Rose Ann died in January of 1901, just before Phil's eleventh birthday.
Apparently the children took care of each other, along with help from their Aunt Charity (Charity Forquer Molloy). Joe, Ed and Phil eventually married and had children; Rosie and Bill shared a house together and were never married.
---
PHOTOS
Dorothy Ryan in Clinton found an obituary in the Clinton Herald that we think may be the obituary for Edmond Burke. Grandma said that Edmond died at the Molloy house on Christmas day after suffering from a stroke while coming home from town. The article spells his name wrong twice and says that he died just before midnight on Christmas Eve. It refers to him as "an old farmer". You can see the article BY CLICKING HERE.