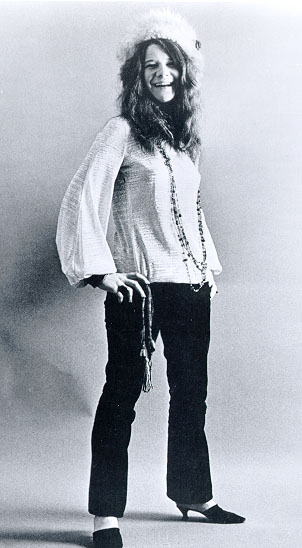 ~Janis Joplin~

January 19, 1943 - October 4, 1970
There are so many cool sites out there about Janis... I won't even attempt to match them in any way. All I want to do is pay my respects to Janis, in my own humble way, by creating this page to show my love for her and to provide links to some of the best Janis sites I've seen. :)
This page is a work in progress so please check back often~
~I love you, Janis~
Groovy Janis sites on the web...

Kozmic Blues
Janis
Big Brother & the Holding Co.
Janis Joplin International Web Site
The Official Janis site
Flower in the Sun
Janis' World
Also, check out Woodstuck's Hippie Page. No Janis, but some really "groovy" links there. :)

Click here to subscribe to the Janis mailing list
days 'til Janis' birthday!
peaceful Janis-loving hippies like you have been here ~:)
This "Janis Joplin Ring" site owned by Lisa V..
[ Previous 5 Sites | Previous | Next | Next 5 Sites | Random Site | List Sites ]
E-Mail Me :-)
<---Back to "Sunflowr Garden"
& be sure to sign my guestbook there ~ :)