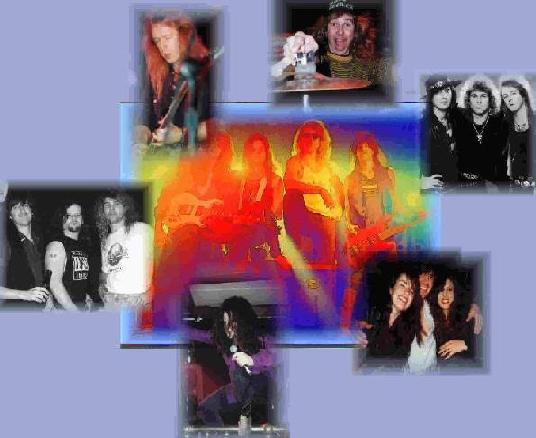 No real news to report at this time (11/3/02).
Click here for a review of the Benefit Show
As of July 1st not much news to report, work is still progressing on the new disc.
Pick up a copy of the new Escape Music Millennium Collection VOl 2 CD and don't forget that Vol 1 has an unreleased Silent Witness tune.
If you get the chance see Lance playing with The Swinging Johnson's or Hal playing with Bobby Bandiera.
Check out this NEW interview with Hal at the Take It WebSite.
Press Release
Music fans, prepare to have your minds blown ... so said Hard Roxx, a leading UK AOR magazine, about the debut Silent Witness album. And now the new album, Thrills, continues their assault on the music world!
Thrills features the debut of new singer Anthony Lee Fontayne, who recorded with Warrant when Jani Lane was pursuing his solo work, and who also worked with Joe Lynn Turner. Thrills also features a guest appearance by guitar virtuoso Stephen Ross, who has been called by Guitar Player magazine "one of the guitar players of the '90s".
Another guest is Bobby Bandiera, guitarist on the recent Jon Bon Jovi Destination Anywhere album and tour.
Here's a link to an interview with Hal that was done for the Rock Report Web Site.
And be sure to check out the new Cheap Trick Tribute CD featuring Silent Witness , Gilby Clarke, Danny Vaughn (Tyketto), Frank Dimino & Others.
CHECK OUT THE NEW CHEAP TRICK TRIBUTE CD!!!
Silent Witness features New Jersey musicians Hal B. Selzer, Lance Hyland Stark, John Bushnell, and Anthony Fontayne. The first album included vocalist Robert Mason, of the Lynch Mob and Cry Of Love. Both albums are available through Escape Music Ltd. in the UK, and the first album is available through Avex D.D. in Japan. Thrills will be released in Japan in the Spring of 1999, through a yet-to-be-determined label.
Thrills was recorded with the help of Obie O'Brien, Jon Bon Jovi's engineer and co-producer, and Steve DeAcutis, producer of Arcaro. The album has already spawned a local New Jersey hit, "One Winged Angel", and "Playin' With The Boyz" was featured in the soundtrack of an HBO documentary about the New York City strip club scene, called In The Flesh (now available on video).
Silent Witness' albums are available in the United States wherever imports are sold, or you can mail order them through Rock Dream Records, at (609) 890-0202.
For more information about Silent Witness, contact Escape Music 011 44 161 431 9165