Some Hints for Building
A strong and light structure. Doesn't bend easily.
This way the axles turn more easily.
A clutch. The pipe keeps the axles in line.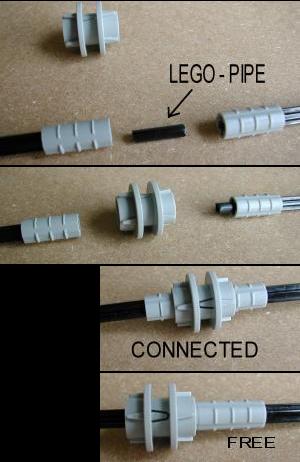 A permanent joint.
Another permanent joint.
Use a "very hard joint" when you want the parts to stay together during the pull-down of the ride (see Himalaya).
Why to open a turntable?
- To lubricate it. Silicone grease is good for plastic (see Flying Circus).
- To screw nuts and screws when studs don't hold strong enough (see Chaos and Tornado).
- To build a revolving electricity joint inside (I haven't tried that yet).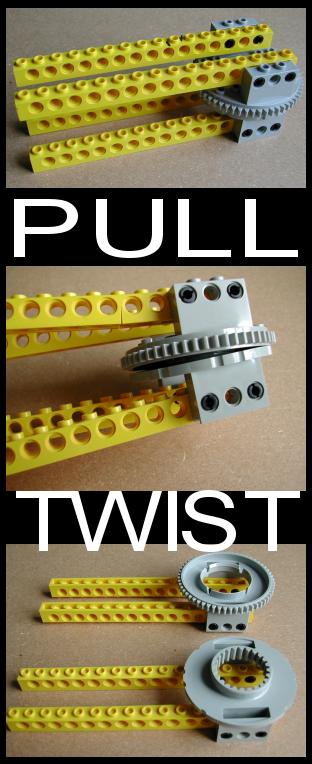 You can decrease the speed of the axle by using the inner cogs of a turntable.
This way you can hide an axle inside a beam.
An adjustable angle.
A revolving electricity joint made of circuit board.
An easier revolving electricity joint.
A revolving pneumatic joint.
Some technical data about 9V LEGO-motors.


- Current on idle 6 mA
- Maximum current before the cutout 85 mA
(The motor cuts out the power when the current
rises too high.)



- Speed 4200 rpm (rounds per minute)
- Inner resistant 15 ohms
- Current on idle 48 mA
- Max current before cutout 400 mA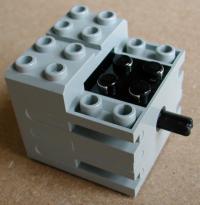 - Speed 350 rpm