MALINDA BLAKELY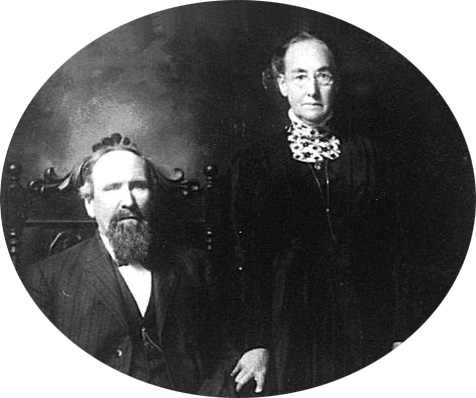 William Franklin and Malinda Blakely Million
Malinda was born April 24, 1850 in Greenville, TN. In Nov. 1869 she married William Franklin MILLION, a younger brother of Arthur Robert MILLION.
William was a farmer and Malinda was a homemaker and cared for their five children.
AN AGED WOMAN PASSES AWAY
MALINDA MILLION BORN IN TENNESSEE
WIDOW OF WM. MILLION WAS ALMOST 82 YEARS OF AGE AT THE TIME OF DEATH.
Malinda Million, for sixty years a resident of Atchinson County in the centennial neighborhood, died Wednesday, April 13th, at the home of her daughter, Mrs. Wiley Bartholomew. She had been ill about a week, the infirmities of old age contributing to her demise.
Funeral services were held at the High Creek Baptist Church by Rev. Stephen Mihlfeld on Friday afternoon, April 15th. Internment was at High Creek Cemetery.
Mrs. Million's maiden name was Malinda Blakely. She was the daughter of Joseph and Charity Blakely. She was born at Greenville, TN, April 24th, 1850. Had she lived but a few days longer, she would have attained her eighty-second year.
She was united in marriage with William Million in 1869. Five children were born to this union, all of whom survive the father and mother, Mr. Million having died March 14, 1927. The children are: Mrs. Lee Bartholomew, Mrs. Wiley Bartholomew, Bovell Million. Mrs. John Hall and Lee Million. There are also 16 grandchildren and five great-grandchildren to mourn the death of this pioneer mother.
Deceased was a faithful member of the High Creek Baptist Church for many years. She was always ready to help in every way to advance the Kingdom of God here on earth. She reared a family under the trying conditions that confronted the woman who helped establish a home more than sixty years ago. Her impress is on the community where she lived and labored for so long.
DEATH, CAME TO PIONEER MONDAY
Wm F. MILLION BURIED TUESDAY
Survived by Wife, Two Sons and
Three Daughters Was Born
in Tennessee.
Wm. F. Million of High Creek, known to practically all his acquaintances as, Uncle Bill, passed away at his home about 4 o'clock Monday morning after a lengthy illness. His condition had been serious for some time, growing critical frequently and then showing some improvement.
Funeral services were held at the High Creek Church Tuesday afternoon. Rev. D. W, Griffith preaching the sermon. Interment was at High Creek Cemetery.
William Franklin Million was a native of Tennessee. where he was born June 25, 1851, the son of James G. and Ellender Million. He was the fifth in a family of eleven children.
He was married to Miss Malinda Blakely in November 1869. Five children were born to this union; two sons and three daughters. The children are Mrs. Lee Bartholomew, Mrs. Wylie Bartholomew, Lee and Bovell of the home neighborhood and Mrs. Dicey Hall of Coldwater, KS. Besides the wife and five children. deceased is survived by 16 grandchildren and five brothers.
Mr. Million was a member of the High Creek Baptist church many years and was a regular attendant until falling health intervened.
A frequent visitor to Rock Port In the years that he had lived in Atchison County, his figure was a familiar one and few were who did not know Uncle Bill Million. Though his step had become faltering in late years he was keenly alive to everything that took place and he kept pace with affairs of the day. His death removes a figure that will be missed by not only his immediate family but by a host of friends as well.

Back row; Daisey Mae, Bovell F., Dora Bell, Izetta Vannoye
Front row; William F., Lee L., Malinda
DORA BELL MILLION
| | |
| --- | --- |
| | |
| Dora Bell Million | |
NATIVE DAUGHTER ANSWERS THE CALL
MRS LEE BARTHOLOMEW DIED SUNDAY
Survived by Two Daughters and
Two Sons as Well as Other Relatives
Funeral Tuesday.
Mrs. Lee. Bartholomew, who had been ill at the home of her daughter, Mrs. Lois Deatz of Tarkio neighborhood, passed away there Sunday afternoon, December 12th. Mrs. Bartholomew's home was, in the Centennial Community.
Funeral services were conducted by Rev. Loren S. Goings at the High Creek Baptist church, Tuesday afternoon, Dec. 14th, with burial at High, Creek Cemetery.
Dora Bell Million, daughter of William Francis and Malinda Million, was born in the High Creek community on November 8th. 1874. She died only a few weeks after reaching her sixty third birthday.
She was married on December 24th, 1893 to Lee Bartholomew, who died; several years ago, three daughters and two sons were born to this union, one daughter being deceased. The surviving children are Mrs. Lois Deatz of Tarkio. Mrs. Helen Rapp of Hamburg, Jess M. Bartholomew of Michigan City, IN, and William B. Bartholomew of Rock Port.
Mrs. Million is also survived by two sisters and two brothers, Mrs. Vannoye Bartholomew, Lee Million and Bovell Million all of Rock Port and Mrs. Dicey Hall of Coldwater, KS. The deceased was a member of the High Creek Baptist church.
Having been born and lived throughout her life in the High Creek and Centennial communities, Mrs. Bartholomew was known to all residents of that part of Atchison county. The families of both herself and husband were long time residents of that section, known as respected and enterprising citizens. Bereft of her husband Mrs. Bartholomew carried on to the end.

LEONA MAY BARTHOLOMEW

Mrs. Leona May Bartholomew Herron obituary
from the Atchison County Mail
Rock Port, MO Friday June1, 1917
DEATH OF MRS. R. P. HERRON
Mrs. Leona May Herron wife of R E Herron, died at her home in Centennial neighborhood, on May 29th 1917; after an Illness of only a few days. Her remains were,interred at Grange Hall Cemetery an Wednesday, Rev. Johnson. pastor of the Centennial M. E. Church, preaching the funeral at Grange Hall Church.
Mrs. Herron was a daughter of Mr. and Mrs. Lee Bartholomew of Centennial neighborhood, and she was born on Juno 21st, 1894. She leaves her husband, Her parents, one brother and two sisters to mourn her untimely death. Only a short time ago she was married to the young man so sadly bereft by her untimely death seemingly with her people to-day active In life's rounds of duty and love, but gone to-morrow. To the brokrn hearted husband, father, mother, sisters and brother, sincere sympathy is extended, and when they have drained the cup may the peace that passeth all understanding come to them.
Robert Herron obituary
from the Atchison County Mail
Rock Port, MO Thursday April 28, 1966
Rites Held for
Robert Herron,
Lifelong Resident
Robert Earl Herron died Friday, April 22, at his home north of Rock Port. Mr. Herron spent his entire life as a farmer in the Centennial community. He was born Nov. 15, 1887, in Watson, the oldest son of the late. Mr. Mrs. W. H. Herron.
Mr. Herron is survived by four of six brothers and by his five sisters. They are: Jess Herron, Ross Herron and Mrs. Tom Warneke, Rock Port; Albert Herron, Mrs Ono Millsap, Watson; Mrs. Mary Ferguson, Roy Herron, Shenandoah, IA; Mrs. Nina Lawless, Tarkio; and Mrs.Marie Mortiz, Hastings, NE.
Services were held at the Rock Port Methodist Church at 2:00 pm Apr. 25 conducted by Rev. Neil Dubach. Internment was at Grange Hall Cemetery.
HELEN IZETTA BARTHOLOMEW
Last Rites for Mrs. Rapp, 72 Held Friday

Mrs. Helen Rapp 72, life long resident of Atchison County died April 28 In the Grape Memorial Hospital in Hamburg, IA, following a lengthy illness.
She was born Sep. 3, 1898 to Lee and Dora (Million) Bartholomew north of Rock Port.
The family moved to Timberlake, SD where Helen began her early education. They returned to Missouri a few years later and she finished her schooling in the Lone Cedar country school.
She was married to Forrest F. Rapp on Feb. 12, 1924 at the home of Rev, Griffith in Hamburg, IA. They spent all their married years on the farm east of Hamburg, where they lived at the time of Mrs. Rapp's death.
Mrs. Rapp was a member of the High Creek Baptist Church and a member of the Centennial Club.
Survivors include her husband, Forrest, of the home in rural Hamburg; one daughter, Mrs. Doyne (Betty) Shelton, Rock Port; one sister, Mrs. Lee Deatz, Rock Port; two brothers. William Bartholomew, Maryville, and Jess Bartholomew, Michigan City, Ind.; and three grandchildren.
She was preceded in death by one sister. Funeral services were held Friday. Apr. 30 at 2 P.m. at the Minter Funeral Chapel in Rock Port, with Rev. Mitchell Mulvania officiating. Burial will be in the Linden Cemetery north of Rock Port.
Minter Funeral chapel is in charge of arrangements.

The Atchinson County Mail, Thursday, Feb. 24, 1983
Services held for Forrest F. Rapp, 85

Mr. Forrest F. Rapp, 85, died Feb. 20 at a Hamburg Hospital. Born Feb. 5,1898 on the family farm east of Hamburg. Mr. Rapp attended school near his
home and graduated from the Rock Port High School.
On Feb. 12, 1924 he married Helen Bartholomew, Mrs. Rap died in 1971.
Surviving is a daughter, Betty Shelton, Rock Port; three grandchildren and two great grandsons.
Grave side services were held Feb. 22 at the Linden Cemetery, north of Rock Port, with Pastor Robert Leifer officiating. Minter Funeral Home was in charge
of the arrangements.

JESSE MYRON BARTHOLOMEW
Jessie M. Bartholomew obituary
from the Atchison County Mail
Rock Port, MO Thursday Nov. 10, 1983
Rites held for
Mr. Bartholomew, 82
Mr Jess M. Bartholomew, 82. a former Rock Port resident, died Oct 21 at St Anthony Hospittal, Michigan City, Ind.
Mr. Bartholomew was born on Jan. 20, 1901 in Rock Port, the son of Lee and Dora MILLION Bartholomew. He had lived in Michigan City since 1930. He worked at Joy Manufacturing Co there for 36 years as an electrical engineer before retiring in 1966.
Sept. 9, 1922, he married Fern T. Pat Townsend in Rock Port.
Surviving are his wife, a daughter, Lynn Petti, Shaker Heights, OH and a sister, Lois Deatz, Rock Port.
Services were Oct. 24 at the Carlise Funeral Home in Michigan City.
PAT BARTHOLOMEW obituary
from the Atchison County Mail
Rock Port, MO Thursday Jan. 14, 1988
Mrs. Pat Bartholomew 87, Michigan City, Ind., passed away Jan. 6 at the Emerson Hospital in Concord, Mass. She was born May 17,1900 in Rock Port, the daughter of John P. and Harriet (Grout) Townsend.
On Sept. 9, 1922, she married Jess M. Bartholomew in Rock Port. He passed away in October, 1983.
She had been a resident of Michigan City, Ind. since 1930. She was a member of the First Presbyterian Church, Amy Arndt Circle of First Presbyterian Church, Memorial Hospital Auxiliary, Pottawatomie County Club, and was a former member of Tri-Kappa Service Sorority.
She is survived by one daughter, Lynn B. Petti, Concord, Mass.; one sister, Mabel Saunder, Rock Port; and three grandchildren: Daniel Tanner Chilton, Newark, Del., Bart H. Chilton, Washington, D.C., and Elizabeth Chilton Whitlow, Liberty, Ind.
Services were held Jan. 9 at Carlisle Funeral Home, conducted by Rev. Glenn F. Polzine. Interment was at Greenwood Cemetery.
WILLIAM BERLIN BARTHOLOMEW
Obituary from the Daily Forum May 3, 1977 Maryville, MO
William B. Bartholomew

William B. Bartholomew. 74-Year old retired mechanic, Maryville, died suddenly at 8:30 a.m. Monday at his home.
Born Dec. 4, 1902 in at Rock Port, the son of the late Lee and Dora Million Bartholomew, he was married April 12, 1954, at Ravenwood, to Marie Partridge, who survives.
A resident of Maryville since 1946, he had lived at the present residence 19 years. He was a member of Laura Street Baptist Church.
Besides his wife of the home, he is survived by a son, James Bartholomew, Kansas City; a stepson, Ron Partridge, Maryville; a sister, Mrs. Lois Deatz, Rock Port; a brother, Jess M. BarthoIomew, Michigan City, Ind.; two grandchildren and three great grandchildren.
Services will be conducted at 2 p.m. Wednesday at the Price Funeral Home, with Dr. Clifford Rawley to officiate. Burial will be in High Creek Cemetery, Watson. The family will meet friends from 7 to 8 p.m. today at the funeral home.
LOIS LOVEL BARTHOLOMEW
Lois was born May 12, 1906. She married Lee Sutter Deatz and they had four children.

Lee Sutter Deatz Obituary from the
Atchison County, Missouri Mail Thursday Sept. 13, 1973

Last Rites for Retired Farmer Lee S. Deatz

Mr. Lee S. Deatz 67, a lifelong resident of Atchison Count died Sep. 6, at his home in Rock Port.
Born the son of Frank and Hannah (Sutter) Deatz, Sep. 3, 1906, near Rock Port. His education was received at High Bank Country school north of Rock Port and he attended the Rock Port High School. Following his schooling he farmed with his parents.
He was married to Lois L. Bartholomew, Apr. 26, 1928 at the High Creek Baptist parsonage by Pastor Chase W. Jennings. They lived on the Fleda Gore Farm in the English Grove community. He continued farming with the exception of two years when he was employed at an oil company in Tarkio. They moved to Rock Port in December of 1945. He was employed at Rolf Fertilizer and Supply from 1957 until 1960. Then he and his son, Paul, along with their farming began constructing homes in Rock Port. He retired in 1971. Mr. Deatz was a member of the English Grove United Presbyterian church.
Survivors include his wife, Lois of the home; three daughters: Mrs. William (Beth) Carey, Omaha, NE, Mrs. Delinas (Bonnie) Howell, Rock Port, and Mrs. Joe (Jane) Amthor, Atchison, KS, one son, Paul Deatz, Rock Port; one sister, Mrs. Phyllis McCartney, Fairfax; two brothers: Merrill Deatz, Rock Port, and Stanley Deatz, Forest City, and nine grandchildren.
He was preceeded in death by one sister, Mrs. Lois Erwin and one brother, Carl.
Services were held Sep. 8, at 2:00 p.m., at the English Grove United Presbyterian church with Pastor Donald Bridges officiating. Burial was at the English Grove Cemetery. Minter Funeral Chapel was in charge.

IZETTA VANNOYE MILLION
Last Rites Held
June 11 for Mrs.
Bartholomew

Services were held at the Bartholomew Funeral Home June 11 at 2:00 pm for Mrs Izetta Vannoye Bartholomew, Rev. Jerry Osstrom officiating.
Izetta Vannoye Million, daughter of William Francis and Malinda Million, was born in the High Creek community Nov. 20, 1877. December 24, 1899, she
married Wiley Bartholomew of High Creek community. They made their home on a farm and were members of the High Creek Church. Her husband preceded her in death in 1973.
In the, spring of 1956 Mrs Bartholomew moved to Rock Port where she lived The remainder of her life. She died at the Fairfax Hospital June 7 after a short
illness.
Surviving are one sister, Mrs. Daisey Hall. Denver. Colo, one brother Lee Million, Omaha, and numerous nieces and nephews. Internment was at High
Creek Cemetery.

Wiley O. Bartholomew Obituary from the
Atchison County, Missouri Mail Thursday Sept. 13, 1973

W. O. BARTHOLOMEW OF HIGH CREEK
DIES IN ST. JOSEPH

Had Lived Entire Life In Community Where He Was Born. Wassick for Several Weeks.
Wiley O. Bartholomew, a well known farmer of the High Creek neighborhood, passed away at Ensworth hospital at St. Joseph, Saturday, March 22nd.
For some days before being taken to the hospital he had been In a serious condition at his home, little having been held forth for his recovery from an affection
of the brain.
The remains were brought to Watson Saturday afternoon and taken to the home.
Mr. Bartholomew was born June 20th, 1874, near High Creek, Atchison County. and entered into rest March 22nd 1924, aged 49 years, 8 months and 26
days. He was a son of Mr. and Mrs. George Bartholomew.
He was married to Izetta V. Million, December 24th, 1899. He professed faith in Christ in November, 1898, uniting with the High Creek Church, of which he
was a member at the time of his call to "come up higher."
His life was spent in the community in which be was born and every influence of that life was for good and for the uplift of humanity. The writer had known
him intimately for 30 years and esteems it one of life's great privileges to have baptized him and to have officiated at his wedding and to have assisted as his
pastor. Rev. D. W. Griffith, in his funeral services, as well as to have been privileged to write this tribute to his memory.
This good Christian man's life will continue to be an inspiration long after his departure from earth. A friend who never failed to reader assistance where he
could do so, always in his place In the Sunday School and church work. He exemplified in his life the power of christianity. He lived for his family and his
friends.
He leaves to mourn his departure, his wife, two brothers and two sisters, besides many friends who will miss him sadly. The brothers are Lee and Charley of
the home neighborhood, while the sisters are Mrs. Ray Chastain of Rock Port and Mrs. George Downey of Raton. N. M.
He awaits our coming to "the city that hath foundations whose builder and maker is God." Therefore,"we sorrow not as those who have no hope." We shall
meet again.
The funeral services were held at Mr. Bartholomew's home church at High Creek, conducted by Rev. D. W. Griffith. his pastor, assisted by the writer (his
pastor from 1893 to 1899). The large congregation of sorrowing friends and relatives attest the high esteem in which the deceased was held.
The Lord comfort all who mourn and bestow grace for our trials.
W. W. LAUGHLIN.
BOVELL F. MILLION
Mr. and Mrs. Bovelle F. MILLION obituaries
from the Atchison County Mail
Rock Port, MO
BOVELL MILLION DIED
SATURDAY IN KANSAS CITY
Bovell Million, a native of this County but for the past five years a resident of Kansas City, died at the General hospital in that city last Saturday, December 7th, aged 66 years
The remains were brought to Rock Port and funeral services were held at the Barthtolomew Funeral Home Monday afternoon, conducted by Rev. A. W. Tandy of them High Creek Baptist Church. Internment was at High Creek Cemetery.
The deceased, son of Mr. and Mrs. W. F. Million, was born in this county on April 1st, 1880, and lived here the greater part of his life, engaging in farming.
He was married to May Yates in February 1904. She died in 1918. Surviving are three Sons and two daughters-Clifford Million of the home; Wm F. Million and Miss Helen Million, both of Washington D. C.; Clarence Million. Stockton, Calif.; and Mrs. Mildred Smith of Ann Arbor, Mich.
In addition to his sons and daughters, Mr. Million is survived by two sisters and a brother, Lee Million and Mrs. Wiley Bartholomew of Rock Port and Mrs. John Hall, Denver Colo., and six grandchildren, one child is deceased. A sister, Mrs. Lee Bartholomew, died Dec.12th, 1937.
Here for the funeral were all of the children with the exception of Clarence Million. Other relatives who came for the final rites, were Arthur Hall of Topeka, KS and John Hall of Lyndon, KS.
MRS. Bovell MILLION.
After a struggle of some days against an attack of influenza and pneumonia. Mrs. Bovell Million passed away at her home in Centennial neighborhood, Thursday. December 12th, at 6 p. m.
Not only had Mrs. Million been sick. I but her husband and children had also been sufferers from the prevailing malady.
May Yates was born at Basco, IL, April 20, 1884. She was united in marriage with Bovell Million, March 1, 1904. To them were born six children; three sons and three daughters, one daughter dying in infancy.
The living children are: William, aged 13; Clarence, 11; Clifford, 8; Helen Lorene, and little Mildred, 16 months old.
Deceased was converted more than fourteen years ago and united with the High Creek Baptist Church, of which,she remained a faithful and honored member until called to her home above. She was devoted to her husband five children and lavished a world of love on them. She leaves, to cherish her memory, the sorrowing husband and children and two sisters Mrs. Ernest Ward of Baxter Springs. Kans., and Mrs. Charles. A. Hall of near Linden, besides a great number of other relatives and friends. She was loved by all who knew her and will not only be greatly missed by the family, but by the entire community. All feel a deep sympathy for the family, who, because or the recent attack of influenza, were not able to accompany the remains to the place of interment at High Creek Cemetery.
The funeral service was held at the home Saturday, Dec. 14th, at 11 o'clock. Her pastor, D. W. Griffith. officiated in the presence of it goodly number, who came to show their respect for the sorrowing family. The beautiful flowers spoke of tributes of loving hearts.
D. W. G.
Their five living children;
WILLIAM MILLION
CLARENCE MILLION
CLIFFORD MILLION
HELEN LORENE MILLION
MILDRED MILLION

Mildred Million Smith's autobiography.
CHILDHOOD
When our mother died in 1918, Aunt Nettie Hall (my mother's sister) would have taken one of us girls and Aunt Vannoye the other one, though neither of them wanted us both. Neither of them had children of their own. Aunt Dora didn't think we should be separated, so she and Uncle Lee took us both. although they probably had less room and less money than anybody. Uncle Lee and Aunt Dora had two sons, Jess and Bill, two living daughters (Helen and Lois) and one deceased (Leona). We called Helen Bartholomew Big Helen and my sister Little Helen.
We lived on a farm, had a large yard and garden. There was a cellar in the side of a hill where we went down steps. It was like an underground basement. We went there when cyclones threatened, stored canned goods, potatoes and other vegetables there. I remember us shooing the chickens into the chicken house when a storm was coming. Aunt Dora always made Helen and me go to the cellar, but she would never go herself. She always said when the Good Lord was ready for her, He would take her no matter where she was.
Helen and I don't have a lot of clear memories about our early years. She spent a lot of time at Aunt Vannoye's, but it must have been on weekends because we always went to the same school and Aunt Dora and Aunt Vannoye lived in different school districts.
I remember when I was young enough to still take naps, Big Helen would lie down with me until I went to sleep. I was always angry when I woke up and she was gone.
When Helen was six years old and I was four, we started going to Lone Cedar School. We walked to school--half or 3/4 of a mile, but I'm not sure about the distance. The teacher always gave me kid stuff and I didn't like that. I wanted to do the same things the first graders were doing. She slapped me one day and I stalked out of the schoolhouse and walked home. The folks made Helen bring her books home every night and they would go over with me whatever she had had that day. Therefore, when I was six, I had already had the first and second grade work, so I started school in the third grade. This meant Helen and I were in the same class.
Lone Cedar was a country school with 8 grades, though I believe they combined some of the grades. There was a steep hill on the school yard grounds. In the winter we would pour water down the hill to freeze and then we would get a board and use that to slide down the hill. The toilets were two holes!, smelly, and of course outside. Sears and Ward's catalogs provided the toilet paper.
In winter we wore long underwear to school. Helen and I hated that. When we were out of sight of the house, we would roll them up so our stockings wouldn't be so lumpy.
I had a happy childhood. The toilet was a long walk in bad weather. We did not have electricity. We did have running water--a pimp in one of the outer rooms. We bathed in a washtub, usually on Saturday. In the summer we would warm a tub of bathwater out in the sun. There were two bedrooms, a living room with a davenport that made a bed, dining room, pantry, kitchen, and a small room which had the sink and water pump and the refrigerator. The iceman didn't come regularly, so perhaps he only came in the summer. I don't remember. Sometimes we kept milk and butter in the cistern. We always had books and I was an avid reader. The authors I remember most are Zane Gray and Mrs. E.D.E.N Soothworth. We had a player piano. My favorite piano roll was "Bye Bye Blackbird."
I had a lot of earaches when I was a kid. They would line up two or three chairs in the dining room, put two or three blankets on the chairs for padding and I would lie there while they heated cloths to apply to my earache.
There was a large building close to the house which we called the Wash house. The washing machine was in there, It had a stick handle which you pulled back and forth to agitate the clothes, That was my job on wash day. I liked to do that and recite poetry or sing songs. White clothes were boiled in a large copper boiler on the cook stove.
There was a small, dark room in the wash house which was used for meat storage, especially hams. There was another small room with a ladder which to the attic. It was quite light and I read a lot up there.
In later years, when I took my Cub Scout den to the museum in Lima, Ohio, there was a washing machine like the one we had.
We used a horse and buggy to get to Grandma and Grandpa Million's house. Uncle Lee took the horse and buggy to Rock Port every so often when we needed groceries or he needed feed for the animals. He usually traded eggs for things we needed.
We had chickens, pigs, cows and horses. The horses were used to plow the field, not to ride. The barn and pasture for the cows were quite a distance away from the house. You went up a hill, crossed a stile and went down the other side. In later years when I read to my kids about the old woman and her pig crossing the stile, I remembered our stile back home. "Pig won't go over the stile and I shan't get home tonight. For the benefit of my grandchildren, a stile is two steps up to cross a fence, then two steps down the other side.
Uncle Lee had a large orchard, mostly apples and peaches. He died in the mid-twenties. At that time families kept the body in the house, not at a funeral parlor. Neighbors or friends would sit up all night with the corpse. Usually sandwiches and cookies or something similar were served to them. Some people called it a watch. I know wake isn't the word I'm trying to remember.
I don't think I knew we were having a depression. We always had our own eggs, chickens, milk, pork, beef, etc. We also had lots of canned vegetables and fruits as well as fresh ones. We ate a lot of much, but Helen and I liked mush and didn't realize it was probably to save money. Aunt Dora cooked it on top of the stove, then put it in the oven for awhile to brown. Helen and I both liked the crusty brown top and used to fight over who got it.
I had my tonsils and adenoids taken out at Clarkson Memorial Hospital, Omaha, Nebraska. I think I was a brat. I know somebody brought Helen to see me and I told them not to let her come in, but they did anyway.
Aunt Vannoye made delicious bread. She used a starter. I don't know whether it was like sourdough or not. Sometimes I would be there for the week-end and our dad would come up and bring sirloin steak. We would have steak, homemade biscuits and gravy for Sunday morning breakfast.
I always made good grades in grade school. When I was in the fifth grade, I asked my teacher, Helen Rose (later to become my sister-in-law) if she thought I would pass. She said I knew very well I would pass if anybody did. Of course I knew. I guess I just wanted to be complimented.
Lois Bartholomew had a good friend, Clara Armstrong, who became pregnant when they were in high school. At that time, that was quite a disgrace. The girl was ostracized by everybody and Aunt Dora forbade Lois to associate with her any more.
HIGH SCHOOL
I enjoyed high school, I took the prescribed courses, except I took two years of Latin, which I loved. Plane geometry was my hardest subject. I never really understood it, but got through it with good grades by memorizing a lot of it, I was a rapid reader. When the English class teacher would ask who had read such and such a book, I would always raise my hand. She would ask me to report on it the next day, so I would get it at the library and read it that night and report on it the next day.
I played basketball in high school. I was a guard (substitute, not the main six). At that time there were two centers, a jumping center and a running center. Only the forwards could shoot baskets. I substituted often enough so that I got to go along when they had a game at another school.
Our senior pictures were taken in Shenandoah, Iowa. I assume Rock Port either didn't have a photographer or maybe just not a good one. The photograph put a notice in his window saying "Next week we will have the pictures of two million girls in this window." The next week Helen and I were the two million girls.
I ended up valedictorian. I wanted Aunt Dora to come to graduation, but she said she didn't have anything fit to wear. Helen worried about my valedictory speech. I pretended that I hadn't have it prepared yet (right up to the day) Wasn't I mean? I used "Invictus" by Henley as the basis of my valedictory speech. To save space I will not type it in separate verses, but since you might not be familiar with it, here it is: "Out of the night that covers me, Black as the pit from pole to pole, I thank whatever gods may be for my unconquerable soul. In the fell clutch of circumstance I have not winced nor cried aloud. Under the bludgeonings of chance, my head is bloody, but unbowed. Beyond this place of wrath and tears looms but the horror of the shade; And yet the menace of the years finds and shall find me unafraid. It matters not how straid the gate, how charged with punishments the scroll. I am the master of my fate. I am the captain of my soul." Isn't it ironic that the author later committed suicide?
I will hurry through college. I went three years, made the honor roll the first two years, then started dating and my grades dropped drastically. Jess Bartholomew, who lived at Michigan City, Indiana, decided I should drop out and go to work, I really think he wanted to get me away from my boyfriend, Anyhow, he talked with a good friend of his in Fort Wayne, Indiana, James Cornell, Chief Engineer at Magnavox, into giving me a job as his secretary. My future husband, Mervel Smith, was a draftsman in the Engineering Department. When he first asked me for a date, I told my roommate that he wasn't especially good looking, but he had a car. On our first date we went to a Sonja Heinie movie. She was a figure skating star. We started dating steadily and in a few months I returned my engagement ring to Roger (back in Missouri).
Aunt Dora died in 1938. Jess picked me up and took me to the funeral. It was a very hard time for me. I had a lump in my throat the entire time.
Smitty and I had good friends. One couple in particular, Bill and Mary Brown (Mary Belles at that time) were close to us. We spent a lot of time playing monopoly or pinochle, popping popcorn, buying a 25 cent six pack of Pepsi, going to street fairs, etc.
Smitty got a job with an architect drawing house plans. Magnavox had reorganized, firing my boss and Smitty, so we both lost our jobs. I asked the manager of the employment agency how long it would be before I would find something and she said nobody who could type as fast as I would ever be out of a job for very long. She was right. I started to work immediately at Indiana Michigan (the electric company) as secretary to the purchasing agent. He was a practical joker and had trouble keeping secretaries. You never knew when you would sit down on a cushion which made an embarrassing noise or find a plastic snake that would jump out at you when you opened the drawer. However, we got along fine.
At Christmas in 1939 Smitty gave me a bottle of perfume, a figurine of a lady carrying a bouquet. I had seen it at the local drugstore and knew it only cost $1.00. I thought "What a cheapskate." Then I saw a ring around the bouquet the girl was carrying. Of course I said yes when he proposed.
Smitty's mother died in January 1940. She had an appendectomy and we always assumed that was what killed her, but we found out later her heart gave out after the surgery.
I had taken a civil service test late in 1939 and in February of 1940 1 received a telegram to report to the Social Security Administration in Washington in a week. Smitty and I talked it over and decided to get married and go together. We had a hurry up marriage I'm sure my Missouri relatives thought I was pregnant (but I wasn't).
Perhaps my record of life in Ft. Wayne would not be complete without saying that once Mary and I hitchhiked to Michigan City to see Jess and Pat. I think they thought we went on the bus. Another time, Helen Rainier and I hitchhiked to Toledo. Both times truckers gave us a ride. Today that would be very risky. It probably was then also.
WASHINGTON, D.C.
We rented an apartment close to the building where I worked. I had to go through a training session consisting mainly of shorthand and typing. We were not allowed to make corrections with an eraser or Korec-type, We had to do the whole thing over. After two weeks of training I was given a job in the Office of the Actuary as a secretary. An actuary is a statistician who computes insurance risks and premiums.
We did not have much money when we left Ft. Wayne. The night before my first payday we were having a spaghetti casserole for supper. I dropped it and it broke. We had nothing in the house to eat, so Smitty went down to the corner grocery store and persuaded the grocer to give him enough groceries to tide us over. He left his watch as security.
Smitty soon found a job at Mims-Speak, an architectural firm, drawing house plans. One of his hobbies was model airplanes. He had a large one which he took around to model airplane meets. Once we went to one in Philadelphia.
We went to Luray, Va. for our honeymoon of 1941. We went to the Luray Caverns. We enjoyed the scenery (Blue Ridge Mountains). We ate at a restaurant called "Mims-land" which was partially owned by Smitty's boss. That is the first and only time I ever had orange sherbet served with the meal. They said it was to cleanse the palate.
Redbook magazine had a monthly article contributed by readers "What's On Your Mind?" They paid $100. One of our friends was always talking about what bad shape the world was in, nobody had any business bringing children into such a world where the men would die in battle and the women and children would be left bereft. I sent in an article trying to tear down his arguments and defending people's rights to have children. I won $100, which was the first contest I ever won. At the time, that was a lot of money. We used it as a down payment on some furniture and moved to a row house in Alexandria, Va.
Karen was born December 18, 1941. She was born at Georgetown University Hospital in Washington. I was in labor 38 hours. I kept saying "Never again. Never again." The unsympathetic nurse said "You'll be back in a year." I wasn't.
The war brought several new departments to the Federal government. I started to work for the Office of Price Administration and Smitty started to work for Coast and Geodetic Survey. That wasn't a new agency, but they were making maps for the War Department. Smitty was 4F. His eyes were very bad.
My brother Bill was in the military police and we saw him frequently.
We were in Washington for Franklin Roosevelt's third inauguration. Federal employees were given the day off to watch the parade and hear the inaugural speeches. I was part of the crowd on Pennsylvania Avenue watching the parade.
In 1942 or early 1943 I talked my sister, Helen, into coming to Washington. We weren't there too much longer ourselves, though.
ANN ARBOR, MICHIGAN
In 1943 Smitty received a telegram from Ned Graef, with whom he had worked at Magnavox. Ned wanted Smitty to come to work for him or in Ann Arbor. Ned worked for Argus Camera Company. The only reason Smitty could leave Coast and Geodetic Survey was because Argus was listed as a defense contractor. We moved to Ann Arbor in 1943.
We had an apartment near railroad tracks. Karen was afraid of trains and we cured her of that by having her wave at the trains and saying "Bye, bye, choo choo."
After living in an apartment for a few months, we bought a new home, cost $5,000, a Cape Cod bungalow. It had an unfinished attic, two bedrooms, basement, living room, bath and kitchen. We decided to have another baby. This time I decided to plan the baby for March. It would be early enough in the spring that I would be able to pick strawberries and I wouldn't be pregnant in the hot summer months. Barbara was born at University Hospital March 14, 1944.
It was in Ann Arbor that I started playing contract bridge. Up until then I had only played auction. Our neighborhood consisted of new homes like ours. We, the families, were all near the same age. Every Saturday night we got together to play poker or pinochle. About every half hour the parents would run home to check on the kids who were hopefully still asleep. I guess we were lucky nothing ever happened to them.
This was during the war and everybody had ration book. One book per person. Barb's birth meant a new ration book. Even with four books, sometimes things weren't available. Sugar and butter were two things I remember that were in short supply. Smitty was friends with the local grocer, who often saved scarce items for him.
In Ann Arbor I won my second contest prize. Station CKLW in Windsor, Ontario had a contest where some man played the piano. If you could stump him on a song, you would win a Presto pressure cooker. I looked through Smitty's guitar music and found "She Kept Running Like a Sewing Machine." That stumped him and I won the pressure cooker, which I still use.
My dad died in 1946 and we went back to Missouri for the funeral. I was pregnant with Dave at the time.
BLUEFIELD, WEST VIRGINIA
In 1947 Nick Nixon, with whom Smitty had worked at Mims-Speak in Washington, wrote Smitty and said he was going into business for himself (as an architect) in Bluefield, West Virginia and would like for Smitty to go in with him as a junior partner. Smitty flew down (alone). He had taken flying lessons. I was scared to death because he had to fly over mountains.
If the temperature got to 90 the Chamber of Commerce furnished free lemonade. Bluefield was in a kind of valley, with East River Mountain providing some nice scenery. We had a basement apartment, it was very shabby, in the house where Nick and his wife lived.
Karen was in the first grade. In Michigan you could start kindergarten if you were 5 by the end of the year, when we moved to Hoagland, she was a year younger than most of the children in her class.
Dave was born May 19, 1947. It was by far the easiest of my four pregnancies. They gave me a shot in the arm and when I woke up everything was over. They told me it was a boy and I kept saying, "are you sure it's a boy?" We had two girls and wanted a boy. He slept in a dresser drawer for awhile. Then Nick and Ruth built a new home and we moved into the upstairs apartment. Smitty decided to start building a house for us. It was on the side of a hill, the bottom level opening into the kitchen and dining room, the upstairs opening into the living room. The bedrooms and bath were on that floor also. Dave's crib used to be in the living room. He would get up on all fours and rock the crib clear across the room. The living room was a huge room with a huge picture window from which you could see East River Mountain.
Nick's business wasn't good enough to support two families and we decided we had to come back to Fort Wayne. There was a mechanic's lien on the house, so I suppose they sold it to pay the bills.
HOAGLAND, IN
Smitty found a job with Paul Berg, a civil engineer. He also drew house plans for Winfield Moses, a building contractor. A few months later he started work for an architect, John Martindale, drawing house plans.
He took some night classes at Purdue (the Ft. Wayne location) and worked as a mechanical engineer at U.S. Rubber Company until they (or at least his department) closed. His boss there told a friend that Smitty was available and they called him to work at Magnavox.
I started to work at the Hoagland My job was to weigh the corn and beans, keep the books, wait on the customers, sell the feed and sprays, etc. I worked there until I became pregnant with Dennis. Dennis was born in Decatur, In. I told my doctor how wonderful it had been when Dave was born. He said it was probably "twilight sleep" but he wouldn't give me that.
When we went shopping, people would tell me what a cute grandchild I had.
We had a large orchard, mostly apple trees, the majority of them being Red or Yellow Delicious, though we had a Lodi, a Winesap and a summer apple tree. I think it was Summer Champion. We had strawberries, grapes, red raspberries. We had two peach trees, but after two or three years the trees died.
Karen, Barb and Dave used to fight over who got to sit by the window when we went on a Sunday drive. One Sunday out in the country Smitty got exasperated with their fighting. Since their was no traffic he stopped the car, made them get out and told them they could walk home. We drove about half a mile, then went back and got them. Soon after that he bought a yellow Plymouth station wagon with three rows of seats so they could all sit by the window.
Smitty had several hobbies, including stamps, coins, model planes, photography and fishing. He was very active in the Masonic Lodge and joined Eastern Stars so he could, serve as Worthy Patron when I was Worthy Matron. After he quit drinking (after getting sick one week end while on a fishing trip), he started getting active in the church and became a lay speaker. He would go around to the different churches when the regular ministers were on vacation or ill and he would give the sermon. He was very good at it.
I went back to work full time for Maumee Valley Corporation, a firm that sold farm equipment. I found a job as secretary to the manager, Roger McCrady. Part of the hiring involved a quiz on various things. I think he was impressed because I knew who the Secretary of State was. He had the reputation of being hard to work for. Once in a letter he had dictated I changed "irregardless"
to "regardless." Naturally he spotted it right away and wanted to know why. I told him there was no such word as "irregardless." He didn't believe me and checked it out, finding I was right. Thereafter, when he introduced me to different people he would say "This is the secretary who taught me there is no such word as irregardless."
I had to quit after two or three years because the woman who baby sat for Dennis quit her job as baby sitter. Maumee Valley still called me back every year to type their catalog. I also did temporary work occasionally.
We went to Washington one year on vacation and visited Helen and Ed. We often went to some lake on vacation and the last several years before Smitty died we went to Minnesota every year. Some good friends had bought a resort up there.
When Dennis was old enough for Cub Scouts, Smitty became Scoutmaster and I became a den mother. I kept that up for a few years after Dennis outgrew Cubs. Then Lola Fuller and I started a Brownie Troop (Barb said "Where were you when we needed a leader?") After our Brownies were ready for Juniors, I started a Junior troop and kept at it for 12 years. We did lots of fun things; two different groups over the years got their roller skating badge, cooking badge, etc. We put on the play "Alice in Wonderland" for the PTA and a nursing home, made trips to Kings Island (an amusement park), put out a newsletter, made a comforter for a poor family at Christmas.
In July of 1975 we had just returned from our trek to Minnesota. Smitty went back to work and his boss informed him that he would be terminated in October. Smitty would have been 60 his next birthday and it seemed they were completely reorganizing with computers, etc. They knew he was planning to retire when he was 62 and they decided to put somebody younger in his job. We were shocked, of course, but they promised him a full pension and a generous amount of severance pay. When the final day October in arrived, the severance pay amount had dropped to half and the pension was also much less than they had promised. He had red hair and a temper to go with it. He was so angry he had a heart attack and died the next day.
After Smitty died I stayed in Hoagland until 1980 when I sold the house and moved to Candlelite Apartments. In 1983 I bought a mobile home and have lived there ever since.
I think Smitty would have eventually invented something important and perhaps he already had. When he worked at U.S. Rubber, he had come up with an idea for child-proof caps on medicine bottles. U.S. Rubber of course had claim on any inventions while he worked there, I don't know whether they ever pursued it or not. Also, he drew the Northrop "Flying Wing" for airplanes a few years before they became a reality.

DAISY MAE MILLION
Daisy was born in July 1884 and married John Herman HALL. They had six children.
ARTHUR JOHN HALL
| | |
| --- | --- |
| | |
| Arthur John Hall | |
Arthur was born Sept. 6, 1906 and married Ella Winifred MOSES. Arthur died Jan. 16, 1968.
ALWYN FRANK HALL
| | |
| --- | --- |
| | |
| Alwyn Frank Hall | |
The following and picture are from the son Elston Hall.
My father was Alwyn Hall. The son of John and Daisey Hall. Alwyn went to high school in Coldwater, Kansas and graduated from Northwestern State College of Alva, Oklahoma. He married Audrey McInteer of Wilmore, Kansas. Alwyn started his teaching career as grade school principle at Ford, Kansas. They had two children, Elston and Myrna. Alwyn took a math teaching postion in Minneola, Kansas in 1943. He taught math and coached baseball until his death in 1970. His wife Audrey was a housewife and mother often assisting in school activities. Audrey passed away September 1997 at the age of 88.
Elston was born June 12, 1934 in Wilmore, Kansas. Attended grade school in Ford and Minneola. Attended high school in Minneola graduating in 1952. Elston was active in sports with four letters in football, three in basketball and two in baseball and on in track. Captain of the football team his senior year. Graduated from Northwestern State University in Alva, Oklahmas in 1958. College classes were interrupted for two years for service in the Army. Elston earned four letters on the varsity baseball team. After graduation Elston spent 35 years with American Airlines mostly at their DFW hub as Airport Passenger Service Supervisor. Elston retired in 1995. Elston married Sandra Nugent after graduating from college. They were married June 1, 1958. Sandra was also attending Northwestern and earned her degree from Central State University in Edmond, Oklahoma. Sandra did a lot of substitute teaching and for the past eight and a half years has been employed as a secretary in the International division of the Transport Workers Union. Sandra (Sandy) plans to retire at the end of 200 1. Sandy is active in sorority and church work.
Born to Elston and Sandy was a son, Kurt on May 15, 1963. Kurt went to grade school and high school in the Grapevine/Colleyville, Texas school system. Kurt was on the tennis team and in the National Honor Sociaty. Kurt graduated from North Texas State University in Denton, Texas. Kurt has been employed by Unilever Corp. since graduation. Kurt and his wife Lisa, have three children. Zachary (7), Taylor (4) and Bryce (6 months) They currently reside in Overland Park, Kansas.
Myrna was born to Alwyn and Audrey December 12, 1935. Myrna attended grade school and high school in Ford and Minneola. After high school graduation, Myrna went to work of Trans World Airlines in Kansas City. She worked for TWA for many years. Myrna is now widowed and working in Arlington, Texas.

VIRGIL MILLION HALL
Virgil was a Denver policeman and was killed July 5, 1945 in the line of duty. He married Mary Catherine TARD. They are both buried in Crown Hill Cemetery, Denver, CO.

JOHNNIE HALL
Johnny was born Aug. 2, 1913 and died Feb. 19, 1919 in a farm accident.
NORMAN HOWARD HALL
Norman was born April 8, 1915 and married Marian Ruth McLAUGHLIN. They had two daughters.
JUNE ELIZABETH HALL
June was born June 1, 1922 and was named June for the month she was born in. She married Robert William TRESSLER. They had one daughter.
LEE L. MILLION

Lee was born July 5, 1888 near Rock Port, MO. He married mary Ethel TOLBY. Lee was a farmer. Lee died March 24, 1968 in Omaha, NE and Ethel died in Aug. 1976 in Invale, NE. They are both buried in Linden Cemetery, Rock Port, MO. They had four children, the two daughters died as infants. Neither George or James had children.

GEORGE ORVILLE MILLION
GEORGE ORVILLE MILLION obituary
from the Atchison County Mail
Rock Port, MO Friday May 18, 1951

DIED IN OMAHA MAY 15th

George Orville Million, son of Mr. and Mrs. Lee Million, died at an Omaha hospital Tuesday, May 25th, and the remains were brought to Rock Port for
funeral services at the Bertram Chapel Thursday afternoon. Rev. W. E. Schleiffarth conducted the final rites. Burial was at Linden cemetery.
The deceased. who was born June 13th, 1907, was reared in the Rock Port community and died at the age of 43 years 21 months and two days. He was
married to Miss Anna Raff of Omaha on November Ist, 1947.
Besides his wife, he is survived by his parents and a brother, James Olin Million of Omaha, two nieces, aunts, Uncles and a large following of friends. Two
sisters preceded him in death.
IVY LEE MILLION
Ivy was born Dec. 6, 1918,died Jan 24, 1920 and is buried in Linden Cemetery all in the Rock Port, MO area.

JAMES OLIN MILLION
James was bornJune 7, 1921 in Rock Port, MO. He married Betty Lee PERCELL. James was a truck driver and died Dec. 20 1991.

IZETTA MILLION
Izetta probably was born about 1922 and died within the first year and is buried in Linden Cemetery near Rock Port, MO.