An Album of U.S. Army Shoulder Straps by Dr. Howard G. Lanham
Album of Shoulder Straps
Shoulder Straps Outfitter's and Patent Marks
The backs of shoulder straps occasionally are marked with the name of the military outfitter who sold them or the holder of a patent on their manufacture. These markings are uncommon during the Civil War period, with the exception of patented shoulder straps of the Smith Patent type. Markings are much more common during the post-Civil War period and can also been found on modern straps.
Civil War Period
Infantry Captain's Shoulder Strap
(Courtesy: Smithsonian)
Back showing the Label with Patent Mark
(Courtesy: Smithsonian)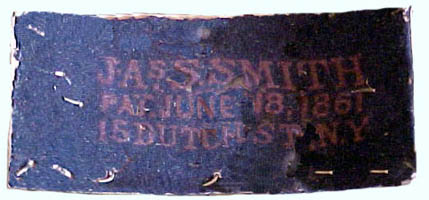 Back showing the Stencil with Patent Mark
Smith Patent straps are fairly common as artifacts, but most are missing the paper label what was pasted on the back of the strap. James S. Smith was a military outfitter whose business was located at 15 Dutch Street in New York City. Some of his straps are also marked with stenciled or stamped marking rather than a paper label. Other patented straps of the Civil War period are also marked, but the vast majority of original Civil War period straps have no markings.
Post-Civil War Period
Staff Captain's Shoulder Strap
(Courtesy: Jay Graybeal)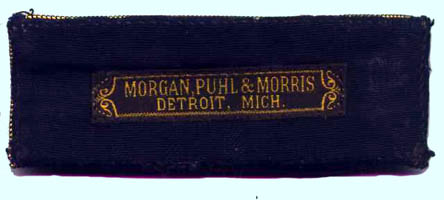 Back showing the Mark of Morgan, Puhl and Morris
Detroit, Mich. (Courtesy: Jay Graybeal)
Morgan, Puhl and Morris, Detroit, Michigan entered business in 1893. In 1906 they became the Detroit Regalia Company This dates the strap to the Spanish American War period. It has two pair of silver bars indicating a captain. The dark blue color indicates a staff officer. An interesting feature of this particular strap is that it was originally for a first lieutenant and had been converted to a captain by adding another two silver bars. The bullion of the additional bars is finer than the original.
MORE: Civil War 1st Lieutenant's Smith's Patent Shoulder Straps
Civil War Captain's Smith's Patent Shoulder Straps
Contents of Album of Shoulder Straps
Back to the Home Page