Seekers have visited this page!




Zephra's Wiccan Page!




Hi, my name is Zephra windwalker. I am the High Priestess of the coven, Pennacles of the Valley. This is a teaching coven located in the Blue Ridge Mountains, in beautiful Luray, VA.

I want to dedicate this site to those who seek the path of Wicca. There are many paths and traditions in Wicca. On this site, I will be publishing public parts of my Book Of Shadows, spells and incantations, and much more. I also have added links to some of my favorite sites and chat rooms.

I hope you will enjoy my site and continue to check back for more updates.

Bright Blessings and Blessed Be!

Zephra


Zephra's Suggested Sites!!
This is one of my favorite chat rooms...wonderfully positive energy here!
A good resource place!
This is a great resource for ritual and ceremonial items!
this is a good friend's page. I thought it was great!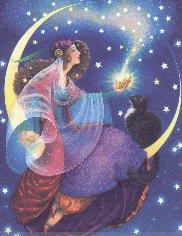 Adopt a Witch


Zephra Windwalker
zephrawindwalker@yahoo.com

Sign My Guestbook
View My Guestbook





See all of my awards!

Webrings




Thanks to Yttt for "tweaking this page to impeccable perfection"