Brakes and Suspension
Choosing braking system
4 wheel disc brakes seem to be the way to go. I purchased front disc brake kit from one of the vendors and then built the rears from parts I scavanged from an '80 Eldorado. Amazingly it was simple.Also added a dual master cylinder for safety. The caliper mounting required enlarging the hole where the hub came through and drilling new holes for the hub studs to pass through. Calipers are mounted to the rear. Parking brake system is through the calipers via brake cables from a '80 full size GM pickup. Cables are routed toward the outside of the tunnel and a cross bar is used to pull cables evenly by the corvair parking brake lever and cable.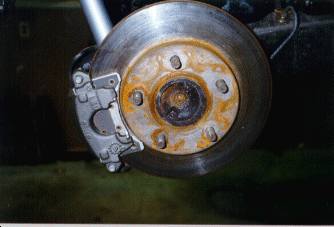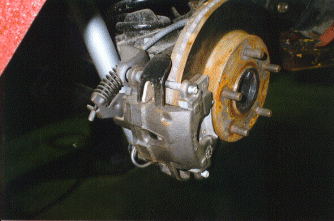 Suspension
The springs were purchased for a V8 corvair from a local vendor. Once installed they were way to stiff. The upper control arms never left the jounce bumper. The rear springs put way to much pressure on rear shocks. Removing a full coil in the front and half in the rear solved the problem. Still rides hard but no matter how hard you corner the car won't lean. Factory quick steering is sensative and requires getting used to. (steering wheel is also 4 inches smaller)
Tires and Wheels
Tires are run of the mill street tires for now. 205/60-14's on the front with 235/60-14's on the rear.
Early Camaro Rallye rims 6" front and 7" rear with flat center caps fit nicely.