Born: April 17, 1951 in Kiruna, Sweden.
---
NHL
1976-77
1st All-Star Team
1974-75 1975-76 1977-78 1978-79
1979-80
2nd All-Star Team
1975-76 1976-77 1977-78
2nd best defenceman in NHL
1976-77
2nd best player in NHL
1973-74 1976-77 1977-78 1979-80
Winner of Molson Cup in Maple Leafs. (best home player)
1973-74 1976-77 1977-78 1979-80
Most Valuable Player Toronto
1975-76 1976-77 1977-78
Viking Award
1981-82
Charlie Conacher Trophy
1974-75 1975-76 1976-77 1977-78 1978-79 1979-80 1980-81
All Star Game
1973-74
Rookie of the year Toronto
1973-74
3rd best rookie in NHL
---
Best Defense Player (by score) in Toronto for 7 Seasons
In the top 4 in Toronto (by score) during 1976-82
Most assists of all time (team record)
in Maple Leafs
1 229 Games
162 Goals
674 Assists
1 435 PIM
Inducted into the Hockey Hall of Fame 1996
---
Sweden
2 Swedish Championships Gold (team Brynäs)
1 World Championships Silver
1 World Championships Bronze
1 Canada Cup Bronze
All-Star Team World Championships 1973
All-Star Team Canada Cup 1976
Börje Salming is the closest you can come the word Legend in Swedish ice hockey. With 17 memorable seasons in Toronto Maple Leafs , he is met with the greatest respect in his former home town of Toronto.
Börje was one of the first Europeans to go west and play in the North American league in the early 70's.
It showed to be a good choice for all the hockey crazy fans in Canada. The respect the audience showed him went beyond all borders.
The 1976's Canada Cup is a tournament I never will forget. It was the time when the Canadians would have to see Börje as a potential threat and enemy against the Canadian team.
Everyone was curious on how the crowd would react on his entrance dressed in the Swedish "Three Crowns" dress.
Well, it was no doubt that the crowd loved what Börje had done for the Toronto team.
During the introduction of the Swedish team, the crowd stood up. The standing ovations and the applause never seemed to stop when his name came up on the board and he was introduced on the ice.
The best recognizion a player can get.
I think noone could hear when his name was introduced over the speakers.
The fans loved Salming and during the whole tournament the audience screamed of joy each time the puck reached him.
Börje Salming participated in three World Championships: 1972, 1973 and 1978.
He received the "IIHF Directorate Best Defenseman Award" in 1973.
He participated in the Olympic Winter Games 1992, and Canada Cup 1976, 1981 and 1991.
He was inducted into the Hockey Hall of Fame in Toronto in 1996.
---
Said about Salming
"We called him "King" because he was the King for all Europeans. All the players coming over to NHL later has him to thank for everything"
Dave "Tiger" Williams
"Is there anyone we could see winning a Stanley Cup for another club, it would be Salming"
Taxi driver in Toronto
"We hated to lose, in a battle, of any kind, I would always wanna have Börje by my side"
Lanny McDonald
all above is taken from "Blod, Svett och Hockey" ("Blood, Sweat and Hockey") by Börje Salming
* "Salming lever" ("Salming is alive") is a graffiti from the Central Station in Stockholm after his successful return to swedish hockey in the World Championships held in the Globe Arena 1989.
Come back for more about Börje Salming. The page will be updated regularly.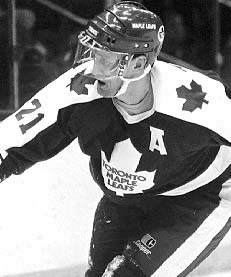 Börje Salming
#21 Toronto Maple Leafs
A legend in Swedish hockey. Member of "Hockey Hall of Fame".


Börje Salming
17 seasons in the Maple Leafs made him unforgettable in Toronto

Börje Salming
1971/72 - Season