Priscilla Ann Beaulieu, age two.
***********
Priscilla Presley was born Priscilla Ann Beaulieu on May 24, 1945. She grew up with her mother and stepfather (Paul and Ann Beaulieu) in the Air Force. As a child, Priscilla was known to be very pretty. She won Prettiest Senior when she graduated from High School, and when she was only in eighth grade, she became the Queen of Del Valley Junior High. Despite being pretty, Priscilla was a shy girl growing up, with blue eyes and dark brown hair. After becoming Queen of Del Valley Junior High, her father told the family they were being transferred to Weisbaden, West Germany. Priscilla didn't want to leave all her friends, but she reluctantly went.
*********
Priscilla would hang out at the Eagles Club, a place for eating and entertainment. According to Priscilla, she'd often just listen to the juke box and write letters to her friends. One day, a handsome man looking somewhere in his mid twenties approached Priscilla. His name was Currie Grant. He asked Priscilla, "How'd you like to meet Elvis Presley? My wife and I are good friends of his."
Of course Priscilla agreed, and the night she was to meet Elvis, she wore a white and navy sailor dress. Elvis lived off base in Bad Nauheim. Currie, his wife, and Priscilla drove for forty minutes to get to Elvis's house. Out of nervousness, Priscilla didn't speek much. When she finally arrived, entered the house, and met Elvis, he'd taken a liking to her right away. He even seemed to be trying to impress Priscilla with his songs he'd play her. After the first night of meeting Elvis, Priscilla couldn't concentrate on school, but she told nobody that she'd met Elvis, because as she thought, 'Who'd believe that just last night I was at Elvis's house?'
**********
Elvis wanted to see Priscilla again, and so, she began visiting him regularly.
The house Priscilla met Elvis in.
***********
For six months this went on, almost as if they were a couple. Priscilla thought of nothing but Elvis, she cared for him, listened to him, and accompanied him. They were almost inseperable. That is, until that sorrowful day when Elvis had to return to the States.
Priscilla accompanies Elvis to the airport on his day of departure back to the states from Germany.
She waves a last goodbye.
***********

A sad day in Priscilla's life.
***********

Staring off in the distance....one last look at Elvis.
***********
She didn't leave her room for three days after this.
***********
Three months later, Priscilla received a phone call from Elvis. He wanted her to come visit him for the summer, reluctantly, Cilla's parents agreed. She got to spend time with him in Las Vegas, learning more about his lifestyle and habits (including the pills) and his angers and frustrations. He even gave her tips on how to do her hair and make up. She ended up looking like the picture below.
The way Elvis liked Priscilla best.
***********
After coming back from that summer vacation, Elvis and Cilla spent hours talking on the phone. Finally, when Christmas came around, Priscilla was again to visit Elvis. This time, it would be at Graceland. It was so exciting for her, this is when Elvis bought her a poodle who was named 'Honey.'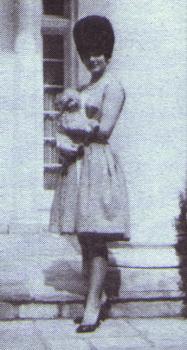 Cilla posing with her gift poodle, "Honey"
After Christmas, Elvis couldn't bare living without Priscilla, he had to have her near him, so, he convinced her parents to let her live with him at Graceland. She was to finish up her junior year of high school, then finish up in a Catholic Private school, Immaculate Conception (Visit their webpage at: http://www.rc.net/memphis/immaculate/index.html). It was an all girls high school. Priscilla didn't make too many friends here, if she did, they'd probably only have cared about the fact she was dating Elvis. Poor Priscilla, she became lonely. While Elvis was off in Hollywood bringing in the bacon, Cilla would talk to Elvis's double cousin Patsy. Vernon, Elvis' father, would often give Priscilla money for driving around, goin' out...and various other activities.
*********
However, when Elvis was home, Cilla and Elvis had plenty of fun times together, they would spend hours locked away in their bedroom, not even changing out of their pajamas for days! Elvis would rent the movie theater sometimes, and invite people to the movies with him, Cilla always by his side. Or, they'd rent the fairgrounds and ride rollar coaster rides all night, doing death defying acts...Priscilla said that she felt they were most in love when they were alone. Mainly because they were two people discovering eachother.
************
Then one day, all the fun came to an end, Elvis had to go film his movie 'Viva Las Vegas'. Elvis's love interest in the flick was non other than the "Female Elvis" Ms. Anne Margot...(Personally, Cilla is much prettier I think) Well, an affair developed, crushed Priscilla. She'd try and call Elvis to visit, but each time he'd delay it. Even after the film, reports were still everywhere. Cilla couldn't take it anymore, but Elvis would threaten to have her go back to live with her parents if she protested, which is what happened one day when she threw a vase at the wall. Elvis began packing her bags and telling Vernon (Elvis's father) to set up the next plane flight back to her folks. Then, Elvis would apoplogize saying, "See..you needed this.." This was his way of keeping her under his finger. How sad. Eventually, she found proof of the relationship when she telegrammed him. By that time the affiar was long over, and Elvis and Cilla just laughed it off. Elvis had decided Priscilla was the girl he wanted.
The way Elvis and Priscilla always ended up, in eachother's arms again.
*********
After all this, things weren't so peachy. Elvis was still upset about the way his career was going, so Priscilla would try and help him out. She'd try and cheer him up, talk to him, dress up for him, anything. Elvis was too obsessed with finding his "Spirituality" at the moment in time.
Elvis got over it, and he and Cilla found a passion for horses. They began riding regularly. Also, around this time, Christmas 1966, Elvis and Priscilla became engaged...FINALLY!
A toast before the big day....
***********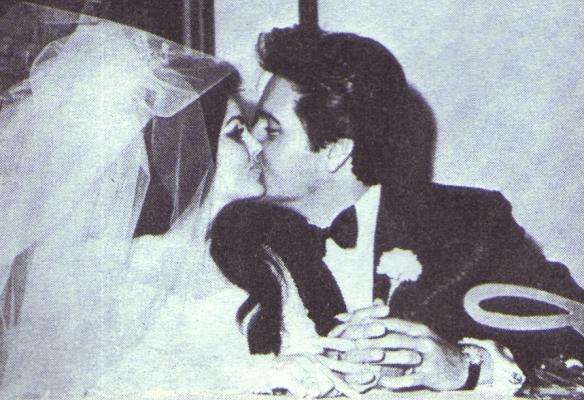 Hugs and Kisses, the couple is finally married, and (Gasp!) Cilla is still a virgin at this point...Elvis saved her for their wedding night! Awww..how sweet is that??!!
May 1, 1967 marks Elvis and Priscilla's wedding day.
***********
Nine months to the day, little Lisa Marie was born. The two shared many wild times. Priscilla cooked for him, served him like a wife should...but Elvis was acting very depressed. They tried to spice the marriage up by taking a trip to Hawaii.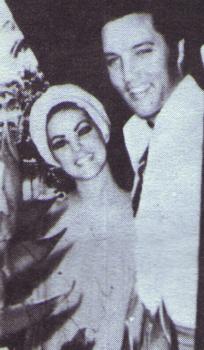 In Hawaii
Then sadly, five years after this, Elvis and Priscilla were divorced. Things weren't too cool, Elvis was getting a little crazy towards the end of the marriage, not to mention his cheating on Priscilla with other women. It was sad, no way for a woman to live her life. So, She and little Lisa left. A few years later, Elvis died. Priscilla was crushed, she'd known Elvis 19 years and bore his only child. Priscilla went on to act in movies such as Passion and Valor, and the unforgettable funny Naked Gun movies. I suggest you rent them. Priscilla is currently envolved in scientology. I love her life story very much...but she tells it way better in her book, "Elvis and Me" Which I suggest you buy! It's at your local bookstore! Go GET IT!
Priscilla poses in a bikini, this must be an 80's pic, look at that hair! It's ok Cilla, we still love you!

Priscilla today....isn't this a nice pic??
***********