<! TEXT TEXT TEXT TEXT > Following an afternoon at the aquarium we were ready for Pizza in the Sky, a place that had been highly recommended by one of DyLon's friends. With only a map to guide us - remember, the car had no English-language GPS - we set out for a great pizza experience. We got close, but didn't quite find the place and later learned why - it's really out of the way! I decided to pull over and take another look at the map. Realizing that I had pulled over into the parking lot of the local koban, and that there was a policemen right there, DyLon said, "Go ask him!" and so I did. To our surprise we ended up getting a police escort to a place that I would never have found by myself. A real surprise awaited us when we arrived:


Videography by DyLon D McClary

Having failed in our endeavor to eat pizza we set out to find a little hole-in-the-wall soba house. After a short drive through Motobu Town we scored! A great little place on Route 84 called Yaezen Restaurant, situated alongside the Mannawa Kawa (river). A cold drink and a piping hot soki soba set fixed us right up.


Videography by DyLon D McClary

We wanted a hole-in-the-wall restaurant and that's just what we found.

Situated just short of the Untachi Bridge and alongside the Mannawa River it gave the place a little extra special charm.

This is a nice shot that DyLon got from the bridge, looking down at the small river below.

This is the restaurant's logo. We picked up a postcard with this image for a mere JY200.
<! TEXT TEXT TEXT TEXT >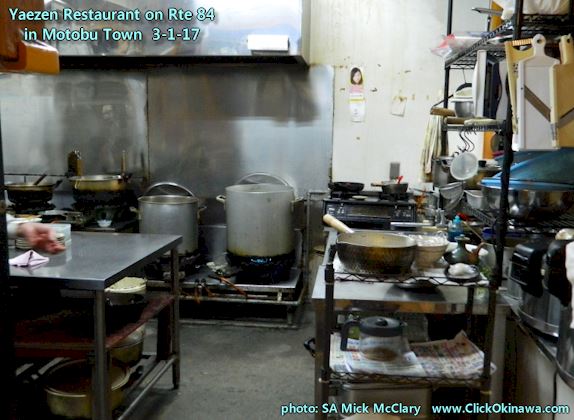 One peek into the kitchen and I knew that we were in for authenticity.

DyLon was telling me something but I can't remember what the heck he said.

Poring over the menu and making certain that she had soki soba at the ready!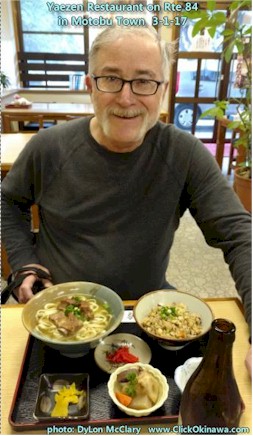 Happy to be back on Okinawa.

Pure, unadulterated Heaven on Earth!!
---

342-1 Namizato, Kunigami-gun, Motobu-cho 905-0222, Okinawa Prefecture
---
©2017 Contact: ClickOkinawa.com