<!xxxxxxxxxxxxxxxxxxxxxx COLUMN ONE xxxxxxxxxxxxxxxxxxxxx> Having our furry, scaly, or feathered friends in the home is a part of American famiy life.
Some things to know:
BRINGING YOUR PET TO OKINAWA (1)
1. Pet Microchip
Your dog or cat must first be microchipped with an ISO 11784/11785 pet microchip that is a 15 digit and non-encrypted. If your pet's microchip is not ISO 11784/11785 compliant, you can bring your own microchip scanner. You can also contact the Animal Quarantine Service at the expected port of entry.
2. Import Permit
You must file an Advanced Notification Form at least 40 days in advance of import with the Animal Quarantine Service (AQS). After processing, if facilities are available, an Approval of Notification will be returned to you. Please note that you may be requested to change the date or place of import depending on the availability situation of quarantine facilities at the Animal Quarantine Station.
3. Vaccinations
Unless your cat or dog was born in or resided in a countries that Japan considers as rabies-free (see step 7) for the past 6 months, then the following procedure must occur. AFTER microchip insertion, your pet must be vaccinated against rabies with an inactivated or recombinant vaccine that is good for one year. This is called the "primary vaccination." (Three year rabies vaccines are not recommended for the primary vaccination, but fine for booster shots.) Your pet must be at least 91 days of age before the primary rabies vaccination.
The second rabies vaccination must be given more than 30 days after the primary vaccination (or booster) and before the expiration date of the primary vaccination (or booster). The second vaccination must not have expired before entering Japan. If this is not possible, see step #4.
From all countries: it is highly recommended that your dog be vaccinated for a minimum of Distemper, Hepatitis and Parvovirus. Other vaccinations are recommended. Cats must be vaccinated for Rhinotracheitis, Calicivirus and Panleukopenia.
4. Blood Titer Test
Unless your pet is originating from one of the countries that the Japan considers rabies-free (see step 7), after the two vaccinations, your dog or cat must have a Blood Titer Test processed by an approved laboratory unless your pet has had a test done within the past 2 years and the rabies vaccination has not expired. In order to reduce the quarantine period to 12 hours when entering Japan, the date when the blood was drawn for the titer test must be more than 180 days and less than 2 years of the arrival date.
The blood sample must be processed by an approved laboratory. If your pet cannot enter Japan before the second rabies vaccination expires, then another rabies vaccination is administered and another titer test is performed; however, an additional 180 day waiting period is not required.
Note that a titer test is not required when entering Japan from a country considered by Japan to be rabies-free.
5. Health Certificate
An accredited veterinarian must complete a Japan Veterinary Certificate within 2 days of entry stating that your pet is healthy and free of parasites and indicating the above vaccinations and the results of the titer test (if applicable). If your pet is traveling from the United States or Canada, then USDA (US) or CFIA (Canada) State Veterinarian endorsement is required. If you are traveling from another country, then the Governing Authority of your country responsible for the import and export of animals must endorse the forms.
6. Internal and External Parasites
Before your dog or cat can enter Japan, it must be treated against ticks, tapeworm, nematodes and cestodes.
7. Countries that the Japan considers as rabies-free
The countries listed below are considered rabies-free by Japan are Iceland, Australia, New Zealand, Fiji, Hawaii or Guam. No rabies vaccination or titer test is required if your pet was born in or resided in these countries for a period of not less than 6 months.
Pets not meeting the above requirements shall be quarantined for 180 days after arrival in Japan.
8. Entering Japan by Air or Sea
Cats and dogs may only enter the country at the following airports: New Chitose Airport, Narita International Airport*, Tokyo International Airport (Haneda Airport*), Chubu International Airport*, Kansai International Airport, Kitakyushu Airport, Fukuoka Airport*, Kagoshima Airport* and Naha Airport. You will be required to apply for an import inspection from the Animal Quarantine Service upon arrival.
if requirements are met, your pet will be held at the Animal Quarantine Service for a short period of time (less than 12 hours) before being released to you. Dogs and cats not meeting requirements will be quarantined for up to 180 days.
Dogs may only enter Japan at the following seaports: Tomakomai Seaport, Keihin Seaport (Tokyo, Yokohama*), Nagoya Seaport, Hanshin Seaport (Osaka*, Hyogo), Kanmon Seaport, Hakata Seaport, Kagoshima Seaport, Naha Seaport.
*Dogs requiring quarantine (see step 9) must enter at these air and seaports.
9. Quarantine
On arrival, dogs and cats must undergo import quarantine for a set period to screen out rabies (and in the case of dogs, rabies and leptospirosis), depending on conditions. Furthermore, in order to check whether they have contracted the diseases in isolation from other animals or humans, the animals are held in the quarantine facilities of the Animal Quarantine Service (AQS). Please bear in mind that even when a long quarantine period is necessary, quarantine cannot be allowed at any place other than the premises of AQS.
Your dog or cat should fly a direct route to Japan if at all possible, otherwise, your pet''s crate will need to be sealed. All domestic dogs and cats must be free of evidence of disease communicable to humans when examined at the port of entry to Japan. If your dog or cat is not in apparent good health, further examination by a licensed veterinarian may be required at your expense.
10. Puppies and Kittens
Unvaccinated pets under the age of 3 months cannot enter Japan. Puppies and kittens should be microchipped vaccinated for rabies no sooner than 3 months of age and again no sooner than 30 days prior to entry unless entering from a country considered to be rabies-free. Also, a titer test should be done after vaccination and no sooner than 180 days prior to entering Japan (non-rabies free countries).
11. Banned Breeds
Japan does not ban any dog or cat breeds. Aggressive behavior is not acceptable. Wolf hybrids and Savannah cats are not included in these regulations.
12. Exporting Pets
Pet owners planning to export their pets from Japan should apply for export to Animal Quarantine Service at least 7 days prior to export.
13. Other Animals
Birds, invertebrates, tropical fish, reptiles, amphibia, mammals such as rodents and rabbits are not subject to requirements of rabies vaccination, but may have to meet other requirements and should have a health certificate to enter Japan. Pet owners are strongly advised to seek further information from the relevant authority of their country and/or that of the country of destination.
14. Convention on International Trade in Endangered Species of Wild Fauna and Flora (SITES)
If your pet is not a dog, cat or ferret, and especially if it is a turtle or parrot, you should verify that it is not protected under the Convention on International Trade in Endangered Species of Wild Fauna and Flora (CITES). You will need to apply for additional permits if this is the case. Over 180 countries participate and enforce CITES regulations. .
Japan Pet Passport & Import Regulations. (1)
Guide to importing dogs, cats and other animals subject to animal quarantine from regions other than the designated regions into Japan (final revision: July, 2013) (.pdf) (3)
NOTE - U.S. Military members: your service may have restrictions and/or instructions that differ from Japanese law. Check with your service representative for current details.
CARE OF YOUR PET WHILE ON OKINAWA
Registration
Dogs that are at least 91 days old must be registered (once in their lifetime) and receive rabies vaccine once every year.
Registration application fee: •3,000. (If you lose tag a reissue fee of •1,600 applies) (2)
Rabies Vaccination (1)
Vaccination Fee (Regular Mass Vaccination) •2,450.
If you miss the mass vaccination you can get it at a local veterinarian.
Certificate Issuance fee: •550 (2)
Abandonment of your pet is very thoughtless, selfish and dangerous (for a domestic animal to survive among the ferals)
If identified as having abandoned your animal you can face fines up to •500,000. (2)

LEAVING OKINAWA - SHIPPING PET BACK TO THE STATES

Recent changes in airline policies mean that returning pets will have to travel as cargo. Do not assume that if you have shipped your pet as accompanied baggage to post that you can ship your pet in the same way back into the United States. Individuals flying with animals into the United States should check with the airline you intend to fly to confirm its policies on live animals as excess baggage / cargo / and in-cabin. (4)

Returning to the United States with Pets

IPATA International Pet and Animal Transportation Association
Pet shipping experts dedicated to moving your dog, cat or other pets in a safe and humane way.

Sources:
(1) PetTravel.com - worldwide travel resource for pets.
(2) Environmental Division 939-1212 (ext 2222), City Residential Dept., Okinawa City Hall
(3) Animal Quarantine Service, Ministry of Agriculture, Forestry and Fisheries, JAPAN
(4) U. S. Department of State
<!xxxxxxxxxxxxxxxxxxxxxx COLUMN TWO xxxxxxxxxxxxxxxxxxxxx> IF YOUR PET DIES WHILE ON OKINAWA

One woman's account - Thank you, Courtney Personious, for allowing me to share your experience.

Text and photos by Courtney Personious
I wanted to tell all of you about how the Japanese handle losing a pet. Here in Japan itís quite different compared to what we do in America. In America, you usually bury your pet in the backyard under a beautiful tree, or you leave your baby at the vet to be cremated and then you come back to pick up the ashes another day.
Itís not very common here to bury your pet in your backyard. You have the option, just like in America, to cremate your baby individually, or in a mass cremation. We were fortunate enough to be able to chose individual. When we arrived at the facility, the wonderful ladies that worked there, were waiting outside for our arrival. Even though we were 5 minutes late. They offered silence, soft greetings, and many bows. What I wouldnít give to have been able to understand the kind words they were saying.
They walked with us into the building and directed us to a small room in the back. They helped me set the box down on the tatami (traditional Japanese flooring) very slowly and gently. We were directed to wait for the rest of our people to arrive and then we could start.
Once everyone was there, we filled out paperwork and then started. We took Zeus to another room. This room is the ceremony room where you say goodbye. In America, this would be considered morbid to most. I moved Zeus over to the base of the alter. We proceeded to cover him in flowers, toys, and treats and give him lots of pets. I know this doesnít seem normal to most reading this, but this is how the Japanese do it, and I found it helpful in saying goodbye to my baby.
We then each were handed a burning incense, which we each took turns placing in the bowl to burn while we said goodbye. A bell was rang to signify his death, and we all bowed deeply to Zeus. We then said our final goodbyes. Zeus was very gently carried to the room next to us. We stayed behind, but werenít very far away. We watched him be placed onto the tray, and then he was slid very slowly into the chamber. The door closed. We all bowed deeply again multiple times to baby Zeus. The woman then turned the chamber on.
We were then directed to either leave and come back later for Zeus in about two to three hours, or stay behind and wait close by in the other room. I wanted to stay. I told him I wouldnít leave his side throughout the whole process, and I didnít. We waited the two hours, talking and laughing about memories of our beloved Zeus. Then when he was ready, the ladies placed him in my arms, and walked us to our car. They waited as the car pulled away and bowed one last time.
---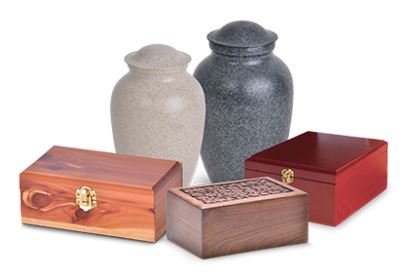 Pet Angel - Remember. Celebrate. Cherish.
The mobile pet cremation service
Company offering funeral service for pets opens in Okinawa City