/////COLUMN ONE TEXT\\\\\\\\\\////////////////////////////// //// /////////// / //////////// //// /////// /////> Typhoon Jelawat (international designation: 1217, JTWC designation: 18W, PAGASA name: Lawin) was a powerful typhoon, which struck Japan, and affected much of the Ryukyu Islands, including Okinawa, as the third typhoon to directly affect Okinawa. Jelawat, meaning carp in Malaysian is a type of fish.
Effects of typhoon Jelawat overturn a vehicle in Naha City, Okinawa prefecture.
(AFP/Getty Images)
Late on September 17, a tropical disturbance formed east of Guam. Early on September 20, the JMA upgraded the low-pressure area to a tropical depression, just after the JTWC issued a TCFA on the system. Eight hours later, the PAGASA also upgraded the system to a tropical depression named it Lawin, before the JTWC also upgraded it to a tropical depression. Late on the same day, the JMA upgraded the system to a tropical storm and named it Jelawat, so did the JTWC. Only a half-day later, the JMA upgraded Jelawat to a severe tropical storm on September 21.
A roadside tree fallen by strong winds lies in Urasoe city as Typhoon Jelawat hit the southern Japanese prefecture of Okinawa Saturday, Sept. 29, 2012.
(AP Photo/Kyodo News)
Early on September 23, both the JMA and the JTWC upgraded Jelawat to a typhoon as it started to undergo explosive intensification, from a category 1 typhoon, to a category 4 typhoon in 12 hours, as it developed a small eye.

Fisherman makes his final poor judgement call. Please don't become a statistic!

.
---
Pacific Stars & Stripes
Super Typhoon 18W (Jelawat) by the numbers By Dave Ornauer
Published: October 1, 2012

Some facts and figures of the impact on Okinawa from Super Typhoon Jelawat:

-- Maximum sustained 87-mph winds and 137-mph gusts at 1:23 p.m. Saturday.
-- Japan Coast Guard reports a 29-year-old man from Okinawa City died Sunday after being washed away by high waves while fishing off a cliff at Cape Zanpa, or Bolo Point, in Yomitan.
-- More than 50 people on Okinawa injured, most of the injuries minor, according to Okinawa's Crisis Management Office.
-- 23 homes were flooded or damaged by flooding and 346 residents throughout Okinawa's islands were evacuated from their homes, the crisis management office reported.
-- At the storm's peak, around 3 p.m. Saturday, 331,500 homes lost power on Okinawa, more than 50 percent of the island's residences. At this writing (4:10 p.m. Monday), some 60,000 homes are still without power.
-- Naha International Airport took quite a beating in terms of flight cancellations and passengers stranded: more than 745 flights serving Naha were canceled, affecting more than 110,000 passengers over three days, Saturday, Sunday and Monday.
.......
/////COLUMN TWO TEXT\\\\\\\\\\////////////////////////////// //// /////////// / //////////// //// /////// /////>

Early of September 25, as the system continued to strengthen, the JTWC upgraded the system to a category 5 super typhoon, as Jelawat developed an symmetrical, well defined eye at 50 kilometers wide, after a few eyewall replacement cycles.
On September 26, the JTWC downgraded the system to a Category 4 super typhoon, and it soon started to undergo its fourth eye wall replacement cycle, which lasted 15 hours.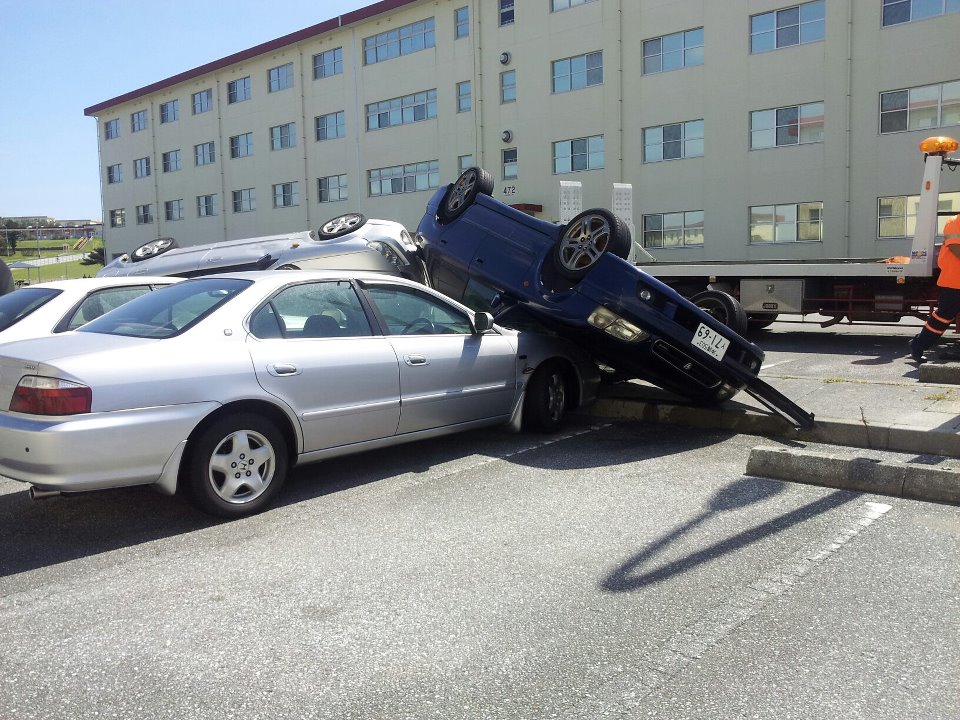 Researching photo credit

The eye ended up at 70 kilometers across.On September 28, Jelawat weakened to a category 3 typhoon as the eye started to dissipate. Then, on the next day JTWC downgraded it to a category 2 typhoon due to cool sea surface temperatures, and increasing wind shear, as the dissipating eye drifted over Okinawa. A short while after Jelawat moved away from Okinawa, Jelawat weakened into a category 1 typhoon, and caused a Von Karman Vortex street to form off Jeju Island, South Korea. On September 30, Jelawat made landfall over Hamamatsu, Japan.


When they tell you to stay inside - stay inside!


.
.
.
.
.
---
Cars fly during Typhoon Jelawat
Posted 10/2/2012 - Updated 10/2/2012 by Airman 1st Class Malia Jenkins 18th Wing Public Affairs
KADENA AIR BASE, Japan -- Despite predictions from various weather sources that Typhoon Jelawat would overlook Okinawa, Kadena was pounded with an estimated 23 inches of heavy rain fall for nearly 24 hours and experienced sustained winds greater than 85 mph last weekend.
"Initially, the typhoon was expected to flow into China," explained Capt. Matthew Klick, 18th Operations Support Squadron Weather Flight officer in charge.
The storm then shifted its course to the north, heading toward Okinawa with a forecasted track just south of the island.
"The storm was initially supposed to go to the south, which would have caused winds similar to Typhoon Sanba two weeks ago," he added.
As Typhoon Jelawat crept in closer to the island, its track shifted further north - putting its eye almost on top of Kadena.
"Since it shifted to the north, we knew we were going to receive more significant winds," said Klick.
Typhoon Jelawat was the seventh storm to affect Okinawa this year, with the eye of the storm passing approximately 10 miles from Kadena Saturday morning.
Compared to previous typhoons this year, damage to facilities and homes base-wide were significantly greater, said Lt. Col. Bryan Opperman, 18th Civil Engineering Squadron commander.
"We are still developing an estimate on the cost, but we expect the cost to creep into the millions," said Opperman.
Not only were unsecured items an issue for possible damage, but debris, cars and dumpsters also became lethal projectiles as the storm's wind gusts exceeded 135 mph.
"This typhoon was a lot stronger than recent ones, so there's a lot more damage. It's going to take more time to get the base recovered," said Opperman. "We appreciated people's patience and understanding."
Once Tropical Cyclone Condition of Readiness 1-Recovery was declared Sunday morning, teams from U.S. military installations island-wide headed out to assess the damage and restore power to facilities across the bases.
"We publicize across the community about securing outdoor items and ask residents to accomplish this promptly in (Tropical Cyclone Condition of Readiness 2) so there are less projectiles to damage homes and property," explained Lt. Col. Mona Tenorio, 718th Civil Engineering Squadron commander. "We also appreciate our housing occupants' patience as we work to perform repairs to our housing areas across Okinawa."