<!***************** T E X T ********************>

On October 27, 2015, a friend who lives in Kin Village, Mike Lynch, and I visited the Higashionna Museum. I had the pleasure of meeting the curator, Taira-san and his wife. Following the video is a set of photos from that visit.
---
Uruma City appointed cultural asset #36 "historic site" - Date of Appointment: March 1, 2005
On August 30, 1945, soon after the climax of the Battle of Okinawa, U. S. Navy Government Lieutenant Commander Willard Hanna opened Okinawa's first post-war museum, Okinawa Exhibition Hall in a small corner of military soil in Higashionna. Lieutenant Commander Hanna used a private home that had managed to avoid being damaged during the war to build his museum. He eventually expanded the building, constructed a Japanese-style garden, and even made pamphlets himself in hopes of helping stationed-and-future-American soldiers appreciate Okinawan culture.He poured his heart and soul into the revival of Okinawan Culture.
On April 24th of the following year Okinawa Exhibition Hall was renamed Higashionna Museum soon after governing power shifted over to the people of Okinawa. Higashionna Museum is the forerunner to the Okinawa Prefectural Museum and Art Museum; thus the official opening date of the latter is the date the former was transferred.
Lt Commander Hanna hired Okinawans to house the artifacts rescued from the rubble of Shuri Castle. He hired Omine Kaoru to be the museum's first director. Hanna believed that the entire museum operation needed to be run by Okinawans, not Americans. Omine, who later gained greater recognition as president of Daito Sugar Company, Hanna, and a handful of other Okinawans wasted little time in scouring the island for surviving artifacts.
---
<! //////////////////////// BEGIN VIDEOS/PHOTOS \\\\\\\\\\\\\\\\\\\\\\\>

Mike photographs a guide plaque in front of the old Higashionna Museum.
What is written in English on the placard is what I have written in italics above.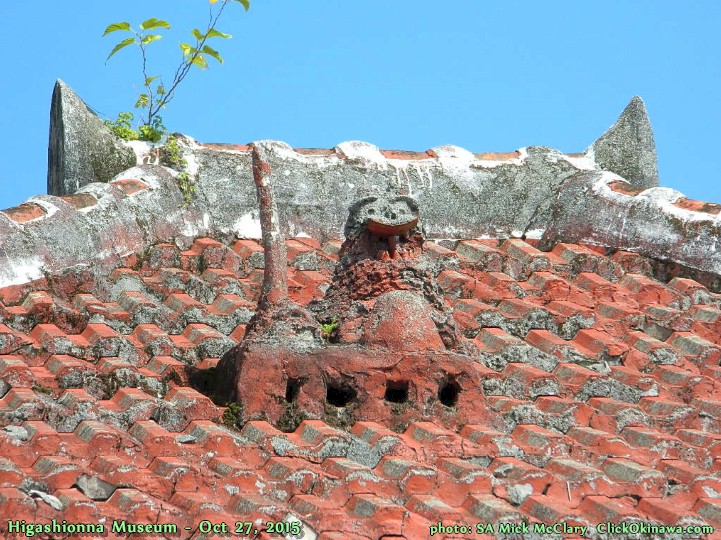 Shisa standing guard over the decades - come wind, rain, typhoon, or fair weather, shisa does his duty faithfully

During a recent typhoon the roof sustained damage to some of the original tiles. That style of tile is no longer in commercial production so Taira-san made replacement tiles by hand and did some repair to the white concrete support structure. Note the brighter white where he did the repair.

You can see how badly the need is for some landscaping TLC

Badly overgrown with weeds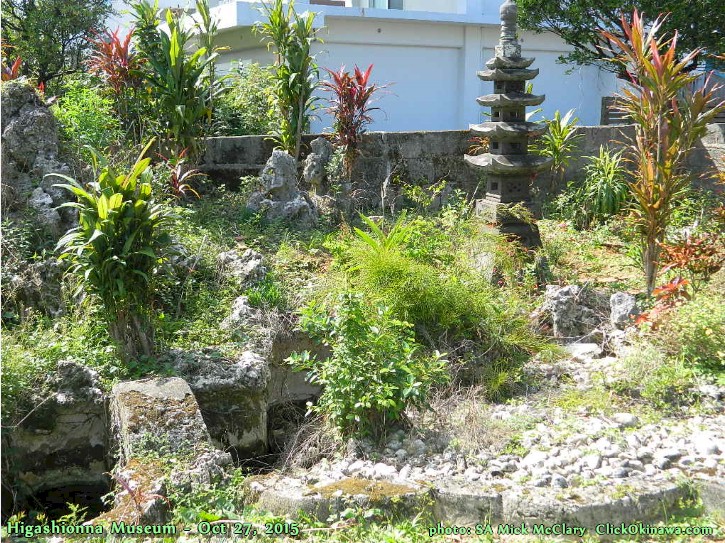 The beauty of the original garden work is still evident

This was my skinned shin shot!

Interior views of the house that used to contain the artifacts included in the original displays. Those pieces are now in the Prefectural museum in Naha.

Pretty austere now...

Intricate woodwork

It's still a beautiful structure!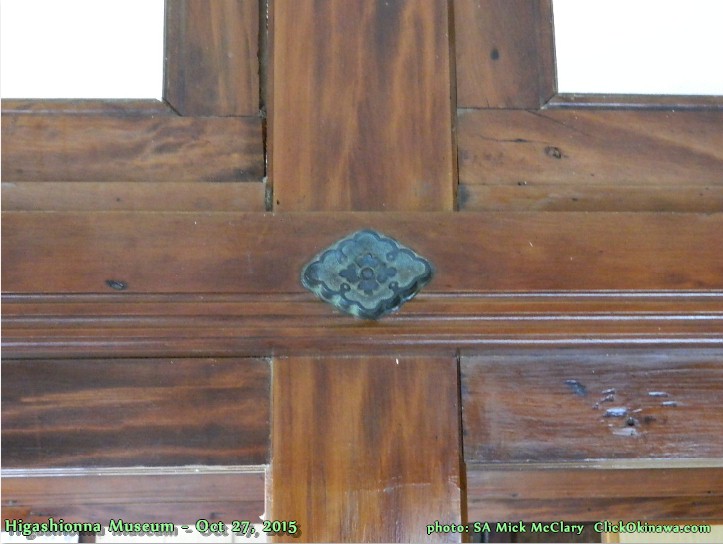 Empty butsudon
---
See the
Higaonna Museum Restoration Project
on Facebook.
Other Resources:
---

1996-2015 ClickOkinawa.com