/////COLUMN ONE TEXT\\\\\\\\\\////////////////////////////// //// /////////// / //////////// //// /////// /////> Typhoon Bolaven (known in the Philippines as Typhoon Julian) was regarded as the most powerful storm to strike the Korean Peninsula in nearly a decade. Forming as a tropical depression on August 19 to the southwest of the Mariana Islands, Bolaven steadily intensified as it slowly moved west-northwestward in a region favoring tropical development. The system was soon upgraded to a tropical storm less than a day after formation and further to a typhoon by August 21.

Strengthening became more gradual thereafter as Bolaven grew in size. On August 24, the system attained its peak intensity with winds of 185 km/h (115 mph)[nb 1] and a barometric pressure of 910 mbar (hPa; 26.87 inHg). Weakening only slightly, the storm passed directly over Okinawa on August 26 as it began accelerating toward the north. Steady weakening continued as Bolaven approached the Korean Peninsula and it eventually made landfall in North Korea late on August 28 before transitioning into an extratropical cyclone. The remnants rapidly tracked northeastward over the Russian Far East before turning eastward and were last noted on September 1 crossing the International Dateline.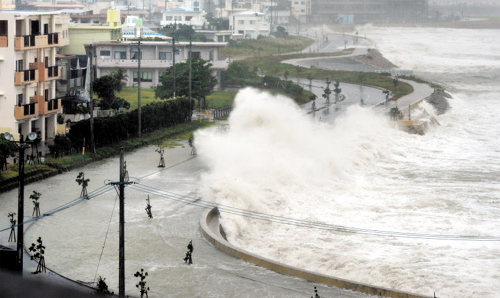 High waves pound seawall in Yonabarucho, Okinawa Prefecture, southern Japan on Sunday. /AP-Yonhap
Although Bolaven struck the Ryukyu Islands as a powerful typhoon, damage was less than expected. Relatively few buildings were damaged or destroyed across the region. The most significant effects stemmed from heavy rains, amounting to 551.5 mm (21.71 in), that caused flash flooding and landslides. One person drowned on Amami Oshima after being swept away by a swollen river.
In mainland Japan, two people drowned after being swept away by rough seas. In South Korea, 19 people were killed by the storm. Many buildings were damaged and approximately 1.9 million homes were left without power. Losses in the country reached 420 billion won (US$374.3 million), the majority of which was due to destroyed apple orchards. Significant damage also took place in North Korea where at least 59 people were killed and 50 others were reported missing. Additionally, 6,700 homes were destroyed. Offshore, nine people drowned after two Chinese vessels sank.
.......
/////COLUMN TWO TEXT\\\\\\\\\\////////////////////////////// //// /////////// / //////////// //// /////// /////>
Ryukyu Islands
On August 22, hours before the JTWC classified Bolaven as a typhoon, Okinawa was placed under Tropical Cyclone Condition of Readiness (TCCR) four. The following day, media reports began calling Typhoon Bolaven "the bad one." At this time, the then Category 4-equivalent typhoon was expected to pass directly over Okinawa and based on forecasts from the JTWC, it would be the most powerful storm to hit the island in 13 years. On August 24, the TCCR was raised to level three. During the afternoon of August 25, the TCCR was raised to the third-highest level, one. Residents were urged to have all their preparations complete as soon as possible before the storm arrived. This was further raised to TCCR 1-C (caution) as tropical storm force winds began impacting the island.
Typhoon Bolaven sent roiling waves smashing into the shore in Yonabarucho, Okinawa Prefecture, southern Japan, in the morning of August 26, 2012. Several residents were injured and power was disrupted to 30,000 households.
Photo credit: Ryukyu Shimpo, Futoshi Hanashiro / AP
Across Ishigaki Island, all public activities were canceled by August 24 and flights to mainland Japan were suspended. Ferry service to Kagoshima Prefecture was also canceled. Throughout Okinawa, 850 people, including 300 in Naha, evacuated to public shelters due to the threat of flooding. Transportation across the island was paralyzed due to the storm as ferry terminals, airports, and bus and rail services were shut down. During the evening of August 25, All Nippon Airways and Japan Airlines canceled all flights to and from the Ryukyu Islands, south of Amami Oshima for August 26 and the morning of August 27. The slow motion of the storm led meteorologists at the JMA to warn residents of a potential record rainfall event, stating that localized areas could receive between 400 and 600 mm (16 and 24 in) of rain. Rainfall rates were expected to reach nearly 150 mm (5.9 in) per hour during the height of the storm. Due to the significant threat of flash flooding and mudslides, residents living in flood-prone or mountainous areas were urged to evacuate.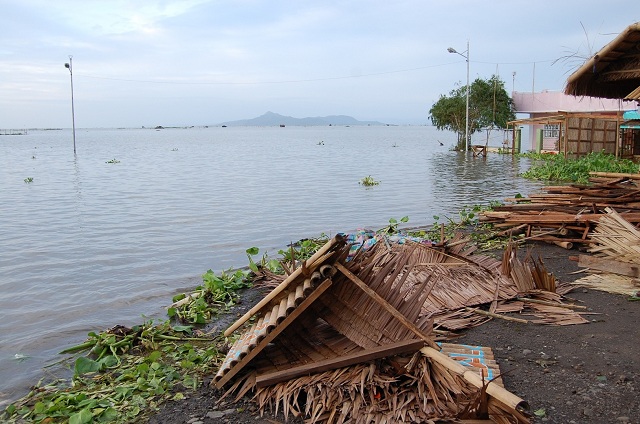 Photo source: http://kinooze.com/2012/08/27/typhoon-bolaven-hits-japan/

CNN