The Voyage of the Alceste, 1816-1817
to the Ryukyus and Southeast Asia
by John M'Leod
First Tuttle Edition, Printed in Japan, 1963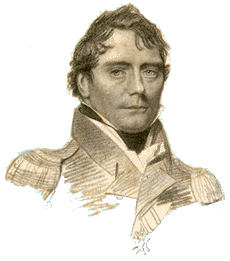 Captain Murray Maxwell, RN (Ryoal Navy)
Expedition Commander
Full title: Narrative of a Voyage, in His Majesty's Late Ship Alceste, to the Yellow Sea, Along the Coast of Corea and Through its Numerous Hitherto Undiscovered Islands, to the Island of Lewchew; with an Account of Her Shipwreck in the Straits of Gaspar, London, John Murray, 1817, 1st Edition, frontispiece (black and white lithograph), 4 hand colored lithograph plates
This is the Narrative of the expedition (February 1816 - August 1817) of the British Naval ships the Alceste and the Lyra under the command of Captain Murray Maxwell to transport the Lord Amherst's Embassy to China and explore the relatively little known East China Sea and the Yellow Sea. The book contains extensive sections on visits to China, Korea, Okinawa (Lew Chew) and St Helena.
Appendix I. The Court Martial regarding the sinking of the Alceste (pages 275-6),
Appendix II. Chronological List of Kings of Lewchew (pages 277-8),
Appendix III. Names and Situation of the Lewchew Islands (page 279),
Appendix IV. Lewchewan Words and Numerals. (pages 280-4),
Appendix V. "The Farewell" - a poem by the Clerk of the Lyra (Pages 285-288), insert 1/8 page Eratta,
The book contains 5 illustrations. The Frontispiece and 4 full page lithographic plates that are hand colored.
Chapters. The first edition of the book (1817) is not sub-divided into chapters. Subsequent editions do have chapters with summary headings.
Listing of Illustrations (Lithographs).
Portrait of Captain Maxwell (lithograph, black and white)
Handcolored Lithographs
Directions for Placing the Plates (lists frontispiece and 4 plates), text of Narrative (numbered pages 1-274),

1. Islanders of Sir James Hall's Group (facing page 38)
2. Corean Chief and Attendants (facing page 40)

3. Lewchewan Chief and Attendants (facing page 62)

4. Garden of the Temple of Lewchew (facing page 67)
---
Clicking on each hyperlink will launch a new browser. Please be patient while the pages load. Some are quite large .pdf files and it will take a while.