<!xxxxxxxxxxxxxxxxxxxxxx COLUMN ONE xxxxxxxxxxxxxxxxxxxxx> Long ago and far away, there was once upon a time a whole passel of American military dependent housing areas with houses of a very distinct design by the OHC (Okinawa Housing Corporation), later bought out by the Manneng Corporation, a general real estate business. Many a discussion has transpired over the years about those houses and this is my attempt to bring you some information and images of those abodes from days of yore.
Without a doubt, Bucknerville comes to mind in any discussion of Manneng houses. If it doesn't come up right away it most certainly will before you're too far into the conversation. Bucknerville, located in what is now Nanjo (a very large city resulting from the consolidation of several small towns and villages) in the southeast of Okinawa's main island, is something of an enigma. No one I've spoken or corresponded with has yet to explain why the tiny American military family housing enclave came to be in that location but there have been a number of what I think are good guesses.
To begin the discussion, my pal, Donn Cuson, who resided on island in the "old days" - 1960s - and who is now living the life of retired luxury in Arizona, says, "Somewhat speculation as to why they put in a dependant (sic) housing area in the Bucknerville location. The first [dependents] arrived on Okinawa in July 1946. The [dependents] were Army and Air Force and were all officer families to begin with. The Air Force families went to housing areas up around Kadena, including the Awase housing area. The Military Government HQ was moved from Ishikawa to the Chinen area just south of the Bucknerville area so housing was needed in that area. Bucknerville was originally a Navy Operating Base and was [then] empty so they could convert the Quonsets to homes. Naha was being rebuilt and the Mil Gov/USCAR [Military Government/United States Civil Administration of the Ryukyu Islands] would soon be moving into Naha and Bucknerville was somewhat close to Naha. Bucknerville would fade out as a housing area in the 1950s as more homes were built in Naha and the Machinato Housing area was being occupied in the early 1950s, but [I] could not tell you when the last military families left Bucknerville. 1946 article in the Daily Okinawa military newspaper."
The OHC built what are now dubbed "Manneng houses" at Bucknerville, Awase, Mercy, Tomari, and Seaview.
This is a bird's eye view of a former Bucknerville Manneng house (on the right) taken from Migusukujoseki when John Sholine and I were exploring April 21, 2019.
We walked down into the village of Bucknerville and scouted out a few of the remaining old houses. This is the back side of a Manneng house and a relatively ornate entry door - almost certainly an "after market" modification of the original construction.
Rob Oechsle is pointing to original windows of a Manneng house that he visited with the homeowner in 2018. (photo by John Sholine)
---
Another photo by John of a Manneng home. Note the water tank on the roof. Those are commonly found on homes for water storage. In more recent decades there is a far more abundant supply of fresh water on Okinawa but up until the 1980s it was very common for water rationing to occur and those tanks provided for times when there was no tap water available.
It's darn near impossible to find information about the Manneng Corporation and I've found even less that deals specifically with the houses that Manneng built for the U.S. government back in the '50s.
Rob Oechsle, however, did his homework, went into the Okinawa Prefectural Archives and dug up a pile of info about the Manneng Corporation. He reminds me that the "Manneng Corp. did not build these homes. They were 'OHC Homes' until Manneng simply took them over in 1963."
Did I just say that it's darned near impossible? Well, Rob took more time and dug a bit more deeply than I! But, in my defense, *chortle*, I don't have the official archives at my disposal. Take a look at what he has found [HERE]. A real trooper, that Rob!!
One of the important features of a Manneng house is that they had red tile roofs and not the flat-top concrete style that became so commonly used by other contractors later on as they built more and more family housing for the military. Although the original houses were built - including roofs - by the OHC and subsequently the Manneng people, after having bought out the OHC properties in the early 1960s, made use of roof tiles that they salvaged from other properties around the island which had been discarded by private homeowners after the Oct. 1944 bombing of Naha, other wartime damages, and other tiles that had been damaged by typhoons. I have as recently as this year (2019) seen properties upon which are stored piles and piles of red roof tiles. Those are apparently "on call" as replacement tiles whenever the need arises to replace broken ones.
Another feature of all of the Manneng houses was the "porch" overhang at the front door. That feature created a roof line design that was unmistakable when viewed from the air. Each Manneng house also had a room projecting from the rectangular shape of the main house (see the floor plan above). That small room also created a unique roof line as is shown in the google photo of Marumo-san's house (see below).
Donn Cuson says, "what I would consider a key design feature for a Manning (sic) style house, it is the Front Entrance features, small square window next to the entrance with a pair of tall narrow windows, on the opposite side of the entrance there is a single tall narrow window. This can be on either the left or the right of the porch. Closeups of the feature at Awase, Bucknerville, and Tormari Port. I think this is a good indicator of a survivor Manning (sic) style house.
This is another photo from Donn's collection depicting
Manneng houses in the Seaview housing area in 1956:

Click on image for full view
Doing so will launch a new browser window
One of Donn's more recent acquisitions is this photo showing Manneng Housing at Camp Mercy in 1957, He says, "It gives you a real good view of the housing and its design. Plus as a bonus a real good view of Camp Mercy Army Hospital, the chapel that was built during WWII up on the hills above Mercy and then moved down to Camp Mercy. Eventually the Hospital would become Camp Mercy Elementary School...and I believe later on the Ryukyu Exchange HQ... quite a history for one small place on Okinawa."
<!xxxxxxxxxxxxxxxxxxxxxx COLUMN TWO xxxxxxxxxxxxxxxxxxxxx>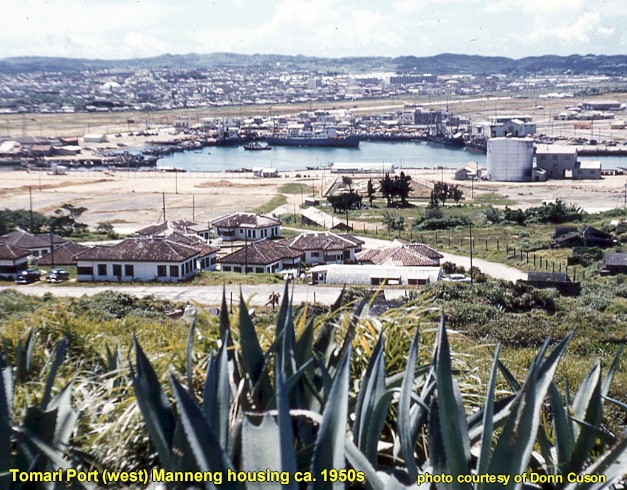 Click on image for full view.
Doing so will launch a new browser window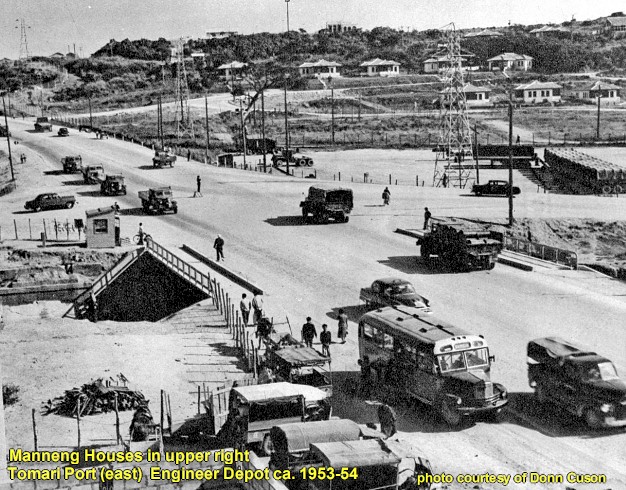 Click on image for full view.
Doing so will launch a new browser window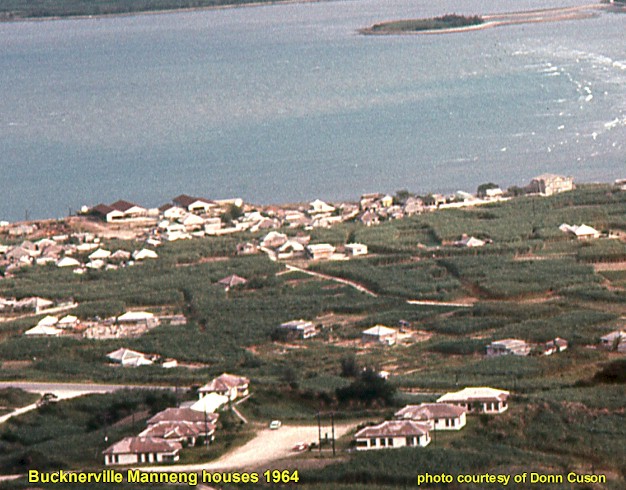 John and Rob cruised through the last known Bucknerville enclave in Sashiki, Nanjo City to photograph a few remaining old Manneng homes. John's photos:
Last December (2018) Rob visited the last surviving Manneng house in the former Matsuyama housing area in the capital city of Naha. He met with the owner, Seizo Marumo, who was 84 years of age. In his younger days Marumo-san bought the house from the Manneng Corporation even as the last American military family was still living in it. He uses it now as his business office, that being the large parking lot as shown in the google photo.
Here's a video with John and I exploring Bucknerville

As far as I've been able to determine there is the one surviving Manneng house in Naha, several in Awase and a handful-or-so in Chinen/Nanjo.
I will be delighted to hear from anyone who has more information about the Manneng houses, when they were built, where they were located and any remaining on island besides those in Naha, Awase and Chinen. As always, I can be contacted by email
(Mick-Admin@ClickOkinawa.com) or at my ClickOkinawa Facebook group.
I have to wonder about the red tile roofed houses at Kadena Air Base. Maybe the Air Force, not to be "outdone" by the Army, decided that they too must have some of their own - only newer. The Stearley Heights housing area where I lived in the late 1980s were superb housing units with very fashionable traditional red tile roofs. This was my house on Cragge Street (Clicking this hyperlink will launch a new browser window)
Sources:
individual testimonies as anotated in the text
personal observations (2015, 2017, and 2019)
"Civil Administration of the Ryukyu Islands" report for period 1 July 1963 to 30 Jun 1964, Vol XII (RCS CSCAMG-5) by United States Adjutant-General's Office
Rememberingokinawa.com
---
Oh, and before you go....

Click on image for full view.
Doing so will launch a new browser window
---

©2019 Contact: ClickOkinawa.com