<! TEXT ............TEXT ...................TEXT ....................TEXT > When we finished poking around in Aza-Oki the next thing on our loose itinerary was a visit to the
Zanpa Misaki lighthouse
.
On our way out though we stopped at
Amawari no haka
- a place I found in 2015. I wanted to show DyLon the tomb
because, 1. it's interesting, 2. the tree roots there are phenomenal! and, 3. we had lived only a few blocks from the place back
in the '80s and didn't even know it existed! If you wanna take a look at it, click
HERE
So then, on to Zanpa Misaki. We drove out there, bought a ticket and DyLon's climb began.
At the time my foot was giving me a lot of trouble and I elected to forego the opportunity to climb up seemingly
endless circular stairs to see the sights again from the top of the lighthouse. Instead I poked around the coral
rocks and got some pictures of Dr. Bung and Kelly enjoying their adventure. My 2015 lighthouse pics & videos
DyLon hadn't been out on the cape in some 27 years so it was a real treat for him to return for another look.

While he climbed stairs I busied myself with finding a few scenes that I wanted to capture for posterity!

DyLon was showing me that it's really not very far from bottom to top of the lighthouse.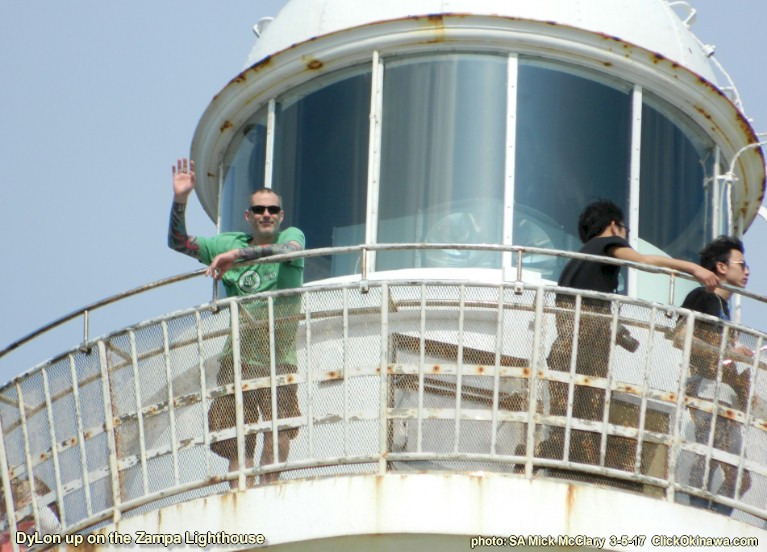 Well, he finally got to the top!

After getting back to ground we traipsed around a bit looking for other things of interest. Like this!

No idea what this is - fruit?
---
Back to ClickOkinawa.com
©2017 Contact: ClickOkinawa.com