<! TEXT ............TEXT ...................TEXT ....................TEXT >
During my 2015 trip to Okinawa Michael Lynch, who lives up in Kin Town, and I tried
to locate a "tree tunnel" that he had heard about. We drove up and down and all over
Katsuren one day looking for it. Although we had a grand adventure and saw a whole
bunch of other things we never did find the place that we were looking for. Since then
Mike has done more research and with the aid of his new knowledge and the GPS on
his smart phone we were much more successful. Click here to see Our search in 2015
On this day, I drove up to Kin to pick up Michael and we headed south to the Katsuren
Peninsula, armed with better intelligence and greater determination to succeed.
On the way down from Kin Town we stopped at a Family Mart for some provisions and
happened upon a guy that I had "met" via Facebook and who Mike already knew well.
No "Windshield Tour" of our drive today.. There are already videos in the 2015
and 2017 stories that include driving between Kin Town and Uruma and/or Koza.
Driving along Route 8 on the Katsuren Peninsula this bull caught my eye. I stopped and
got a few pix of the bull and his handler. I don't think that either one of them was amused.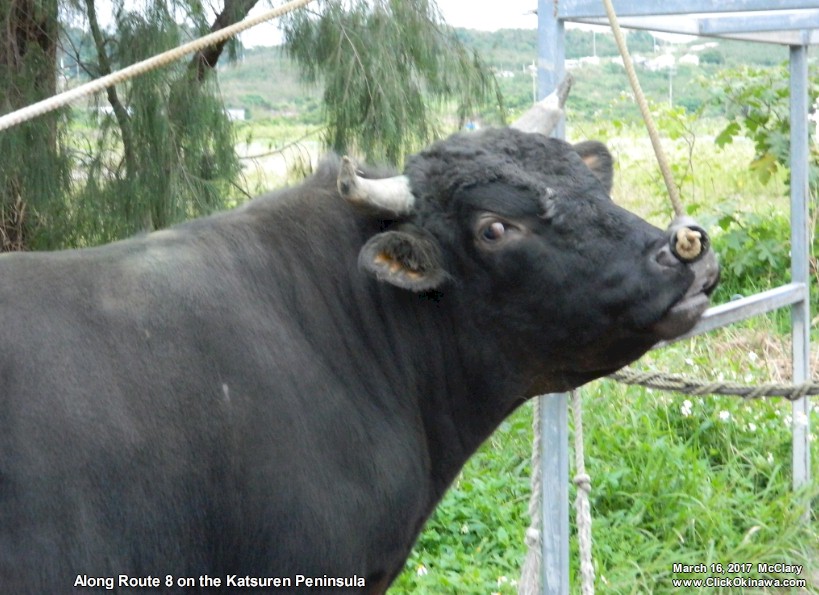 This is a strange-looking little dwelling
A sugar cane processing facility back in the distance
So, eventually we got to our target - Waitui - Yatta!!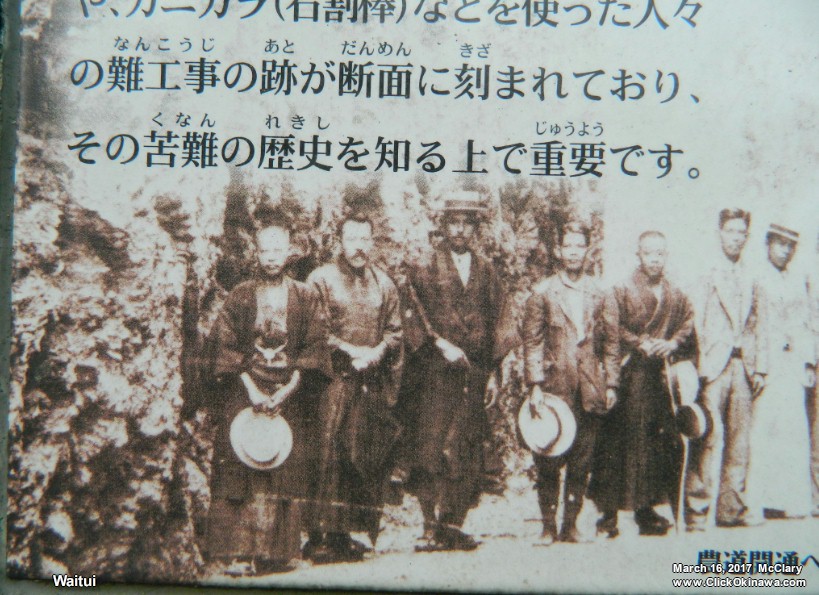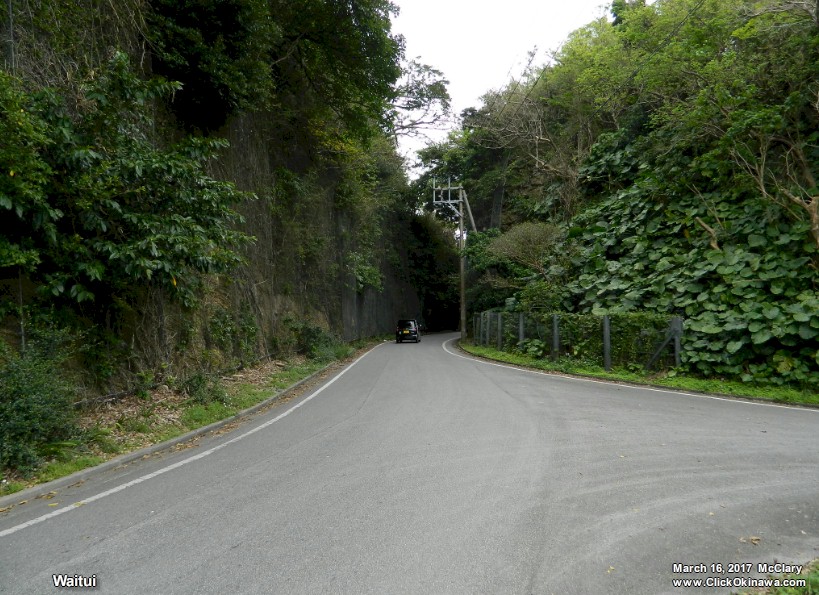 Mike and I walked along the rough trail at the right on top of Hidunbanta. There were lots of haka
That's Mike in the road
This was the first time that I had seen a new haka under construction.
Walking along Waitui we encountered many interesting things. An ages old haka (tomb) with a
stone hinpun and directly across the street the construction of a new tomb. A white marker indicating
that we were at Waitui. Only a few feet beyond the marker was the beginning of the walking trail that
turned out to be the original path over the mountain. Off to the right from the trail was another trail that
led us to several more well-tended haka.
At what appeared to be the apex of the path we saw a very small shrine - or perhaps even an infant haka.
Also some large broad-leaf plants with an exposed root complex. Don't know what kind of plant they were,
Maybe roots from nearby banyan trees.
We walked along the original path that led up over the top of Hidunbanta, saw a few tombs and markers but then
the path abruptly ended and we had to turn around and then back-track back down to the road. As we proceeded
through the Waitui we observed what appeared to be a number of shallow grottos, many of which were full of trash
---
---
Back to ClickOkinawa.com
©2017 Contact: ClickOkinawa.com