<! TEXT ............TEXT ...................TEXT ....................TEXT > With our scrap of paper in hand, bearing two characters that were written by a guy at Okinawa Fruits Land, we set out to find the sign.
Before long it appeared on the left just past Meio University.
We thought that we were going to see an authentic traditional old Okinawan house but
were in for a rude awakening - and, darn it, we weren't even hungry!

What we did find was a very interesting little place off the beaten path that had a number of features that are really nice.
For instance, this table and benches made from trees.
How cool is that?

The gardens were beautiful.

The handiwork and creativity are inspiring. I'd like to build one of these for myself.
Meanwhile, Dr. Bung and Kelly made themselves right at home.

This photo represents what comes to my mind when I think about walking through a village
in the days of the old kingdom. The stone wall, the house and ample verdant vegetation.

Then there's this - a more modern appearing structured "neighborhood" within the grounds of the place. All very nicely groomed, trimmed and cared for.

My favorite photo of them all - This to me is an Okinawan home that I'd be proud to own!

This is one of DyLon's photos of a shisa. He collected dozens of shisa images everywhere we went.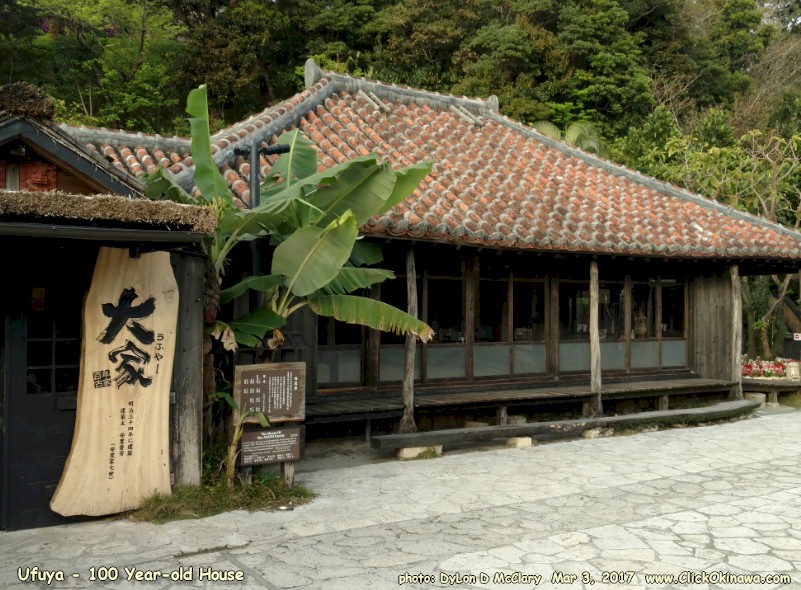 Another of his great-eye pix
---
After a very busy day we decided it was time to pack it in and get back for our last night at Okuma.
Tomorrow - we move to Uruma!
So, let's go home!
"WINDSHIELD" time...

This last video of the day is a drive on Rte 58 north through Nago.

---
UFUYA Website
---
---
Back to ClickOkinawa.com
©2017 Contact: ClickOkinawa.com