<! TEXT ............TEXT ...................TEXT ....................TEXT > Well, we made it to Naha uneventfully - unless you count a goat on the back of a tiny utility truck an event!
One of the first things of particular interest to DyLon was seeing the hospital at Camp Lester, now abandoned,
in which he and his younger brother, Zac, were born. Back in the '70s it was the Camp Kue (Kuwae) Army Med Ctr.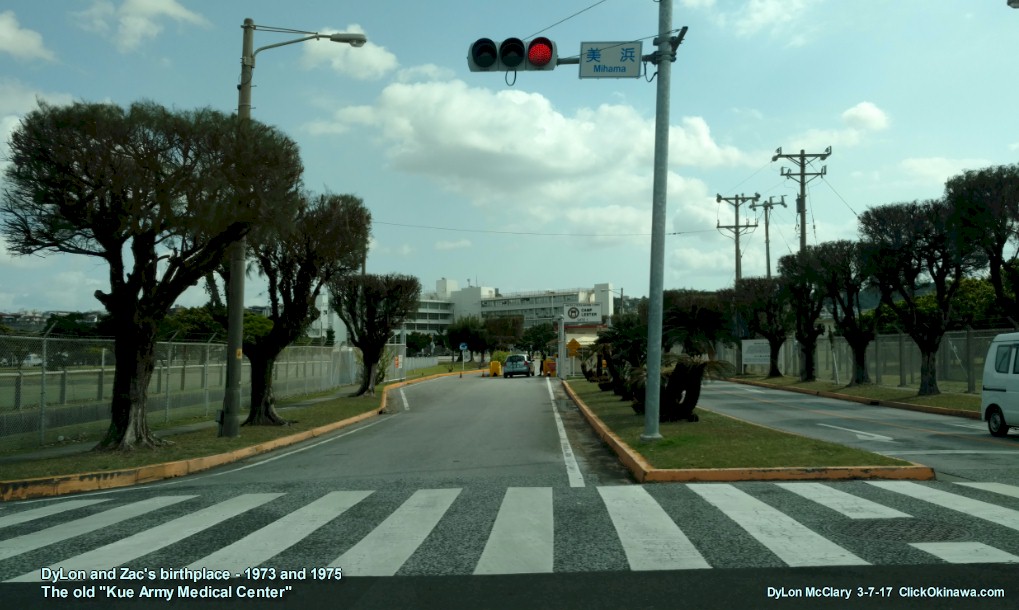 A couple of other things caught his eye...
The building ahead to the right is "gift-wrapped" with a giant (painted) blue ribbon & bow.
Well, we got to Naha and found a parking spot just off of Kokusai Dori.

DyLon and me. What a pair, eh?!

Land of the Big Pink Gecko!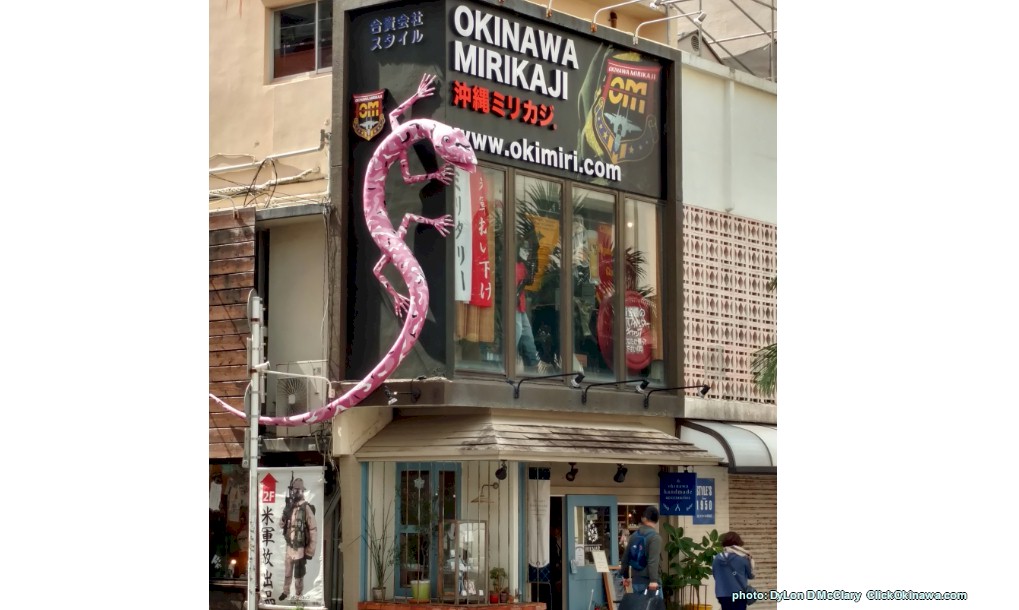 It's good to be a "Heavy Drunker"!

DyLon stopped in at this coin shop to pick up a little something to bring back home - I think it was for Brett. (?)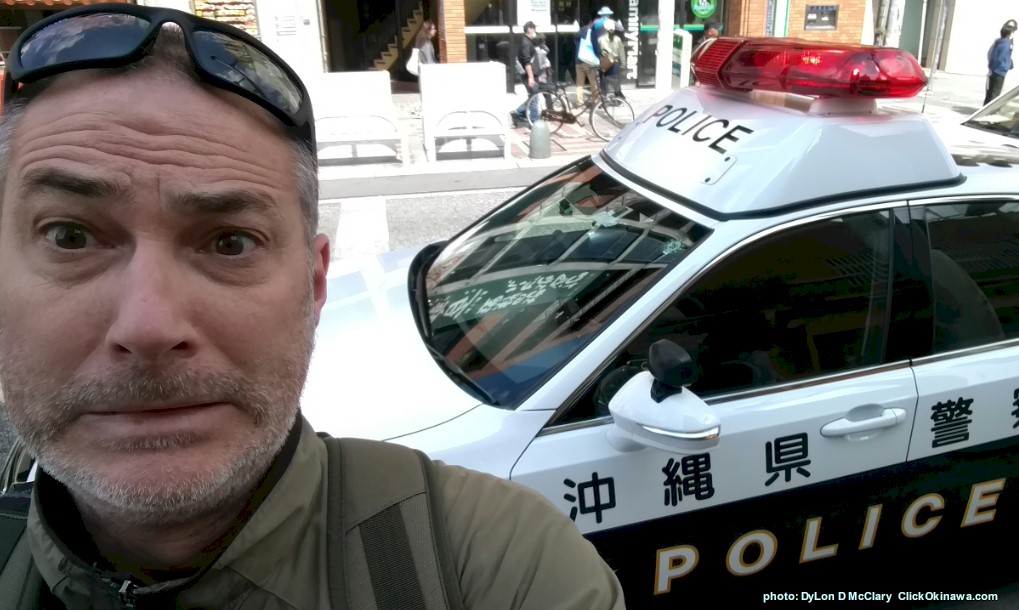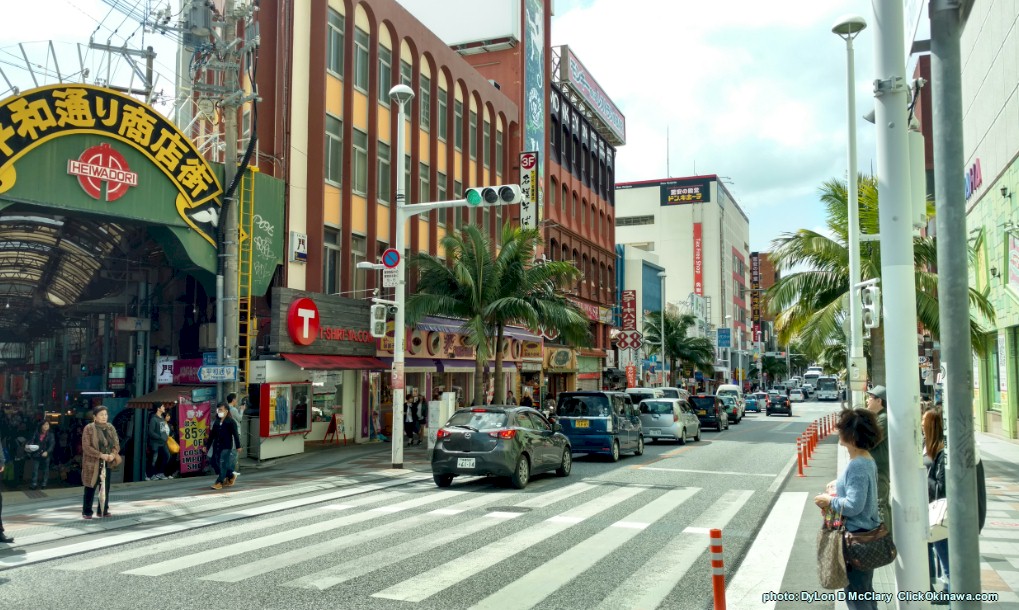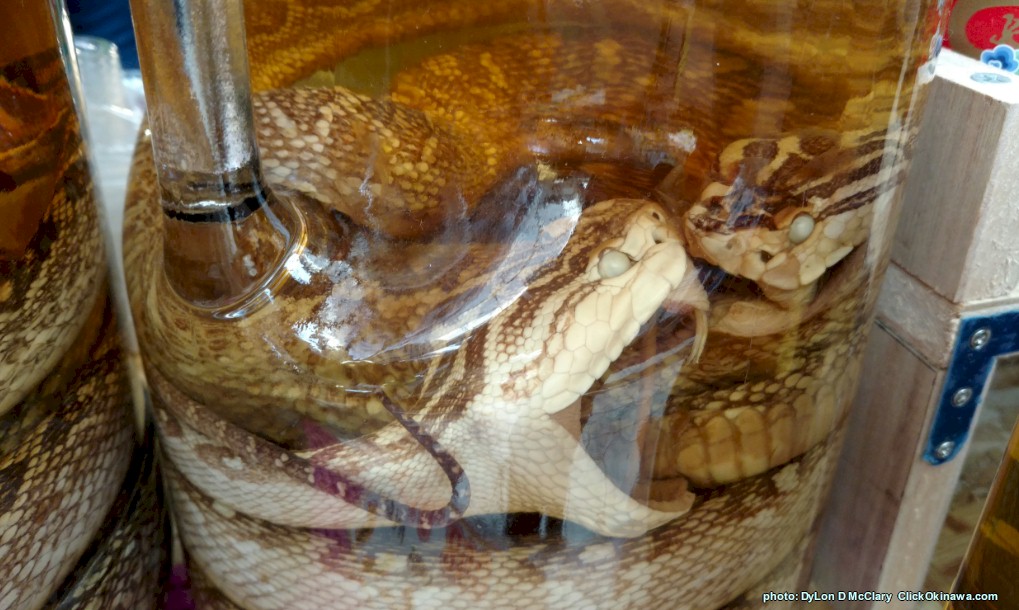 I bought a bottle of habu sake (habushu) before I left this year but not at this place. Too pricey on Kokusai Dori!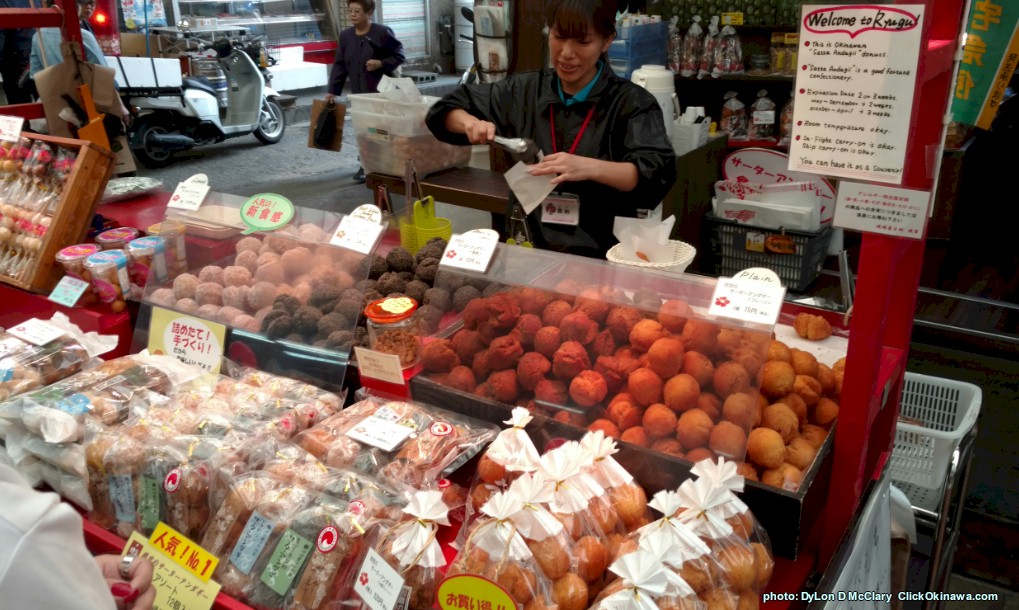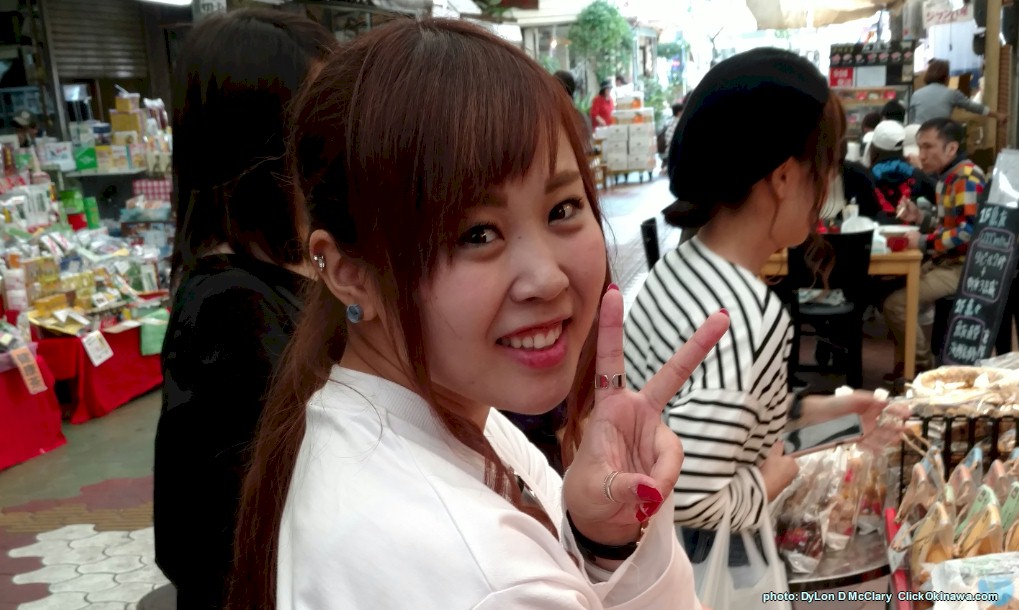 DyLon was a good guy and bought her a sataa andaagi.

He mentioned that his wife, Brooke, would love this vegetable market.

Umi budo - sea grapes

We walked out into an alley behind Heiwa Dori to discover what the other side of life in the big city looked like.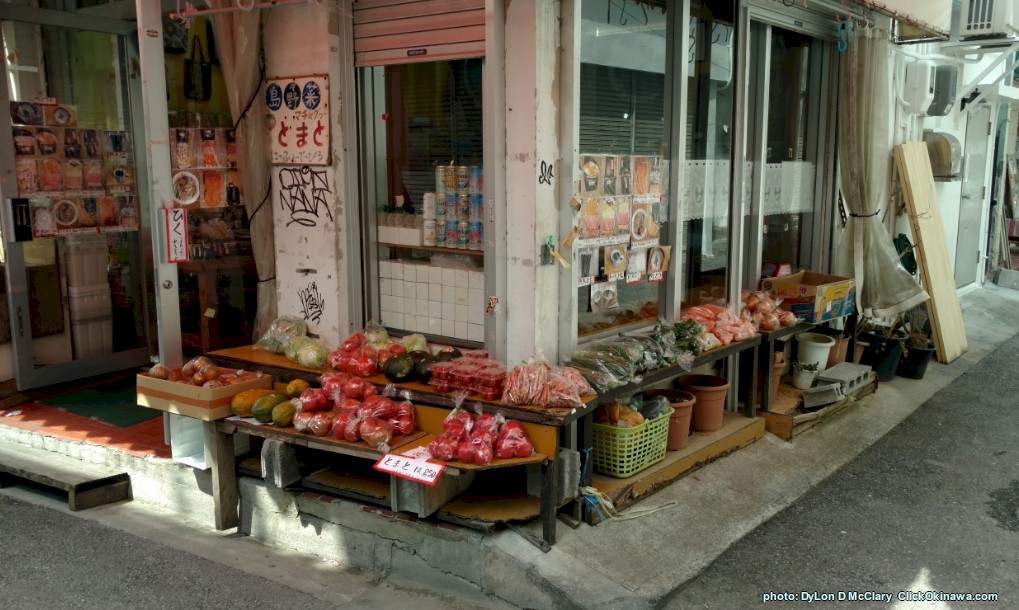 Well off the beaten path of Kokusai and Heiwa Dori are some cheaper markets...

...and a little more cultural reality.

Dr. Bung and Kelly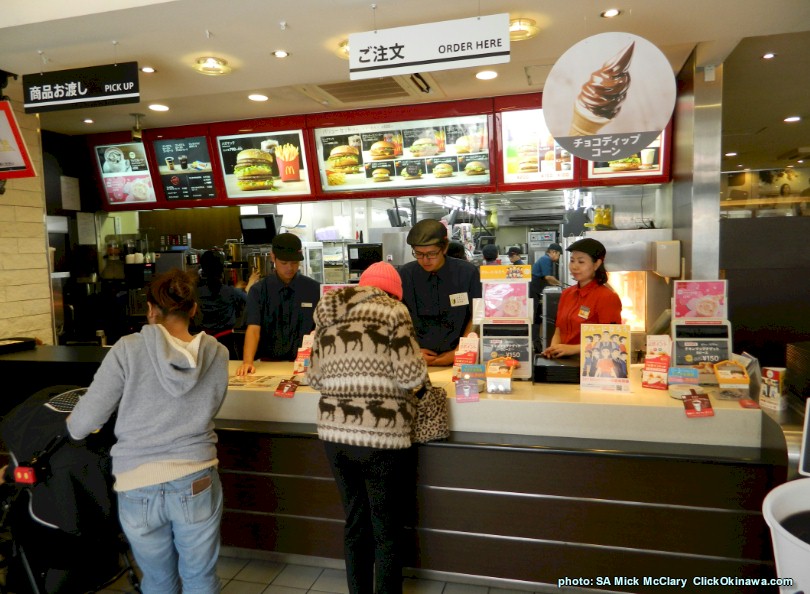 Another cultural experience - McDonald's!

Kelly and Dr. Bung hung out at the Smoothie Boo. Yeah, that's them on the counter.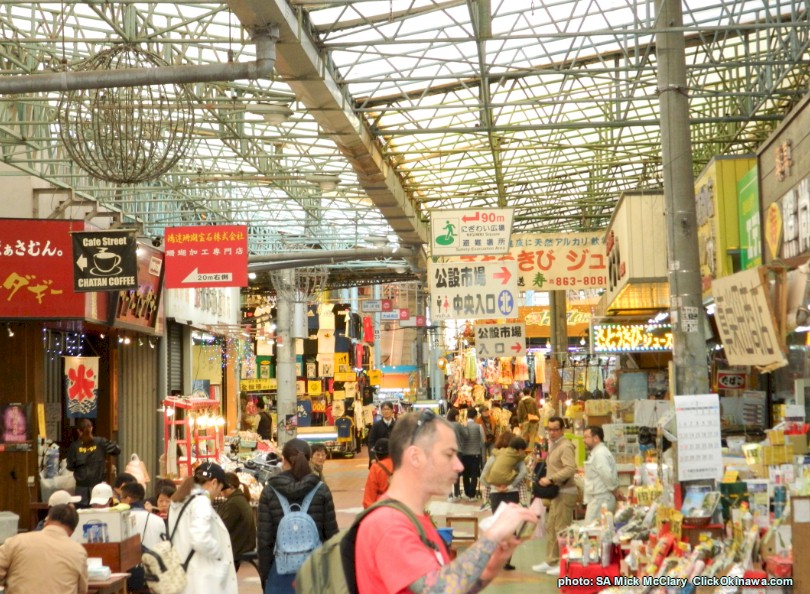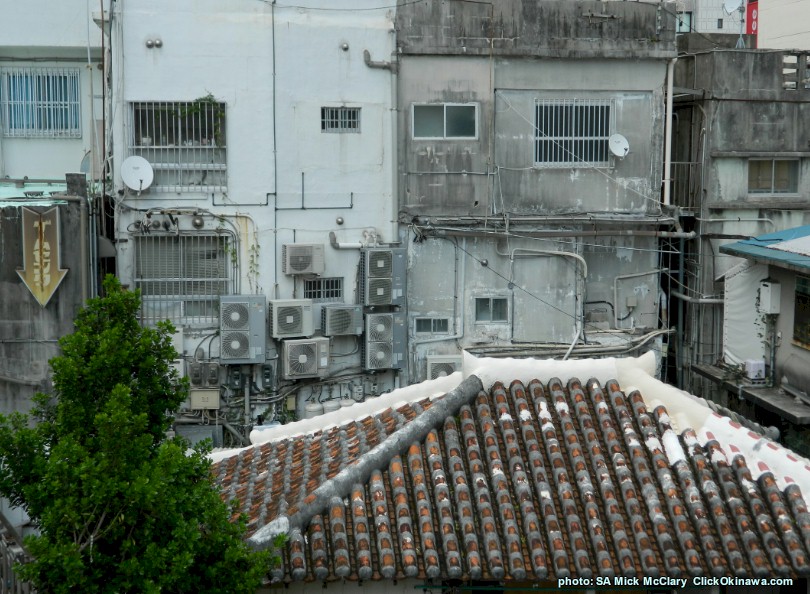 My guess is that they intended that to read "Sweets of Tropic". The Japanese use of the English language
in advertising campaigns, names, brands, etc. always gives me a chuckle. I have an insulated thermos-type
carafe that I bought on Okinawa back in the '80s with the slogan "Take a rest just tea time: Table handy pot" on it.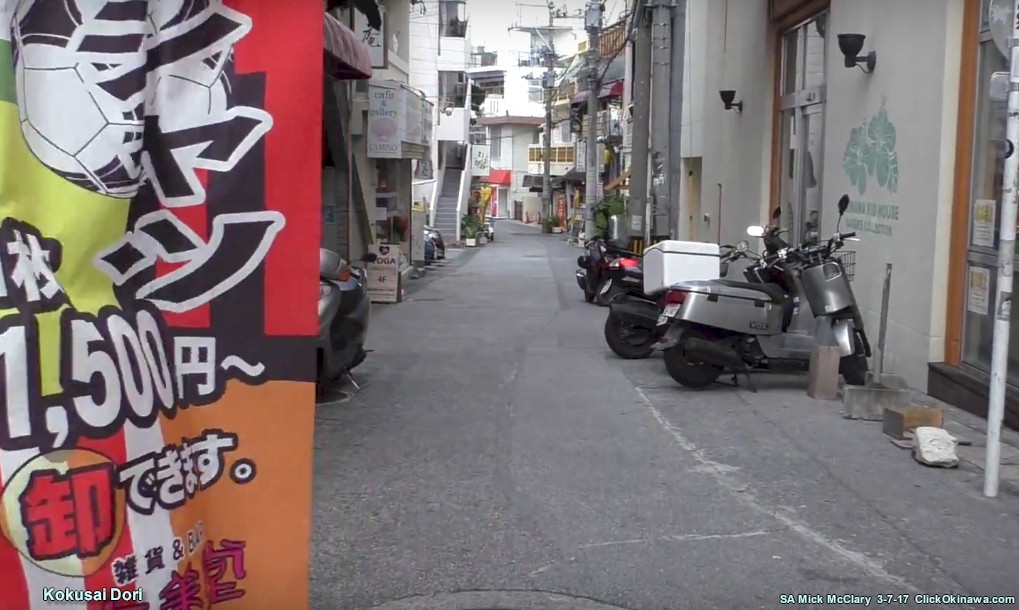 ---
Okay, so much for photos. Now we can go for a walk around the shopping areas.
It begins with our good fortune to find a parking spot right off the bat! Our major concern
at the outset was identifying landmarks so that we'd be able to find our car again.
<!001>
One of DyLon's first quests was to get some T-shirts to bring back.
<!002>
We found lots of shirts and other items with the word 'uminchu' emblazened upon them and had no idea the
meaning until we hit a store that spelled it out plainly and simply so that even we could understand!
<!003-004>
UMINCHU
Fisherman. A person who loves the sea. A person who loves diving.
A person who has a big heart like the sea around Okinawa.
It wasn't all shops selling souvenirs either. One place was kinda interesting.
Somehow, it seems, we forgot to take the time to buy some of this and try it!
I hung out on the street, filming passers-by while DyLon explored some of the shops in search of booty to bring back.
The coin shop was very interesting and the shopkeeper was a kick. We had a little fun with a police car, watched shops
opening for business, and had a good time people-watching. I remember, back in 2014, driving up and down Kokusai
at night and missed out entirely on the energy that is so evident as we walked this day from one shop to the next. So many
places and so much for sale that it was really overwhelming. And it made us hungry! So, where did we end up for lunch?
"Black Market Alley"
Heiwa Dori was abuzz with folks coming at us from all directions. So many shops and markets!
Big, big change from back in the '50s and '60s and from my first visit in the early 1970s.
There's going to be a segment without audio for about 1-2 minutes. Instead of deleting the entire segment I took out
the audio since there was a copyright conflict. Just bear with a couple of minutes of no sound then audio will return.
<!012-014>
Some of the "back street" scenes are my favorites. We stepped out just behind the main market area and discovered a multitude
of smaller, and cheaper, places selling produce, souvenirs, prepared food items, etc. Most impressive to me was the stark contrast
between the main streets that cater to tourists and, directly behind the scenes, the authentic, even if sometimes squalid, living conditions.
<!015-019>
All too soon it was time to leave. We had plans for taco rice at King Taco up in Kin Town. Long drive - considering Okinawa traffic.
<!021-024>
Le fin.
C'est tout!
---
Back to ClickOkinawa.com
©2017 Contact: ClickOkinawa.com