<! TEXT ............TEXT ...................TEXT ....................TEXT > Lots of things to do today!
First thing on our itinerary was to go to the AMC terminal at Kadena Air Base to weigh DyLon's luggage. Bummer...
He would be leaving in two days to go back to the States, leaving me to fend for myself for the rest of the month.
We had been in Uruma for only a couple of days and I was still trying to get my bearings and commit routes to
memory. I started out following the major routes back and forth from Konbu to Kadena and surrounding area.
Before long I learned some of the short cuts, traffic-wise, and things became less inconvenient. I'm certain that
had I stayed a little longer I'd have become much more confident. I've always contended that there is no way to
get lost on Okinawa. A guy can become disoriented and cover a few kilometers trying to get back on track but
ya just can't get lost. Keep driving and eventually you'll run into the ocean!
So, let's set out for the terminal:
We putzed around the base for a while then eventually got to the terminal, got his baggage weighed then drive down to Naha.
Somehow I have lost track of the photos and video that DyLon shot. I'm hoping that I inadvertently misfiled them and didn't
accidentally delete 'em! If only misfiled then there's a good chance that I'll stumble upon them one of these days. Anyway...

Large shisa stand guard outside of the terminal entrance and provide newly arrived travelers with a sense of what is to come.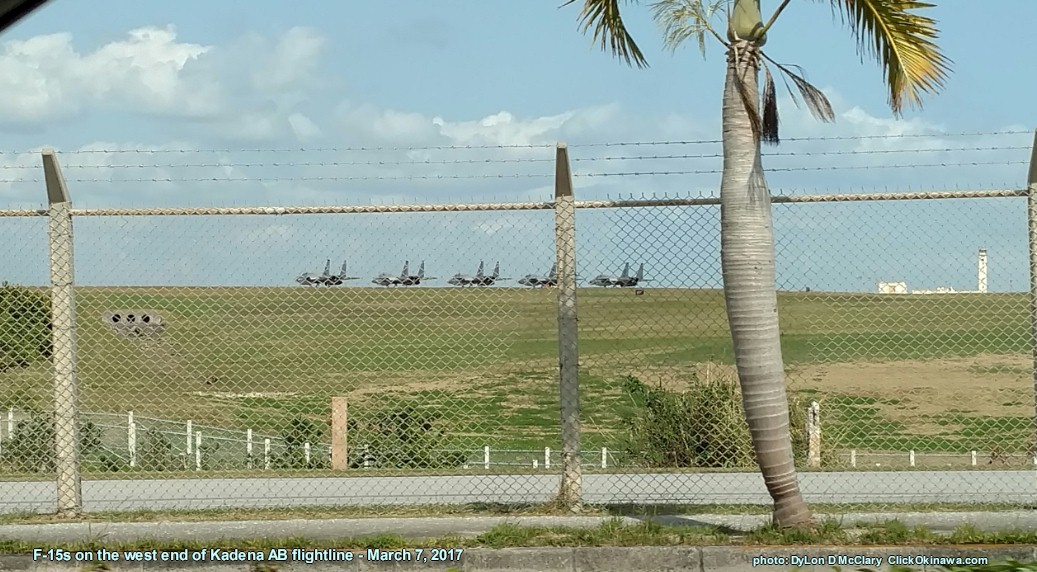 A flight of F-15 Eagles await the green light from the tower.

DyLon's cellphone video

The Nissan Skyline has been one of his favorite cars since the 1980s. He spotted this one in the upper parking lot at the terminal.
---
Back to ClickOkinawa.com
©2017 Contact: ClickOkinawa.com