<! TEXT ............TEXT ...................TEXT ....................TEXT > After having spent time and not a few yen at Yuiyui Kunigami we set out for the east coast of the island. In this "windshield tour" you can ride along as we turn off of Route 58 and head east on 331 to the little village of Gesashi. It's a beautiful drive!

This video is my first attempt at editing and combining video images from two sources. The "windshield" images are easily identified not only by the SJCam 4000's wide angle but also from the irritating rattle that resulted from a loose tripod. DyLon's non-rattling video is from his Panasonic v-camera.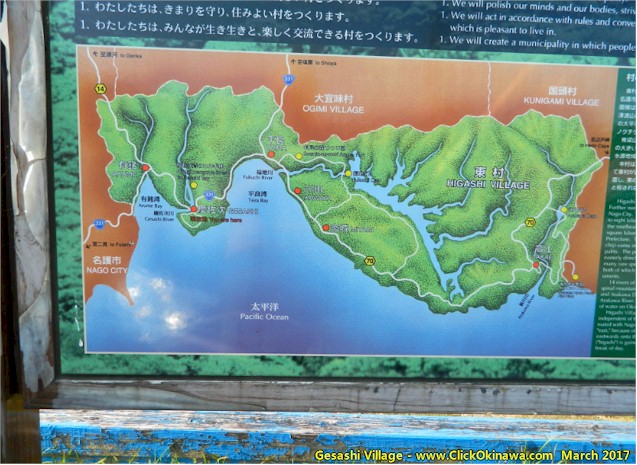 Gesashi is a sleepy little town in the Higashi Village District.

Barely more than a park and a small store we found Gesashi to be a refreshing, quiet spot to pull over and stretch our legs.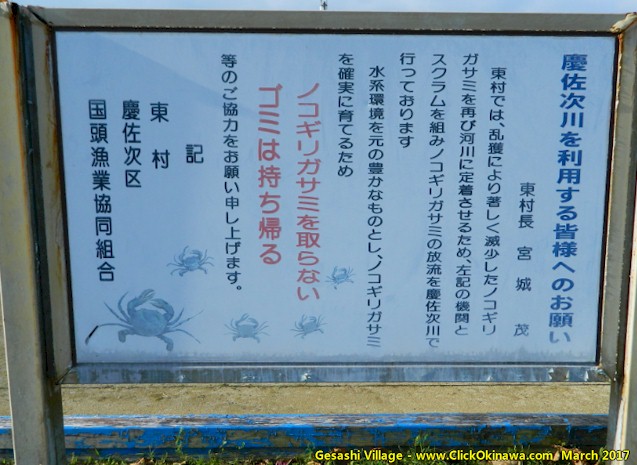 As always, a translation, if you are so inclined, will be most appreciated. email me with your interpretation of this sign. Thanks.

It would have been nice to have stopped here when kids were out playing in the park or maybe when some of the villagers were here to play croquet or perhaps practice their cultural music and dance.

What a wonderful life it would be to live in this quiet atmosphere surrounded by forests and the sea.

And, of course, what village would be complete without one of these most ubiquitous features of Okinawa?
<! TEXT ............TEXT ...................TEXT ....................TEXT >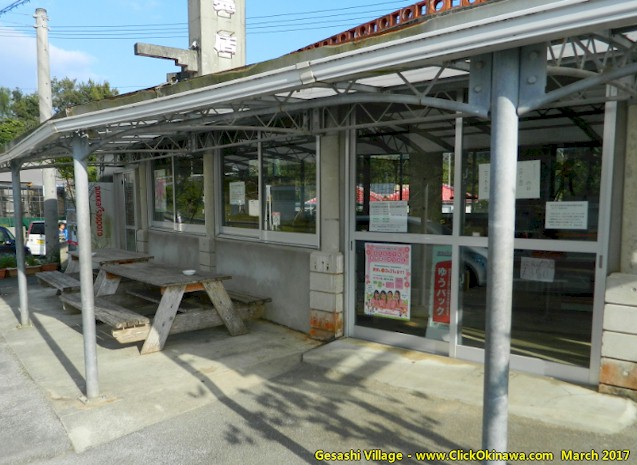 We eventually got around to going into the store. I can imagine the tables filled with oji-san smoking their Cherry cigarettes and chewin' the fat.

I can also envision a vegetable stand here being run by area farmers and maybe flowers being sold in colorful bunches.

Once inside I was met with this scene - appearing to be left-overs from a farmers' market.

Passing through that area we entered into the store itself. A very friendly woman greeted us and stood ready to assist us in any way that she could. And she did...

DyLon spotted then glommed on to a bag of one of his all-time most favorite Okinawan treats...
Sata andagi! He also found some packages of the mix for making the little treasures. The store keeper carefully explained how to mix the correct proportions of oil and egg to make perfect little donuts. Especially important, she cautioned that the oil should be "not too hot" and that is oh, so true! I made that mistake the first time I ever made sata andagi - the outside looked beautifully firm and golden brown but the inside was raw!
---
Back to ClickOkinawa.com

©2017 Contact: ClickOkinawa.com