<! TEXT ............TEXT ...................TEXT ....................TEXT > It had been a long day and it was time to kick back, relax, and enjoy some company with Tsakatsa-san.
Maybe this night there'd be more of a crowd - or so we hoped. Seems like Tuesday nights in a small
town aren't much different from a Monday. Maybe even a little slower. But we didn't let that dissuade
us from having a good time anyway. After a while we loosened up and had a pretty amazing time.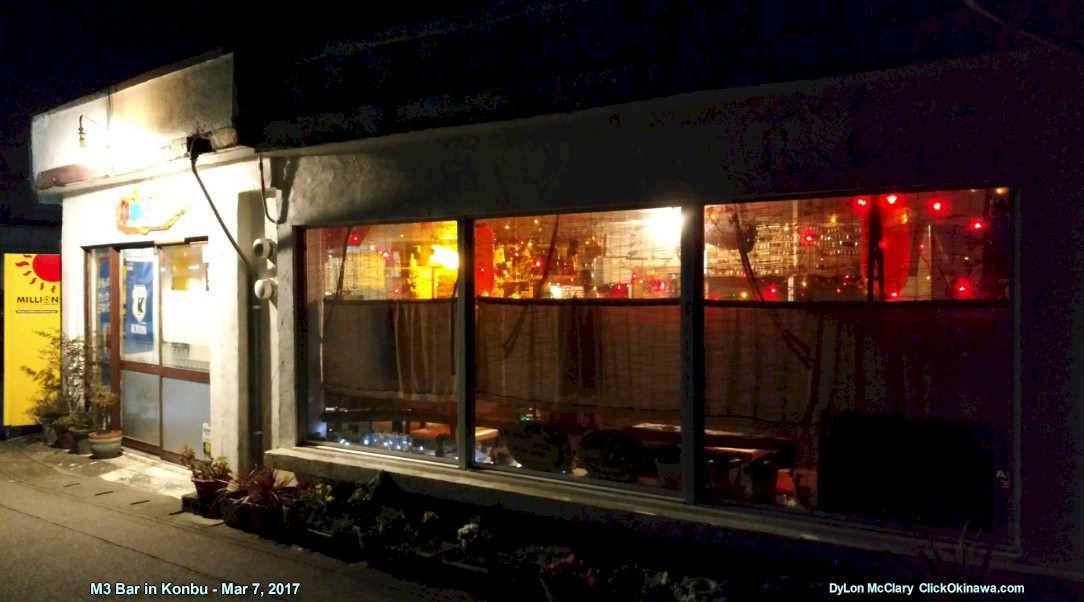 One nice thing about Tsakatsa-san is that he's eager to meet and greet anyone who enters his bar.
Kelly and Dr. Bung were no exceptions.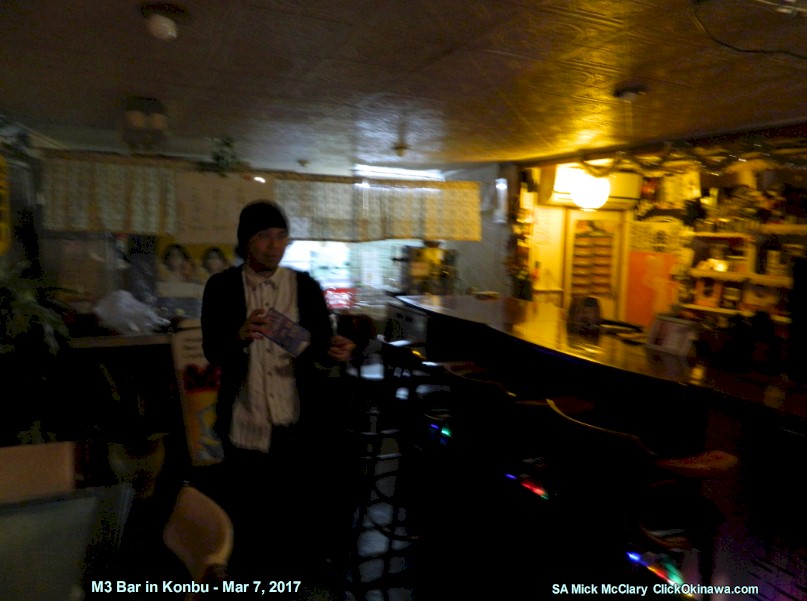 A very friendly and accommodating host, Tsakatsa-san served up some refreshing adult beverages.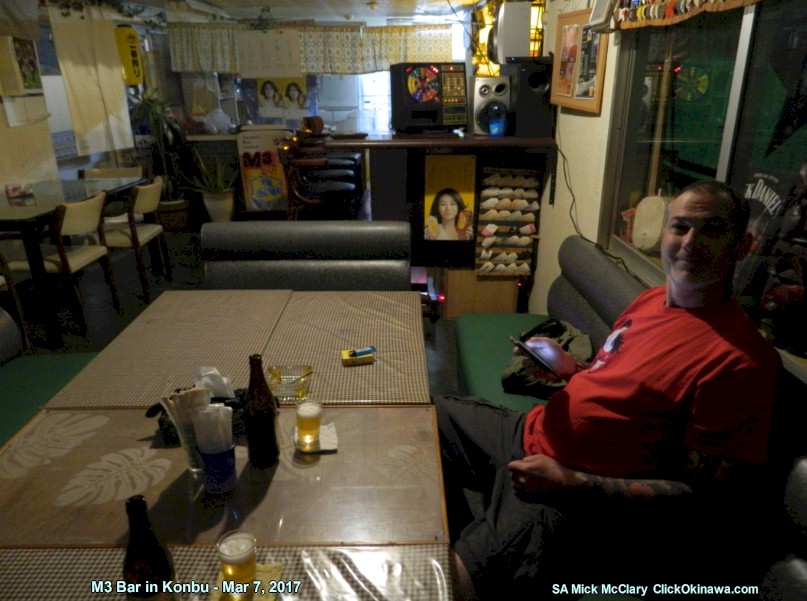 We settled in for a well-earned evening of relaxation. Naha and Kin were good stops but it made us
weary and thirsty (kawaita). Even Dr. Bung uncharacteristically kicked back and joined in on the fun!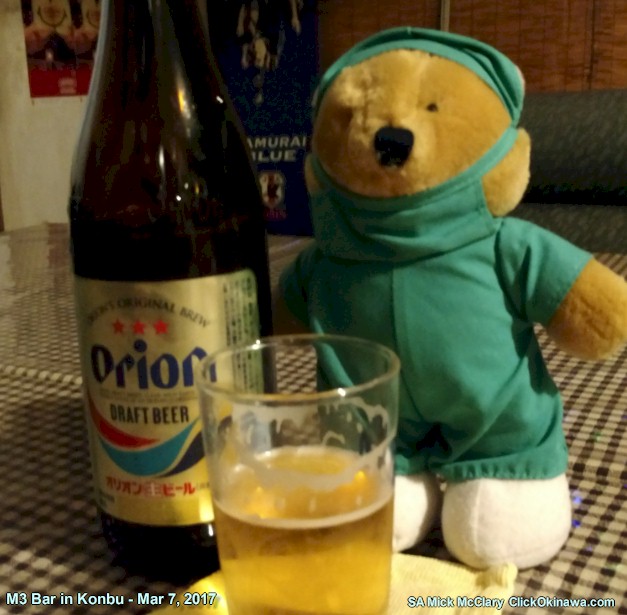 I bought him a beer and Tsakatsa sat with us and we tried to communicate as best we could. I think
that he sensed a need for something to break the ice so he got up and fetched one of his favorite toys.
Before long everything loosened up

.

Tsakatsa-san introduced us to his sister and she was happy to pose with DyLon. I can't remember her name.

It didn't take long for DyLon to get really curious about the electronic game that was on the end of
the bar and he asked Tsakatsa if he could play it. I don't know if DyLon finally understood the object of
the game (other than to collect customers' money) but I'm absolutely certain that I still don't have a clue!
It looks like this game machine is a survivor since the 1980s!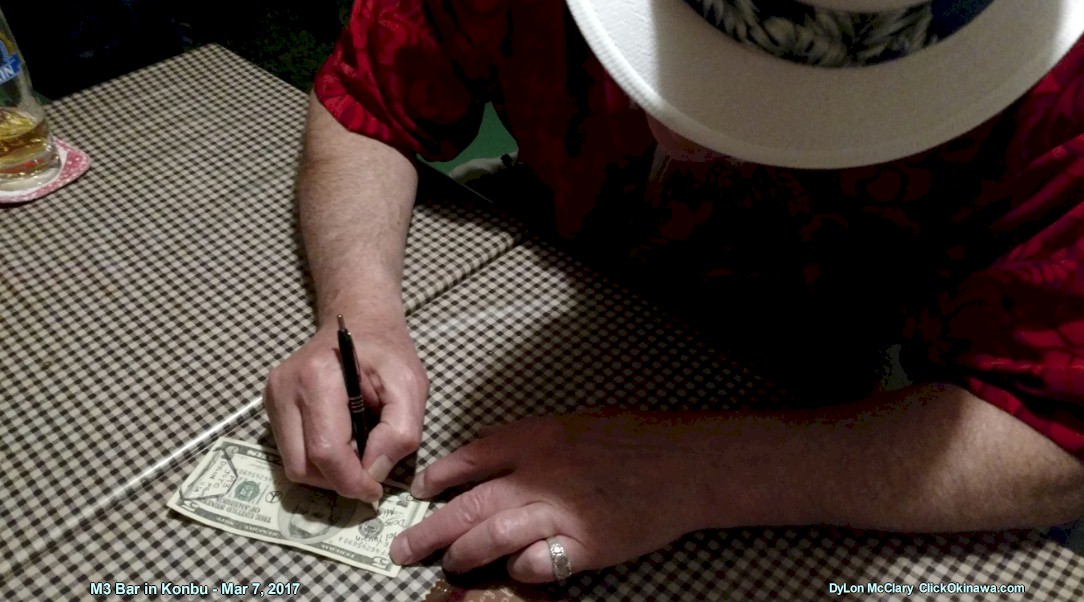 We got the idea to give Tsakatsa a signed $5.00 bill and asked him if he'd hang it somewhere in the bar.

Next time we visit we'll see if it's still there.
---
Back to ClickOkinawa.com
©2017 Contact: ClickOkinawa.com