Red Sabino Filly
Click on horse's names to see photos.

Sired by Dusty Traveler - 15'3 hands.
Dam: Mozark's Apache Sugar - 15 hands.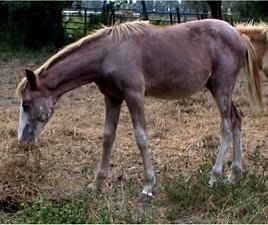 Under Contract*
~ SOLD ~
to Mitch Layne of Senath, Missouri

Updated photos made October 4, 2003.
Blue Papered - Born 3-8-03
Very nice red sabino overo filly! She's a character!
She has good conformation, natural gait and a good disposition.
She's a flashy girl with hind stockings that go way up her legs.
She is registered in the Missouri Foxtrotter & Pleasure Saddle Horse.
She should mature to about 15'1 hands.
Price is subject to increase as horse matures.
Please see her pedigree below.




Her Pedigree
You can see some of her ancestors by clicking on their names.

Hartley's Apache Shamrock is also Pure Luck's dam.

Back to Foals & Yearlings page




Serious inquiries only, please!

General terms for selling foals & yearlings

25% down is required to hold any horse for sale.
All reasonable offers are considered, and financing is available upon approval.
Delivery may be possible within 250 miles of our home, (for a reasonable fee).
You might also find a hauler on this page: Catch A Ride












"Under Contract" indicates either a downpayment has been received to hold the horse, or downpayment has been promised and we are waiting to receive it. If payment to hold the horse has not been received within a reasonable time the horse will become available for sale again, so please check back soon if you are interested in the horse.

Back to Top




Home ~ Index Page
Foals | Stallions | Horses for Sale | Homozygous | Horse Health | About Us | Foxtrotter Training
Games | Shop | WebRings | Banners | Links | Page Building Help | Free E-Cards | Hoaxes
Animated Gifs | Clipart | Backgrounds | Our Awards | Apply for Award | Winning Sites | Search
Pedigree Generator | Our Location & Contact Information | Translate | Site Map | Suggest this Site
Email: foxtrotters@horsemail.com | Privacy | Disclaimer | Copyright ©