Palomino Foxtrotter Filly
Click on horse's names to see photos.

Sired by Harvest Gold 15'2 hands.
Dam is Black Satin-N-White Lace 14'3 hands.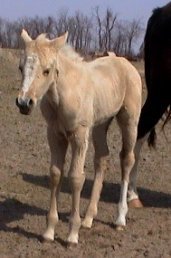 Photos above taken at about two weeks old.

Photo below made in October 2003.



Photo below made at her new home in May 2004.



Born February 14, 2003
~ SOLD ~
to Victoria Myers of Farmington, MO




This is a perfect, sweet little filly with a blaze and one rear stocking. She has good conformation, a baby doll head, and natural gait. She should mature to about 14'3 hands. She is double registered Missouri Foxtrotter & Pleasure Saddle Horse. She is blue papered.


Here's what her new owner had to say on 5-14-04:
She's doing fantastic, and loves, loves, loves the open fields. She is not flighty at all. I can walk up to her swinging the halter and hold it up to her...she'll stand still and let me put it on...she's then ready to go! She loves to go for walks and see new stuff. She gets to see lots of spinning things, flapping flags, and windows when we take our daily walks. I stop along the way and pick clover flowers for her to eat, while I'm bent over she blows in my hair and waits patiently..LOL. She saw a really, really loud ATV the other day with a crazy driver and a funny helmet on. She didn't think he was worth too much attention. We're very proud of her and couldn't ask for a better horse. I can't wait until she's old enough to start really training to ride. I have a feeling she'll be a fabulous riding horse. She sure does love us, and I wouldn't take 20 times what I paid for her. Everyone has fallen in love with her! -Vickie


Her Pedigree
Some of her ancestor's photos can be viewed below by clicking their names.

Click to see a head shot of "Black Satin-N-White Lace", dam of this foal.

Back to Foals & Yearlings page




Serious inquiries only, please!

General terms for selling foals & yearlings

25% down is required to hold any horse for sale.
All reasonable offers are considered, and financing is available upon approval.
Delivery may be possible within 250 miles of our home, (for a reasonable fee).
You might also find a hauler on this page: Catch A Ride






Home ~ Index Page
Foals | Stallions | Horses for Sale | Homozygous | Horse Health | About Us | Foxtrotter Training
Games | Shop | WebRings | Banners | Links | Page Building Help | Free E-Cards | Hoaxes
Animated Gifs | Clipart | Backgrounds | Our Awards | Apply for Award | Winning Sites | Search
Pedigree Generator | Our Location & Contact Information | Translate | Site Map | Suggest this Site
Email: foxtrotters@horsemail.com | Privacy | Disclaimer | Copyright ©