Buckskin & White Tobiano Stud Colt
sired by Pure Luck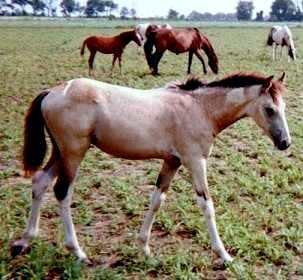 Photos below taken November 2002.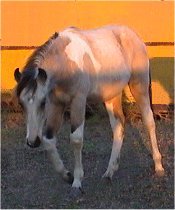 Photo below made in August '03 in his new happy home in Illnois.
His new owners have taught him to lay down on command.
They say, "He is very sweet and really loves attention".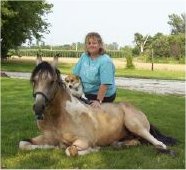 ~ SOLD ~
to Charles & Sally Bradley of Monee, Illinois.
Blue Papered - Born 3-20-02

A special colt - stallion and/or show prospect deluxe!
This beautiful buckskin colt has a perfect baby doll head and good conformation!
He is naturally gaited and very good natured.
Please see his pedigree below.




His Pedigree
You can see some of his ancestors by clicking on their names.

Back to Foals & Yearlings page




We accept Visa and MasterCard credit card payments through PayPal.
Check it out ~ it's convenient, free, quick, easy, safe & secure!
Click below for more information.




Home ~ Index Page
Foals | Stallions | Horses for Sale | Homozygous | Horse Health | About Us | Foxtrotter Training
Games | Shop | WebRings | Banners | Links | Page Building Help | Free E-Cards | Hoaxes
Animated Gifs | Clipart | Backgrounds | Our Awards | Apply for Award | Winning Sites | Search
Pedigree Generator | Our Location & Contact Information | Translate | Site Map | Suggest this Site
Email: foxtrotters@horsemail.com | Privacy | Disclaimer | Copyright ©