Black & White Tobiano Stud Colt
Click on horse's names to see photos.

Sired by Dusty Traveler - 15'3 hands.
Dam is The Two Timing Hussy - 14'3 hands.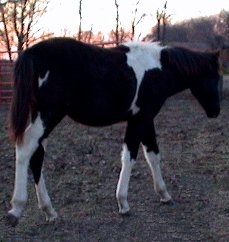 SOLD
to Craig Sequist of Caulfield, Missouri.

Photos above taken November 2002.

Born May 3, 2002

He is a black & white tobiano with some unusual markings.
He has a check mark on his right hip and his left hind hock is black.
His dam is a 3 time state champion black mare. Lots of foxtrot rhythm!
He is blue papered and registered in the MFTHBA and is eligible for SSHBEA papers.
Click here for photos of his sire and click here for his dam.




His Pedigree
Some of his ancestor's photos can be viewed below by clicking their names.

Back to Foals & Yearlings page




Serious inquiries only, please!

General terms for selling foals & yearlings

25% down is required to hold any horse for sale.
All reasonable offers are considered, and financing is available upon approval.
Delivery may be possible within 250 miles of our home,
(for a reasonable fee).

We do accept personal checks, but all checks must clear our bank before horses leave our farm. We also accept credit card payments through PayPal. If you are paying by check then please mail it to: Pleasure Gait Farms
Chuck & Sherry Hartley
9235 County Road 523
Senath, MO 63876
Located in the southeast Missouri Bootheel.
Phone: 573-738-2076 Email: foxtrotters@horsemail.com

For credit card payments:






Home ~ Index Page
Foals | Stallions | Horses for Sale | Homozygous | Horse Health | About Us | Foxtrotter Training
Games | Shop | WebRings | Banners | Links | Page Building Help | Free E-Cards | Hoaxes
Animated Gifs | Clipart | Backgrounds | Our Awards | Apply for Award | Winning Sites | Search
Pedigree Generator | Our Location & Contact Information | Translate | Site Map | Suggest this Site
Email: foxtrotters@horsemail.com | Privacy | Disclaimer | Copyright ©