Harvest Gold
We call him "Harvey"
Triple registered with MFTHBA, SSHBEA & PSHR

Please click on pictures to see the larger versions.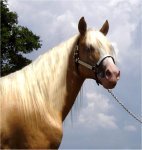 Harvest Gold has been sold and no longer belongs to Pleasure Gait Farms.
We are going to miss him!

Born on May 19, 1997
Harvest Gold is a blue papered, 4th generation Foxtrotter. He is a beautifully marked golden palomino & white overo. He is triple registered with the Missouri Foxtrotter, Spotted Saddle Horse & Pleasure Saddle Horse. Blood typed and approved for stud in all associations. Harvey's sire is Traveler's Rebel L. and his dam is Dusty's Illusion a direct daughter of Dusty Traveler. See some of Harvey's foals by clicking here.


Harvey's Pedigree

Please note: You can view photo's of some of the horses
in his pedigree below by clicking on their names.




The above shows Harvest Gold's ancestry to the 4th generation. In his 5th generation there is Zane Grey's Warrior by Zane Grey, Vicki 3, Mr. President, Snip H., Ebony's Julius C., Maybe, Danney Joe W.,Traveler's Lady, Missouri Senator, Betty Grable, Reeves' Tony, Merry Legs, Mack Knight G.F., Son's Satellite, and Gold Boy.
Harvey's foals


Home ~ Index Page
Foals | Stallions | Horses for Sale | Homozygous | Horse Health | About Us | Foxtrotter Training
Games | Shop | WebRings | Banners | Links | Page Building Help | Free E-Cards | Hoaxes
Animated Gifs | Clipart | Backgrounds | Our Awards | Apply for Award | Winning Sites | Search
Pedigree Generator | Our Location & Contact Information | Translate | Site Map | Suggest this Site
Email: foxtrotters@horsemail.com | Privacy | Disclaimer | Copyright ©