Foxtrotter Palomino Stud Colt
Sired by: Harvest Gold 15'2 hands.
Dam: The Golden Storm 14'3 hands.
Her sire is Request the Gold by
Danney Joe's Golden Shadow by Rambler's Traveler by Missouri's Rambler E.
More of his dam's bloodlines include: Golden Rawhide, Danney Joe W., and Barney Fife.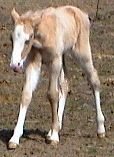 Photo above taken at 1 day old.



Photo above taken May 31, 2003.




~ SOLD ~
to Paul & Diana McCans
Black Hat Select Horses
Elizabeth, Colorado



Photo above taken at his new home on 9-14-03.

Here's the story that goes with the interesting photo above.
Update on the antics of Harvey.



Sunday, September 14th, we were celebrating the wedding of our youngest daughter, Sheri. We had the ceremony outside and had a nice reception outside also. Then we went into the house to open the gifts. As we were doing that Paul says he is going out to feed the horses.

In a few minutes we hear a noise at the back door and several people going "whoa". I look up and there is Paul and Harvey in the living room. Paul says, "folks this is Harvey" and then turned him around and went back out of the house. I was amazed. Cameras were flashing as everyone wanted to get a picture of this. Harvey had gone up onto the patio.....through the mud room.....up some steps.....through the laundry room......into the kitchen and finally into the living room. He was as calm as if he had done this a hundred times before. (By the way, this is the first horse I have ever had in the house.) I asked Paul why he did it and he said Harvey was so quiet when he went out to feed that he thought he would just see how far Harvey would go. Well, I guess now we know........all the way. :o) He is such a special horse. He is so gentle and easy to handle.


-Diana




Blue Papered - Born 3-11-03
This colt has a wide blaze, 3 long stockings, 1 in front and 2 behind.
He's naturally gaited and has a good disposition.
He should mature to about 14'3 hands.
Prices subject to increase as foals mature.





Please see his pedigree below.
You can see some of his ancestors by clicking on their names.

Back to Foals & Yearlings page




Serious inquiries only, please!

General terms for selling foals & yearlings

25% down is required to hold any horse for sale.
All reasonable offers are considered, and financing is available upon approval.
Delivery may be possible within 250 miles of our home, (for a reasonable fee).
You might also find a hauler on this page: Catch A Ride

We do accept personal checks, but all checks must clear our bank before horses leave our farm. We also accept credit card payments through PayPal. If you are paying by check then please mail it to: Pleasure Gait Farms
Chuck & Sherry Hartley
9235 County Road 523
Senath, MO 63876
Located in the southeast Missouri Bootheel.
Phone: 573-738-2076 Email: foxtrotters@horsemail.com

For credit card payments:






Home ~ Index Page
Foals | Stallions | Horses for Sale | Homozygous | Horse Health | About Us | Foxtrotter Training
Games | Shop | WebRings | Banners | Links | Page Building Help | Free E-Cards | Hoaxes
Animated Gifs | Clipart | Backgrounds | Our Awards | Apply for Award | Winning Sites | Search
Pedigree Generator | Our Location & Contact Information | Translate | Site Map | Suggest this Site
Email: foxtrotters@horsemail.com | Privacy | Disclaimer | Copyright ©