NEW YORK, NY -- (May 7, 2002) - The Rolling Stones announced today, the kick off of their Rolling Stones World Tour 2002/2003 at Boston's CMGI Field on September 5, 2002. The band announced 32 dates in the U.S and Canada (more to come) and will then tour Europe, Australia, Mexico and the Far East in 2003, hopefully including their first concerts in China. Mick Jagger, Keith Richards, Charlie Watts and Ronnie Wood made a spectacular entrance into Van Cortlandt Park, in an eye-popping blimp decorated with the legendary Rolling Stones tongue. They descended upon an amazed crowd of U.S. and international press and fans to talk about the World Tour at a press conference beamed live via satellite. The unique concept for the tour will showcase the band's diversity as musicians and performers with three dramatically different shows by playing stadiums, arenas and theatres/clubs all in one tour. Each show will combine the spectacular production and charismatic performances that fans have come to expect. The Rolling Stones, working closely with the design team responsible for the sensational sets and dramatic effects on previous tours (Steel Wheels, Voodoo, Lounge, Bridges to Babylon, No Security) will create three totally different productions (sets, lighting, special effects) offering fans completely unique experiences at each venue. Fans can choose to see the band up close in an intimate club/theatre setting or the grand scale excitement of a stadium experience. In some markets, fans will have the opportunity to see three totally different shows on different nights providing an incredible musical event .All shows will feature a significant set of classic Rolling Stones hits as well as new songs. "Only The Rolling Stones would dare to come up with a concept so ambitious - three dramatically different shows in three different venues, said Michael Cohl, tour promoter. It will be a spectacular musical event." The Rolling Stones hold the all-time record for the three most attended tours of all time, "Bridges to Babylon," "Steel Wheels" and "Voodoo Lounge. "Some of the opening acts that will share the stage with the Rolling Stones are: No Doubt, Sheryl Crow, Buddy Guy, Jonny Lang with more acts to be announced later this week. Rolling Stones World Tour 2002/2003 is presented by E* TRADE Financial. "The Rolling Stones are recognized as one of the greatest rock-n-roll bands of all time," said Mitch Caplan, President and COO E*TRADE Group, Inc. "We are thrilled to present this history making tour and excited about the experience and opportunities it will provide our customers." Tickets will go on sale for shows in Boston and Chicago on Saturday, May 11, for San Francisco on Sunday, May 12, and New York on Monday, May 13 with additional markets to follow. In keeping with the band's philosophy of making their shows accessible to all fans, tickets for the stadiums, arenas and theatres/clubs will be available in a broad range of price categories. There will be a limited number of Gold Circle seats while the remaining 95% of the house will average $85 for stadium shows, $100 for arenas and all tickets for theatre/club shows will be $50. Buys will be limited to 12 tickets per person for stadium shows, 8 for arena shows and 2 for theatre/club shows. Beginning today, music fans can go online to http://www.samgoody.com to join getAccess, a live entertainment membership program, for the opportunity to purchase two tickets to one show on the U.S. leg of the tour before they go on sale to the general public. Exclusively available at http://www.samgoody.com, getAccess enables members to purchase tickets as early as May 8 for shows in Boston, Chicago, New York, and San Francisco. Pre-sales for many other dates on the tour will be available through getAccess in the weeks ahead and fans should check the Samgoody.com website for the most up-to-date information. Consumers purchasing tickets through getAccess will have their choice of available seats at a variety of price points. Fans will have an unprecedented opportunity to follow the tour online through Virtual Ticket at http://www.rollingstones.com Every ticket sold for the tour will include membership in the Rolling Stones fan club. Updated daily, users will be given an exclusive insider's look at every aspect of the tour. From rehearsals and preparations to on-going coverage via audio and videos streams, downloads, set lists and news and much more. RollingStones.com also heralds the launch of the official Rolling Stones Fan Club. In addition to following the tour, members will enjoy access to tickets, exclusive merchandise and other fans, in what is sure to be the premier destination and community place for Stones fans yet. The Rolling Stones are completing negotiations to release a retrospective CD of their greatest hits from 1963 to the present with the addition of some new songs. The band will go into the recording studio later this month. Other plans include a new book, a comprehensive history of the Rolling Stones which will include interviews with the band and photos from their own archives. It will be published by Chronicle Books in the U.S. and Weidenfeld and Nicholson in the UK in September of 2003. Rolling Stones World Tour 2002/2003 will be promoted and produced by Grand Entertainment Touring and RZO Piecemeal Ltd
05/04/02Stones to Announce 2002 Tour This Tuesday May 7th
The Rolling Stones are said to be touching down in a blimp complete with the tongue logo, in Van Cortlandt Park in the Bronx on Tuesday May 7th between noon & 1pm EST to officially announce the plans for their 2002 40th Anniversary Tour. Look for coverage on VH-1. See TOUR PAGE for unofficial tour dates.
04/15/02 Keith Plays Dead Flowers & The Worst in Nashvile
In some cases, performers showed up to duet on their own compositions, as with the show's highlight moment -- when Richards, Adams, Williams III and Nelson, guitars in hand, lined up in front of four mikes and banged out the Rolling Stones classic "Dead Flowers." They were billed as the "Lost Highwaymen," a nod to Nelson's membership in the legendary Highwaymen. Each time Richards bounded onstage, he effortlessly eclipsed the night's star. Even a technician's pronunciation of his name during a mike check drew huge cheers, and performers sharing the stage (including Mark Knopfler's band, sans Knopfler, as the house players), seemed similarly enraptured. Following that act was Gill, who did a little "Jumping Jack Flash" riff on his acoustic and joked, "I'm doin' pretty good. I got the Rolling Stones opening for me."
04/14/02 Keith Richards, Dave Matthews set for Willie tribute
A host of famous friends will fete country music outlaw Willie Nelson in a gala concert to be taped April 14 in Nashville, and set to air on A&E in May or June.
Rolling Stone reports that Keith Richards, highly touted newcomer Norah Jones, The Dixie Chicks, Emmylou Harris, Ryan Adams, Hank Williams III, Sheryl Crow, Dave Matthews, Matchbox Twenty, members of Bon Jovi, LeAnn Womack, Aaron Neville, Brian McKnight, and Vince Gill are confirmed as guests for the show.
The report said one plan for the show called for Nelson to re-create his '80s country supergroup The Highwaymen, with Williams, Richards and Adams filling in for original members Johnny Cash, Waylon Jennings and Kris Kristofferson, but the format of the show is still being worked up.
---
02/24/02 Press reports continue to speculate about a Rolling Stones 2002 Tour, indicating that it will begin in September. July 2002 will be the band's 40th Anniversary. The press indicated that the band plans to tour North America, Mexico, South America, Europe and Asia (Japan and China). It has also been mentioned that the Stones may play a club date, arena & stadium show in selected cities. The band is also reported to have a new album and a boxed set in the works. NONE of this information has been confirmed or officially announced by the band or its management. When it is, we will print it here.
---
12/8/01 Keith & Patti attend the Gosford Park premiere in NYC on 12-3-01


---
11/06/01 Keith appears at opening night for the Charlie Watts Tentet at the Blue Note in NYC. Many fans are treated to photos & autographs.
---
10/25/01 Keith makes surprise appearance with Mick at the Concert For NYC Sat. Oct 20, where they play "Salt of the Earth" and "Miss You".
---
09/22/01 Hear a clip of Keith's new song "You Win Again" from the Hank Williams Tribute album "Timeless" at CD NOW do a search for Hank Williams & click on Timeless. Also hear 2 minutes of Mick's new song "God Gave Me Everything" by going to Bill German's Beggar's Banquet.
---
09/09/01 Keith was featured in the "Star Tracks" column of PEOPLE Magazine. He was pictured with his wife Patti & teenage daughter's Alexandra & Theodora attending the Manhattan premiere of the comedy Lisa Picard Is Famous. Keith's management has said he does not plan any solo projects at this time, however we do know his partner Mick Jagger has a solo album entitled Goddess In The Doorway due in early November. The first single from Mick's new album is due for an October release. Mick also said he plans to play live to promote his album in a select number of cities around the world this Fall.

08/04/01 Keith to Play on Hank Williams Tribute Album

August 3, 2001 Keith Richards will be featured on an album entitled "Timeless-Songs of Hank Williams" to be released September 25, 2001 on the Lost Highway label (a few days before what would have been Hank's 78th birthday). This record features Hank's songs interpreted by Keith, as well as other artists such as Sheryl Crow, Bob Dylan, Johnny Cash & Tom Petty among many others. Keith contributed the Williams' song "You Win Again" which is track #7 on the album. Produced by Luke Lewis, Mary Martin and Bonnie Garner.
---
07/29/01 Stones To Roll in 2002!

Thursday July 26 02:57 PM EDT Rolling Stones Set For Big Payday For Next Tour (7/26/01, 3 p.m. ET) -- There is no truth to the stories floating around that the Rolling Stones have been told another major tour would be a money loser, according to the band's spokesperson. Published stories out of London, New York, and Los Angeles recently have quoted "insiders" as saying the Stones won't hit the road next year because they've been told it would be a disaster financially. However, Michael Cohl, who was tour director and promoter for the last four Stones treks, said, "In a recent meeting with the Rolling Stones, I advised them that their tour would be a great success." The Stones have held meetings regarding their plans for next year, but no firm decisions have been made. It should be noted, though, that the 40th anniversary of the band's first show (as the Rollin' Stones) is July 12, 2002. -- Bruce Simon, New York
---
05/23/01 Keith speaks about Tom Waits at Awards Ceremony

Tom Waits was awarded the American Society of Composers, Authors and Publishers' prestigious Founders Award Tuesday, at the 18th Annual ASCAP Pop Awards in Los Angeles. Before the performance, Keith Richards appeared larger-than-life in a video message recorded at his Connecticut estate. Dressed like Columbo in a grubby coat and hat, Richards staggered from thick brush and embarked on a generally indecipherable speech in praise of his one-time collaborator. He recalled buying 10,000 worms, on Waits' advice, to help aerate his lawn. An ASCAP spokeswoman said the Rolling Stones guitarist had hoped to attend the event in person, but was kept at home by family commitments. By Dean Goodman, Reuters
---
05/05/01 Sheryl Crow And Friends Cut Loose In New York

(5/3/01, 7 a.m. ET) -- Sheryl Crow was joined by Kid Rock, Keith Richards, and Stevie Nicks at Shine in New York City for the second surprise show in a month on Monday night (April 30). Both Richards and Nicks joined Crow for her Central Park concert last year. Kid Rock also appeared at Crow's surprise show last month at the Cutting Room.

Kid Rock appeared in his pimp-style outfit and returned later to insert the Sugarhill Gang's "Rapper's Delight" into Crow's "There Goes The Neighborhood." The first time Rock left the stage, he was replaced by Keith Richards, who ran through Buddy Holly's "Not Fade Away" and Fats Domino's "Ain't That A Shame."

Crow and Nicks performed "It's Only Love," the song Crow wrote for Nicks' album, Shangri-La, which was released on Tuesday (May 1). Nicks also performed some other standards, including the duet songs, "Leather And Lace," and "Stop Dragging My Heart Around."

-- Darren Davis, New York
---
04/27/01 Keith attended the Knicks vs. Raptors game last night. A photo is on the message board under "Stones News":
---
04/25/01 I received word from Keith Richard's and the office of his management on 4-24-01 that Keith has been busy hanging out in his basement playing music with a variety of musicians including Blondie Chaplin, George Roceli and some of the X-Pensive Winos. Keith also noted that he has spoken with Mick recently about figuring out what the next moves for the Rolling Stones will be, but that the info regarding the band's future plans is top secret at this time.
---
04/15/01 Rumors of a Winos album & tour may be premature according to Keith's management who reported on Tueday April 10 that Keith has no definite plans at the moment.
---
04/04/01 Photo of Keith (from Kathleen Menzies)on BBC TV program called "Walk On By-The Story of the Popular Song".
---
---
04/01/01 Media spreads gossip of Jagger/Richards Fued
Various newspapers & radio stations have picked up a story of a Jagger/Richards fued, stating that Jagger has nixed a Stones tour planned for this year in favor of his own movie projects. Richards wants to get on the road again with the Stones as usual. Personally, I think this same story happens in one form or another every time we are between tours. I think at the moment this is all gossip & there is still plenty of time for another album & tour in 2002 (which will be the 40th anniversary of the band).
---
03/22/01 Photo of Keith at Hall Of Fame Induction Ceremony
ClickHERE FOR MORE HALL OF FAME PHOTOS
---
03/20/01 Keith honored Johnnie Johnson & James Burton at the Rock & Roll Hall of Fame Induction Ceremony last night. You can watch the induction ceremony on VH-1 at 9pm EST on 3-21-01.
---
03/08/01 Keith backstage at the Beacon Theater! Photo by Bob Gruen



See details of the show on Bill German's Beggar's Banquet Page
---
03/02/01 Keith to play Benefit Show at Beacon Theater


THE RAINFOREST ALLIANCE ANNOUNCES KEITH RICHARDS AND JACKSON BROWNE TO JOIN LINE-UP FOR SMART SOUNDS: MUSIC FOR THE PLANET IV Benefit concert highlights instruments made with wood from well-managed forests Building on the success of its previous three shows, the Rainforest Alliance will once again present its Smart Sounds: Music for the Planet™ benefit concert at New York City's Beacon Theatre on March 6, 2001. This highly anticipated musical event is a rare opportunity for renowned artists and musicians to demonstrate their commitment to, and support of, tropical forest conservation. This year's featured artists include Keith Richards, Jackson Browne, Levon Helm, Dr. John, Keb' Mo', Clarence "Gatemouth" Brown, BR5-49, Fabulous Thunderbirds' Kim Wilson, and others. This year's host is actress Mary Stuart Masterson. Past performers have included James Taylor, Jackson Browne, Shawn Colvin, Carly Simon, Ricky Skaggs, The Staple Singers, Taj Mahal, and Angelique Kidjo, among others. Throughout the evening, musicians will be playing instruments made from certified wood -- wood that has been grown and harvested in accordance with standards set forth by the Rainforest Alliance's SmartWood program. SmartWood evaluates forestry operations and forest product companies, and awards the FSC/SmartWood independent seal of approval to those that meet its strict standards. [The FSC or Forest Stewardship Council is the international organization that accredits certifiers such as SmartWood.] To carry the FSC/SmartWood label, a supplier's wood must be tracked from the forest, through manufacturing and distribution, to the customer, and must ensure a balance of social, economic, and environmental factors. To date, over eight million acres of forestland worldwide has been SmartWood-certified and almost 400 companies have earned SmartWood's certification mark on items they produce with certified wood, such as guitars, flooring, cabinets, picture frames, and paper. The program's success proves that certification is a valuable conservation tool that provides ecofriendly consumers with a powerful voice in the marketplace. Smart Sounds sponsor Gibson Guitar Corporation has been involved with the concert since its inception in 1996, and was the first company to produce certified guitars. Since that time, Gibson has produced their Les Paul Standards guitar line using certified mahogany and maple. The Martin Guitar company also produces SmartWood-certified guitars. Musical Director Steve Jordan -- well-known drummer, record producer, and long time Rainforest Alliance supporter - sees Smart Sounds as a way to pay "more than lip service" to the critical work of conservation. His involvement led Yamaha to custom craft the only SmartWood-certified drum set in existence for Jordan's performance at the 2000 Academy Awards. TICKET INFORMATION: Tickets for Smart Sounds are on sale now. A limited number of benefit tickets for the concert can be purchased for $200 and $450, and include entrance to an exclusive post-concert party. Benefit tickets can be purchased by calling the Rainforest Alliance at (212) 677-1900. Tickets are available for $50 and $70 each at the Beacon Theatre Box Office (212) 496-7070 and through Ticketmaster (212) 307-7171. Concert begins at 8pm.
---
02/24/01 Keith attends Sopranos premiere with Patti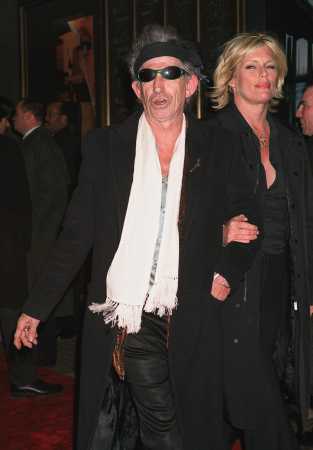 ---
Rolling Stones guitarist Keith Richards, arrives with Patty Hansen for the world premiere of the third season of the HBO series "The Sopranos" Wednesday, Feb. 21, 2001, at New York's Radio City Music Hall. The Sopranos depicts the life and times of a modern-day fictional crime family living in New Jersey. (AP Photo/Darla Khazei)

02/23/01 Sheryl Crow getting Stoned with Keith Richards
LOS ANGELES (Reuters) - Rocker Sheryl Crow, who has performed on stage with her idols, the Rolling Stones, on many occasions, said she hopes to collaborate with the group's guitarist, Keith Richards, for her next album. Crow revealed the potential pairing Wednesday night, backstage at the Grammy Awards, and Richards' manager, Jane Rose, confirmed the essential details when contacted for comment by Reuters the next day. Also backstage at the Grammys (news - web sites), R&B producer Rodney Jerkins said his plans to work on a few tracks for a Mick Jagger solo project have been put on hold because he had heard Jagger was focusing on a Stones record. Jerkins denied some recent reports that he would work on the Stones album. Crow said the seeds for the Richards collaboration were planted last October, when they were riding around in a limo together after the VH1/Vogue Fashion Awards in New York City. ``He played this song that I think that he had written perhaps for the last record (1997's ``Bridges to Babylon'') and they didn't put it on the record, and I've been working on him ever since to let me record it, and have him record it with me and, I think he's going to do it,'' she told reporters. Crow declined to reveal the song's title, both at the news conference and several hours later when badgered by Reuters at a party. She is halfway through recording a follow-up to her last studio album, 1998's ``Globe Sessions,'' and hopes to have it in stores by the end of summer. According to Rose, Richards actually played Crow several unfinished and untitled songs he had composed recently. The two musicians planned to get together at some stage to see if they could knock the tunes into shape, Rose added. With regard to a possible Stones album, Rose said nothing had been decided because the group's members have been busy with their own pursuits. She expected a clearer picture would emerge in the next few months. Richards and wife Patti attended the premiere Wednesday night for the third season of HBO's mob drama ``The Sopranos (news - Y! TV Coverage),'' having just returned to their Connecticut estate from their home in Jamaica, Rose added. Richards is friends with guitarist ''Little'' Steven van Zandt, a co-star on the show. Crow, who has cited the Stones' 1969 opus ``Let It Bleed'' as her favorite album, has both opened for and performed with the Stones, most recently during the U.K. dates of their 1999 European tour. Richards returned the favor the same year, duetting with her on the Stones track ``Happy'' during Crow's concert in Central Park, a gig she subsequently released on CD.

02/06/01 Stones sax man, Bobby Keys is playing dates with Levon Helm's (The Band)Barn Burners. I attended the San Juan Capistrano show in Calif. on 02-02-01. Bobby met up with us before & after the show & we got many great photos. Lead singer/harp player Chris O'Leary mentioned that he had recorded with Keith during the Hubert Sumlin sessions & that the Winos many even tour in the summer.

Elizabeth, Bobby Keys and Blue Lena in San Juan Capistrano, CA