---
A TRIBUTE TO FREDDY SESSLER-THE ULTIMATE STONES FAN
(and Keith's great friend!)
---

AUGUST 28, 1999 AT THE MEMORY MOTEL
WILDWOOD CREST, NEW JERSEY

Freddy with his Ultimate Stones Fan hat!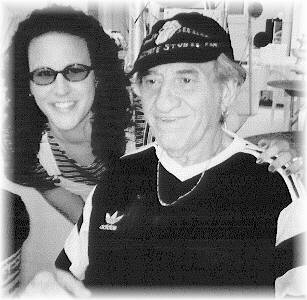 Freddy & Blue Lena
---
A Celebration was held Saturday August 28, 1999 in Wildwood Crest, New Jersey to honor Keith's good friend, Fred A. Sessler. The party was held at the Memory Motel and hosted by the hotel manager, Peter Ferriero, along with Stones People Magazine staff, Marilou Regan & Hans Oosterbaan. It was attended by friends & family, many of whom flew in from across the US or from countries such as Germany, England, & Holland to pay homage to the man affectionately known as "Freddy". The party was catered & we were able to parttake of some lovely food & drinks. Throughout the evening, we were entertained by a musical group from London, as well as by Stones music & videos. Many paid tribute to Freddy through speeches & written memories which were presented to Freddy in book form as a keepsake.
It was a great night for all involved...it sure wasn't a lonely night at the Memory Motel!
---

Freddy with Carol Bernson

James Karnbach & Carol Bernson authors of It's Only Rock & Roll book

Blue Lena, Marilou & Paula having a great time at Freddy's Party

Blue Lena tries out the tongue slide at the Memory Motel!

***All photos copyright BLUE LENA and may not be used without permission***

SADLY FREDDY PASSED AWAY ON DECEMBER 18, 2000-HE WILL BE MISSED BY MANY. RIP FREDDY & ROCK ON!