POINTS OF INTEREST: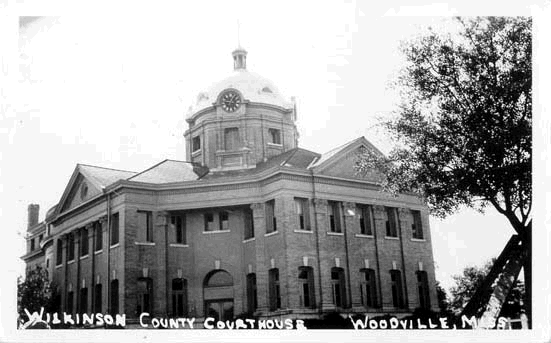 Pictured Left, Wilkinson County Court House. (from days gone by)
Woodville has three of the oldest churches in the state, Woodville Methodist Church, St. Paul's Episcopal Church, and Woodville Baptist Church.
Wilkinson County offers an abundance of outdoor activities. Lake Mary, Foster's Lake, Mississippi River Backwater, and many wooded areas offer good hunting and fishing, Clark Creek State Park offers hiking in a beautiful natural scenic location. Link to Points of Interest Click here
Wilkinson County has a rich, and colorful history. Some interesting historical sites to visit are Jefferson Davis' boyhood home on Highway 24 east. The Pond Store and Clark Creek Natural Area near Fort Adams, Historical Old Fort Adams itself, the oldest railroad building in the state. Which is the home of Wilkinson County Museum and operated by the Woodville Civic Club, the oldest newspaper, The Woodville Republican , and many historical old homes located over the county.
Rosemont Plantation: Family home of Jefferson Davis, est. 1810. Guided tours: Monday thru Friday, 10am to 5pm. From Highway 61: turn east on highway 24, toward Centreville MS. One mile on the left. (601) 888-6809
Hunting and Fishing
Another major interest in the county is Hunting and Fishing, There are numerous lands leased for hunting of Deer, Rabbit, Squirrels, and Duck.
Obtain Hunting, Fishing Licenses locally
Locally Hunting and Fishing Licenses can be obtained at Ace Jr. at the corner of US Hwy 61 and Hwy 24. 601-888-4383 and at the Sportsman's Stop at the intersection of Hwy 24 and Lake Mary Road (phone) 601-888-7333.
Obtain Hunting, Fishing Licenses by Phone
Now, hunters and fishermen can purchase Mississippi licenses around the clock, every day of the week by call 1-800-5GO-HUNT ( 1-800-546-4868 ), according to the Department of Wildlife, Fisheries and Parks. Anyone who needs a license and calls 1-800-5GO-HUNT will be asked to provide identification, along with a Visa/Master card, or a bank debit card. The caller is given a temporary authorization number, once their eligibility is verified. This serves as a valid license until the actual license ordered is received. For more information call the Department of Wildlife, Fisheries and Parks at 601-432-2400 or 1-800-5GO-HUNT.