Discordian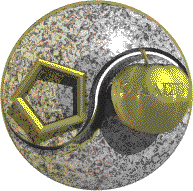 (The Holy Chao)
I have found that the best way to sum up this tradition is the following excerpt taken from an attempt of Aquadale Bitty, Chaplain, Generic Discordian Sect, to refute Pope Icky's attempt at creating a new calender system:
"Fnord, fnord, fnord, fnord, fnord, fnord, fnord, fnord, baked beans, and fnord."
"We Discordians shall stick apart"
The Principa Discordia (also known as How I found the Goddess and what I did to Her when I Found Her) is their holy book. To become a member of the Discordian Society, you need only decided that it exists and include yourself in it. It is a religion of paradox centering on the Goddess Eris Discordia. For more information, consult your penal gland. Or check out the following links. They know how to discribe this tradition better than I ever could.
An excerpt from the Principa Discordia Follows
THE FIVE COMMANDMENTS (THE PENTABARF)
The PENTABARF was discovered by the hermit Apostle Zarathud in the Fifth Year of The Caterpillar. He found them carved in gilded stone, while building a sun deck for his cave, but their import was lost for they were written in a mysterious cypher. However, after 10 weeks & 11 hours of intensive scrutiny he discerned that the message could be read by standing on his head and viewing it upside down.
KNOW YE THIS O MAN OF FAITH!
I - There is no Goddess but Goddess and She is Your Goddess. There is no Erisian Movement but The Erisian Movement and it is The Erisian Movement. And every Golden Apple Corps is the beloved home of a Golden Worm.
II - A Discordian Shall Always use the Official Discordian Document Numbering System.
III - A Discordian is Required during his early Illumination to Go Off Alone & Partake Joyously of a Hot Dog on a Friday; this Devotive Ceremony to Remonstrate against the popular Paganisms of the Day: of Catholic Christendom (no meat on Friday), of Judaism (no meat of Pork), of Hindic Peoples (no meat of Beef), of Buddhists (no meat of animal), and of Discordians (no Hot Dog Buns).
IV - A Discordian shall Partake of No Hot Dog Buns, for Such was the Solace of Our Goddess when She was Confronted with The Original Snub.
V
- A Discordian is Prohibited of Believing what he reads.
IT IS SO WRITTEN! SO BE IT. HAIL DISCORDIA! PROSECUTORS WILL BE TRANSGRESSICUTED.
Test Question from Topanga Cabal The Twelve Famous Buddha Minds School: If they are our brothers, how come we can't eat them?
Also Included in the Principa Discordia is this little tid bit that I thought was hilarious:
_____________________________________________________________________________________
Western Union Telegram
To: Jehova Yahweh
Care: Celestial Hotel (Suite #666)
Presidential Tier, Paradise
Dear God;
This is to inform you that your current position as deity is herewith terminated due to gross incompetence STOP Your check will be mailed STOP Please do not use me for a reference
Respectfully,
Malaclypse the Younger/Omnibenevolent Polyfather
POEE High Priest
_____________________________________________________________________________________