And ~ TOTO ~ too

Here you will find our Cairns. We only have a few and completely adore them!
Their intelligence and dedication is wonderful.
They are also so sweet in nature and how could anyone resist those faces!
Our Cairns have wonderful Champion pedigrees and excellent health.
RR'S LITTLE TWISTER
FONDLY KNOWN AS "RASCAL"
A TRUE JOY, LOVING, INTELLIGENT, ONE OF MY BEST FRIENDS.
RASCAL IS THE SIRE TO THE BABIES PICTURED BELOW.
Rascal's Pedigree
THE TWO PICTURES BELOW ARE PAST BABIES WE HAVE HAD AND THEY ARE ALL IN THEIR NEW HOMES NOW.
BUT WE COULDN'T RESIST SHOWING THEM OFF!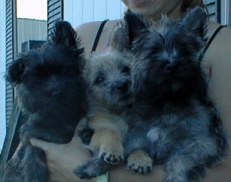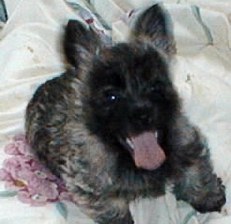 This is beautiful little Dixie
Proudly owned by Cindy and now has made her home in Texas.
AND THIS IS WESLEY (PICTURED BELOW)
I ADORE WESLEY, HE IS 7 MONTHS OLD, SWEET, LOVING AND PLAYFUL.
HE IS JUST A DOLL!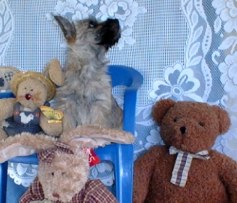 e-mail~about our darling cairns
For inquiries about upcoming litters, please e-mail Julie at
raintree@fidalgo.net
Julie has my beautiful girls now in her loving home and she is the one to write to about babies.
Watch for Julie and the babies in the show ring also.
Any e-mails about babies from past litters, please just e-mail as usual to Jen.