Show News!

We are so excited here at the ranch! Dee will be showing off our babies and we can't wait to start posting the Wins!
This spring, we took Chipper to his first show. We went for pure enjoyment and came home with WINNERS Dog from the Moses Lake Kennel Club!
Chip and I are very proud, especially since he is now 7 years old!
He will now continue on with Dee Hanna in October of 2003.
We expect RR's Ready To Rumble and Fireball (RR's Lady Stetson)
To be in the show ring, late this year, also.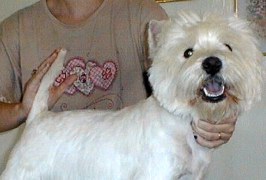 UPDATE
RR's Darling Hanna
A Tori & Rumble Daughter
Has started her show ring career! She is off with, Dick & Dee Hanna]
They expect wonderful things for Hanna and her first show will be in Montana this June!
I will keep you updated !
Dartanian, Rumble and Rascal are waiting in line to go to the ring, after Hanna gets started.