Our Babies at Home

Legend
HIGHLANDS LEGEND
SIRE CH SET- TA SPELL LORD DUNCAN
( CH SNO BILT'S PUZZLE X CH MOLLIE MAE OF SHADYBROOK)
DAM HONEY HILLS LADY LOVE
(AM BER CH MAC KEN CHARS IRISH NAVIGATOR X CH WHITE CLIFF LADY MUFFIN)
LEGEND WAS SHOWN AT MONTGOMERY IN SWEEPS AT 8 MONTHS, WINNING THIRD.
HE IS A VERY HAPPY GO LUCKY BOY, WITH NO DESIRE TO BE IN THE SHOW RING, WHICH ENABLED HIM TO BE A VERY SWEET FARM DOG :o)
Chipper
RR'S HELLO MR. CHIPS SIRE HIGHLANDS LEGEND, DAM RR'S AMY (D& D BREEDING)
CHIPPER WAS SHOWN AT HIS FIRST SHOW AT 7 YEARS OLD, TAKING WINNERS DOG!
Ch. Artie
CH WINDHILL HIGHLANDS MR. ART
ARTIE RANKED #7 IN THE USA IN 1994
SIRE CH HIGHLANS HONEY HILL'S EXCALIBER (WHO WON BEST OF BREED AT MONTGOMERY IN 1992, RANKING #2 WESTIE IN THE USA) EXCALIBER IS A FULL BROTHER TO LEGEND (PICTURED ABOVE)
DAM PENNGYLL'S E B BROWNING
Parents Grand-Parents Great-Grand-Parents Great-Great-Grand-Parents
CH WINDHILL HIGHLANDS MR ART, 02-26-1992, WH, RM052708/03 10-93, CH HIGHLAND HONEY HILL EXCALIBER, 08-30-1990, 2H, RL992212/03 7-92 CH SET-TA SPELL LORD DUNCAN, 02-19-1988, WH, RB196830 2-90 CH SNO-BILT'S PUZZLE, 05-23-1980, WH, RA616328 2-82
CH MOLLIE MAE OF SHADYBROOK, 11-08-1984, WH, RA920988 7-88
HONEY HILL'S LADY LOVE, 03-19-1988, WH, RB356972 4-91 CH MAC-KEN-CHAR'S IRISH NAVIGATOR, 10-17-1980, WH, RA669054 5-82
CH WHITE CLIFF LADY MUFFIN, 09-14-1981, WH, RA703556 11-83
PENNGYLL'S E B BROWNING, 02-01-1988, WH, RB190921 8-91 CH PENNGYLL'S LONGFELLOW, 06-08-1984, WH, RA918562 10-86 CH PADDY O' SHAMROCK OF PANDWYCK, RA832233 6-84
CH PENNYLANE OF PANDWYCK, RA650570 12-84
CH MAC-KEN-CHAR'S LADY OF PENNGYLL, 02-24-1985, WH, RA990250 7-88 CH MAC-KEN-CHAR'S IRISH NAVIGATOR, 10-17-1980, WH, RA669054 5-82
CH PURSTON PRIMEMOVER, (UK), 06-14-1977, WH, RA522254 3-80
Rocky
THE ROCK
MY PRIDE AND JOY, STEALS MY PILLOW, KICKS ME OFF THE BED AND IS THE LOVE OF MY LIFE!
I RESCUED HIM AS A 5 WEEK OLD PUPPY, ALMOST DEAD. HE HAS NO FANCY PEDIGREE AND HAS BEEN NEUTERED AS A YOUNGSTER. HE IS MY HEART.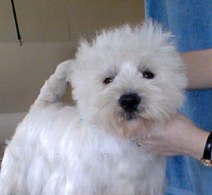 DARTANIAN
RR'S S. BEARCAT
DARTANIAN WILL BE OFF TO HIS START IN THE SHOW RING THIS YEAR, HANDLED BY DEE HANNA
DARTANIAN IS A RR READY TO RUMBLE X RR'S LADY STETSON
(FIREBALL) SON.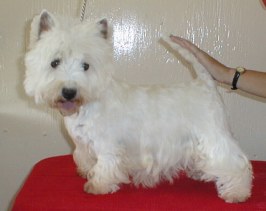 Frizbee, Frizbee is one of our Beautiful little ladies.
Amy
Tori & Jo